lifeZen Free BIOTIN Tablet
---
LifeZen Free Sample – Hi Guys, we are the biggest source of freebies & free sample in India loots. Here comes the another free sample loot of the day from website called 'LifeZen'. You will get TUSKCA BIOTIN Effervescent Tablet (20 Each) Berry for free from them.
Recently, we have posted the free sample products from amazon India loot & most of users have received the free sample from India. Now here is chance to get the TUSKCA BIOTIN Effervescent Tablet (20 Each) Berry from LifeZen.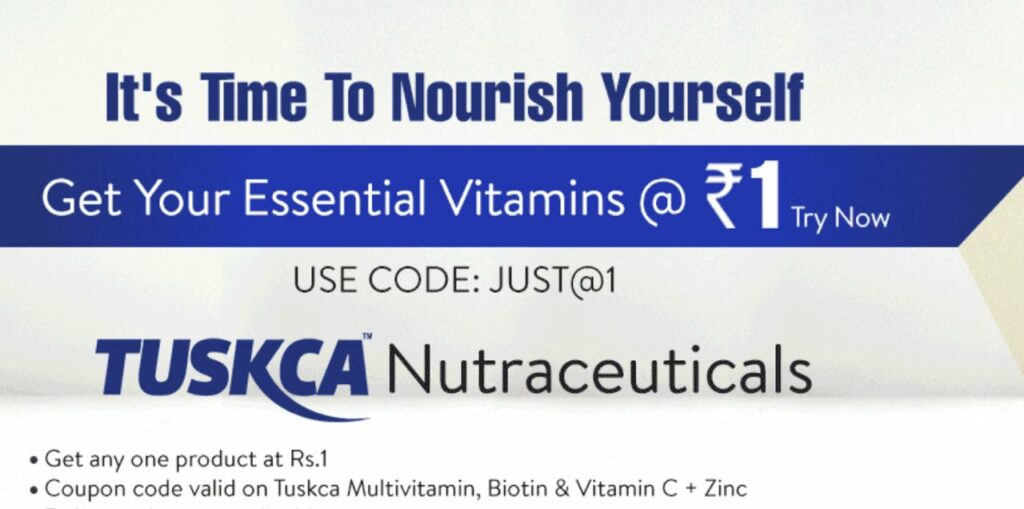 We have posted lots of free cosmetics sample products in India offer with shampoo & all. Here is one more chance to order cosmetic product for free from LifeZen.
About This Product : Biotin is a coenzyme and is otherwise called Vitamin B7 and Vitamin H. Biotin enables your body to effectively utilise amino acids from protein for growth and repair, glucose from carbohydrates for energy, and fatty acids from fat for cell structural integrity. Tuskca Biotin Hair, Nail & Skin is a comprehensive formula that provides essential nutrients for healthy nails, hair, and skin. It supports collagen formation and reduces nail brittleness and splitting. Tuskca Biotin improves nail care and promotes hair growth and thickness.
HOW TO USE

: 1 Tab per day – Drop 1 tablet in 200 ml water.
Wait until it has completely dissolved (around 2 minutes), no stirring necessary.Enjoy the tasty, fizzy health drink.
How to order LifeZen BIOTIN Tablet (20 Each) for Free?
LifeZen is running the promotional Offer on their website. You can get this premium product of ₹450 in just ₹1 only with exclusive coupon code. You just need to pay the shipping charge of ₹98 for this product but its worth it as the real price of this product is ₹450.
To order BIOTIN Tablet (20 Each) , User have to just visit this LifeZen Offer page. You will see 'TUSKCA BIOTIN Effervescent Tablet (20 Each) Berry' page. Click on add to cart button. Product will be automatically added in cart. Now apply the coupon code "[email protected]" you will see price becomes ₹1. Now fill out shipping details & all other things & pay the shipping charge of ₹98.
Your order will be completed & you will receive this product at your home.
BENEFITS
Improves skin's hydration, smoothness & appearance
Stimulates keratin production in hair & increases the rate of follicle growth
Supports collagen health & formation
Added advantages of Zinc , selenium & Vitamin E and other hair & skin healthy nutrients
Enhances nail strength & reduces nail splitting
Supports skin integrity and hair health
Helps protect against potential free radical damage
Supports general health and well-being
Supports immune system health
Benefits of Effervescent tablets are quicker absorption, optimal compatibility and easy intake