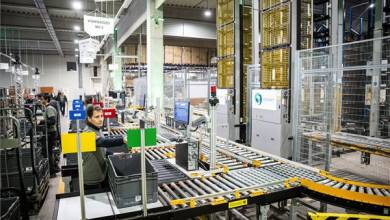 The goal is to build a customer-oriented, digital and 21st century post office.
Magyar Posta Zrt. has launched a unique robotic and automated complex warehouse logistics service in Hungary at the Fót Logistics Center. With the complex service it provides, Magyar Posta is able to perform all tasks from the storage of goods to the delivery of packages to customers.
One of the main directions of Magyar Posta's competitiveness lies in innovation and digitalization, but at the same time, the post office is still expected to provide the highest possible level of service at every point in the country. For the development, growth and success of the company, it is necessary to rethink the operation of the individual business branches, exploit the development opportunities and make the services competitive. The goal remains to create a sustainably operating national company that can be competitive and efficient in the long term.
The new SMART by MPL is a full-scale warehouse logistics service, during which customers can manage their package shipments faster, simpler, more predictable and traceable. Thanks to the complete automation, the delivery of the consignments from the sender to the recipient can even take place on the day of the order.
The development is another milestone in the life of the company, Magyar Posta performs the complex fulfillment and parcel logistics service in one person, from the first step of warehousing until the given webshop delivers the parcel to the recipient.
The IT system is an in-house development, the service is primarily good for fast-moving small and standard online stores, but it can also be suitable for larger companies, banks, insurance companies and telecommunications companies.
Magyar Posta aims to have a dominant share in the domestic fulfillment market in addition to the universal postal service. According to the plans, this segment, this service, is suitable for establishing the company's international presence.
During the investment in the company's headquarters in Fót, an 800-square-meter automated storage area and a related 1,200-square-meter external storage area were created. The robots are on duty 24 hours a day, between 3,000 automated box locations and 240 pallet locations, which together can accommodate 240 tons of products. Thanks to this, the center will be able to handle up to a thousand business packages per day right from the start.