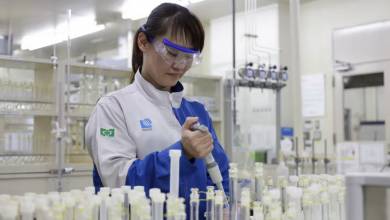 The company currently has one of the largest global market shares in ceramics for cleaning automobile exhaust gases and nitrogen oxide concentration sensors.
A major Japanese materials producer has developed a new strategy to use artificial intelligence to analyze 100 years of experimental data to speed up the development of new materials. NGK Insulators is trying to move from auto parts to chips and other growth areas.
The company, which makes ceramic-based products including car exhaust filter components, hopes to cut development time to a tenth of current levels. Meanwhile, the company is trying to find more secure lines of growth, including in areas related to semiconductors, as the spread of electric vehicles threatens sales of its current most important automotive products.
At NGK's headquarters in Nagoya, the researchers of the material development department perform computer queries, and after entering the target values ​​of the material under development, proposals regarding the parameters required for the production of the new material appeared as a response. Recommendations for the production of a complex new material can be gathered from a huge amount of information thanks to artificial intelligence. NGK researchers actually create prototypes of the material based on MI's suggestions, and record the results in the MI's database. This process is repeated so that the AI ​​model can learn and gradually improve its accuracy.
In the past, it usually took years to develop the materials for a single product. NGK has already managed to reduce the development time for some materials to about a third of this. "Our goal is to reduce this to one-tenth by fiscal year 2030," said the head of the key materials development group within the company's research and development segment.
The company currently has one of the largest global market shares in automotive exhaust gases cleaning ceramics and nitrogen oxide concentration sensors, but 60 percent of its sales are related to fossil fuel vehicles. However, electric vehicles, which are increasingly gaining ground against conventional cars, do not require such products.
Going forward, the company plans to create carbon-neutral products such as storage batteries and digital-related products such as semiconductors, increasing sales from these to 50 percent of total sales by fiscal 2030 and 80 percent by 2050 in the areas.
NGK turned to material informatics, in which artificial intelligence searches for new materials. Machine learning is used to analyze data on the characteristics of atomic arrangements and the results of previous experiments to find the optimal combination from the huge number of materials.
According to the NGK, the use of materials informatics is becoming more widespread for organic materials such as resins and pharmaceuticals, but not for inorganic materials such as ceramics. In particular, the complex structure of ceramics, consisting of many crystal particles, makes it difficult to analyze their properties, which hinders efforts to accurately simulate new materials in the development phase.
This is the question where the company hopes to make a breakthrough with experimental data accumulated since its founding in 1919. Important information is extracted from more than 10,000 experimental reports collected over the past 100 years and entered into the database. Since the effectiveness of an IT strategy depends on how much data AI can learn from, the company sees itself as having an advantage.
The database currently consists mainly of numerical data, but in the future NGK would like to develop it further with data such as researchers' observations and reactions to experiments, including suggestions for improving the methods.
Starting in fiscal 2023, the company plans to use materials informatics to develop materials such as ceramics for semiconductor manufacturing equipment. For ceramics, the key is how well characteristics such as thermal conductivity and corrosion resistance – which are usually trade-offs – can be balanced and combined. NGK's goal is to use material informatics in the development of materials for all products by the 2030 fiscal year.
One of the obstacles to the digital transformation attempted by NGK is the lack of skilled labor. Especially in the field of material informatics, employees who know how to develop materials and analyze data are indispensable.
In April 2021, NGK introduced a program under which employees can be transferred to a special department for one year, where they can train in data analysis and other topics related to digital transformation, and then return to their original department. The company plans to train 1,000 data scientists by FY2030. "In order to beat our competitors, we urgently need to work on product development," said Shigeru Kobayashi, the company's president, according to the Nikkei.
Hardware, software, tests, interesting and colorful news from the world of IT by clicking here!