Jul 04, 2023Ravie LakshmananCyber Crime / Mobile Security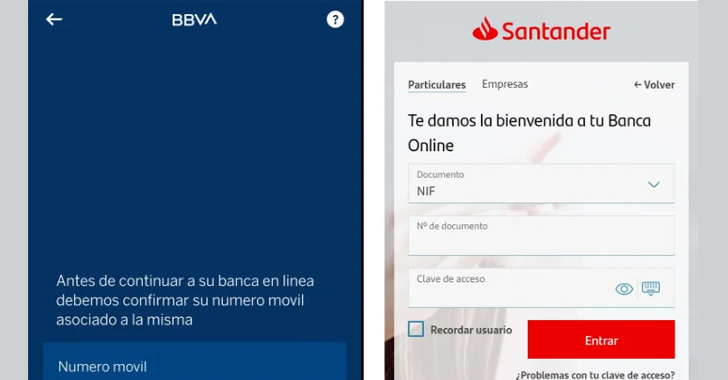 An e-crime actor of Mexican provenance has been linked to an Android mobile malware campaign targeting financial institutions globally, but with a specific focus on Spanish and Chilean banks, from June 2021 to April 2023.
The activity is being attributed to an actor codenamed Neo_Net, according to security researcher Pol Thill. The findings were published by SentinelOne following a Malware Research Challenge in collaboration with vx-underground.
"Despite using relatively unsophisticated tools, Neo_Net has achieved a high success rate by tailoring their infrastructure to specific targets, resulting in the theft of over 350,000 EUR from victims' bank accounts and compromising Personally Identifiable Information (PII) of thousands of victims," Thill said.
Some of the major targets include banks such as Santander, BBVA, CaixaBank, Deutsche Bank, Crédit Agricole, and ING.
Neo_Net, linked to a Spanish-speaking actor residing in Mexico, has established themselves as a seasoned cybercriminal, engaging in the sales of phishing panels, compromised victim data to third-parties, and a smishing-as-a-service offering called Ankarex that's designed to target a number of countries across the world.
The initial entry point for the multi-stage attack is SMS phishing, in which the threat actor employs various scare tactics to trick unwitting recipients into clicking on bogus landing pages to harvest and exfiltrate their credentials via a Telegram bot.
"The phishing pages were meticulously set up using Neo_Net's panels, PRIV8, and implemented multiple defense measures, including blocking requests from non-mobile user agents and concealing the pages from bots and network scanners," Thill explained.
"These pages were designed to closely resemble genuine banking applications, complete with animations to create a convincing façade."
The threat actors have also been observed duping bank customers into installing rogue Android apps under the guise of security software that, once installed, requests SMS permissions to capture SMS-based two-factor authentication (2FA) codes sent by the bank.
The Ankarex platform, for its part, has been active since May 2022. It's actively promoted on a Telegram channel that has about 1,700 subscribers.
"The service itself is accessible at ankarex[.]net, and once registered, users can upload funds using cryptocurrency transfers and launch their own Smishing campaigns by specifying the SMS content and target phone numbers," Thill said.
The development comes as ThreatFabric detailed a new Anatsa (aka TeaBot) banking trojan campaign that has been targeting banking customers in the U.S., U.K., Germany, Austria, and Switzerland since the start of March 2023.