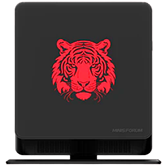 Nowadays, for many people, a laptop is sufficient equipment for work, while another part of users is heading towards greater miniaturization, and more specifically to the Mini PC segment. Miniature computers can be really efficient nowadays, which is confirmed by the current generation of gaming handhelds. The Chinese company Minisforum, founded in 2018, has introduced another computer model to its offer, which is aimed at the discussed group of recipients. Thanks to the implementation of the OCuLink interface, we will also be able to use the device for more demanding games, which is an undoubted advantage.
Another model is joining the offer of miniature computers from the Minisforum brand – EliteMini UM780 XTX. The unit boasts support for the OCuLink interface, a magnetic top panel, and really decent performance thanks to the components used.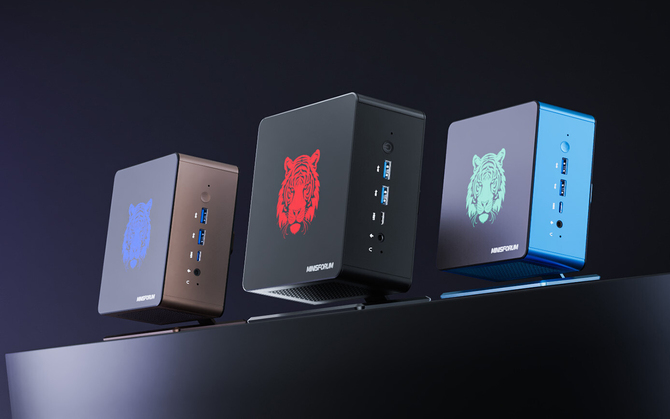 Before we get to the pure specifications, we can first focus more on the design of the device. It is offered with a backlit (RGB) element that can be freely configured. Additionally, the top cover is magnetic, which makes access to all components and connectors much easier. The AMD processor, more precisely the Ryzen 7 7840HS, will be responsible for the performance. It works with the AMD Radeon 780M graphics system, which has 12 CU units, which is the same number as in the case of the ASUS ROG Ally handheld.
EliteMini UM780 XTX miniforum
Processor
AMD Ryzen 7 7840HS (4nm)
8C/16T | 3.8 – 5.1 GHz
Integrated system
AMD Radeon 780M (12 CU)
Dedicated layout
–
Power modes available
Balanced – 50W
Performance – 70 W
RAM
Support for 96 GB DDR5 5600 MHz RAM (2x SO-DIMM)
The available variants are 32 and 64 GB
Data warehouse
2 x M.2 SSD PCIe 4.0 x4 NVMe
The available variant is 1 TB
Connectors
1 x HDMI 2.1
1 x OCuLink Port
1 x 3.5mm audio jack
4 x USB 3.2 Gen 2 Type A
1x Ethernet RJ-45 2.5 Gbit
2 x USB4 Type C (DP Alt Mode)
1 x CMOS (CMOS Battery Reset Plug)
Communication
2 x RJ-45 Ethernet Port (2.5 Gbps)
WiFi 6E + Bluetooth 5 (via M.2 2230 connector)
Libra
?
Dimensions
130 x 126 x 52.3 mm
System
Microsoft Windows 11
Price
Without RAM and SSD storage – 569 euros
32 GB / 1 TB – 759 euros
64 GB / 1 TB – 869 euros
We can also count on support for up to 96 GB of RAM in the DDR5 standard, and if we want to purchase, we will receive a maximum of 64 GB to choose from. In the case of an SSD data carrier with an M.2 connector, the situation is similar – the offer includes a 1 TB variant, although we have two available slots. It is worth noting that the Minisforum equipment has two operating modes – 50 and 70 W. In terms of connectivity, there are two Ethernet ports, and via the available M.2 (2230) connector, we will be able to additionally connect network cards with support for Wi-Fi 6E or Bluetooth.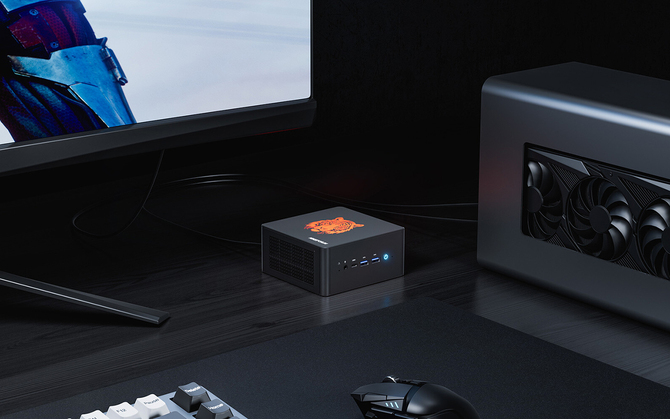 We will have a number of different ports at our disposal, the most interesting of which is definitely the one through which we connect the OCuLink interface. It enables support for external graphics systems, which opens up really great possibilities for us. Prices on the European market may be a disadvantage, after all, the variant without both RAM and SSD storage is priced at EUR 569. In the case of the version with 32 GB RAM and 1 TB solid-state drive, we will have to pay EUR 759. By adding another stick of RAM with a capacity of 32 GB, we increase the total cost to 869 euros. However, shipping to Poland is free. We will make the purchase in manufacturer's official store.
Source: Minisforum