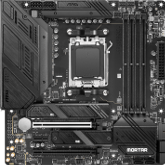 AMD Ryzen 7000 processors for the premiere were accompanied only by very expensive boards, mainly with AMD X670E chipsets, while we had to wait a few months for models with cheaper systems. This resulted in less interest in the platform than the manufacturer initially assumed, but the situation has been steadily improving since October. After all, the first sensible AM5 motherboards appear only in the vicinity of PLN 1,000, among which there is also the MSI MAG B650M Mortar WiFi tested today. A small design with the cheapest logic system is, contrary to appearances, a quite solidly equipped proposal, although not necessarily in terms of the capabilities of the chipset itself.
Author: Sebastian Oktaba
The MSI Mortar motherboard family has been positioned as a smaller variant of another popular model – the Tomahawk, practically from the beginning of its existence. Both usually shared a style, represented a similar price segment and offered similar equipment. The main difference was the use of a smaller format for Mortar. Today's mATX constructions are in no way inferior to ATX, of course, unless the manufacturer decides otherwise, so the size has clearly lost its importance. The above principle has also been maintained in the case of the new generation of AMD Ryzen 7000 processors, where we will again get Mortar and Tomahawk, which look almost identical in terms of visuals and specifications. If you shortened the Tomahawk's laminate to about 244 millimeters, you'd get the Mortar, which we'll take a closer look at…
The MSI MAG B650M Mortar WiFi is practically the MSI MAG B650 Tomahawk WiFi in the mATX version, because although the differences in the format have an impact on the specification, they are rather small overall.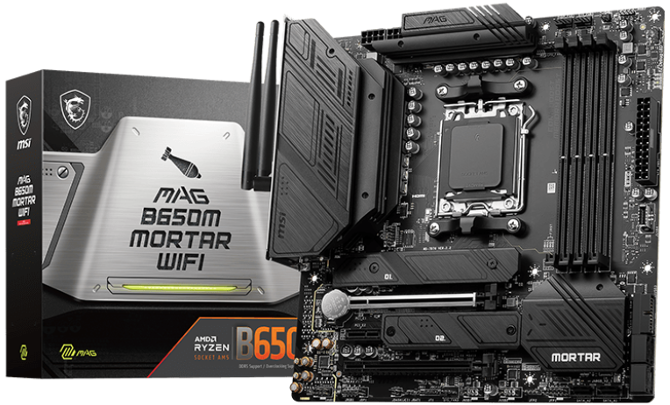 The AMD AM5 platform offers four chipsets in two categories – X670E / X670 / B650E / B650 – where there are additional internal divisions. The "E" designation is reserved for models supporting PCI-Express 5.0 dedicated to graphics cards, although changes between designs also occur in less fundamental issues regarding other interfaces. Differences in the available USB ports and other PCI-Express slots can be found in the table below (the final number remains at the discretion of the board manufacturer). The most limited is of course the B650 chipset, which can optionally support at most NVMe PCI-E 5.0 x4 media. It is worth noting, however, that the X670/X670E chipset motherboards have two in-line modules on board, which in many ways double their capabilities. This also means more heat to be dissipated. All systems allow free overclocking of the processor, RAM and support Dual Channel.
| | | | | |
| --- | --- | --- | --- | --- |
| | X670E | X670 | B650E | B650 |
| Internal link | PCIe 4.0 x4 | PCIe 4.0 x4 | PCIe 4.0 x4 | PCIe 4.0 x4 |
| Number of modules | 2 | 2 | 1 | 1 |
| CPU overclocking | Yes | Yes | Yes | Yes |
| RAM overclocking | Yes | Yes | Yes | Yes |
| memory channels | 2 | 2 | 2 | 2 |
| PCIe GPU (CPU) | 16x PCIe 5.0 | 16x PCIe 4.0 | 16x PCIe 5.0 | 16x PCIe 4.0 |
| PCIe NVMe (CPU) | 8x PCIe 5.0 | 8x PCIe 5.0 | 8x PCIe 5.0 | 4x PCIe 5.0 |
| PCIe (MOBO) | 44 | 44 | 36 | 36 |
| PCIe 5.0 (MOBO) | 24 | 8 | 24 | 0 |
| USB 10Gbps | 12 | 12 | 6 | 6 |
| USB 20Gbps | 2 | 2 | 1 | 1 |
| SATA 6.0Gbps | 8 | 8 | 4 | 4 |
| TDP factor | 14W | 14W | 7W | 7W |
So to sum up – the MSI MAG B650M Mortar WiFi is a pretty solid mATX motherboard, belonging to the lowest segment dedicated to the AM5 platform. The use of the weakest B650 chipset meant that there was no support for PCI-Express 5.0 for graphics chips (mandatory) and semiconductor media (optional). Although both standards are still a song of the future, today there are simply no devices using new interfaces, although in a one- or two-year perspective such devices will appear. The manufacturer, however, did not seek compromises in terms of the quality of workmanship or additional equipment, maintaining a high level of the series. The device offers e.g. aluminum heat sinks covering a solid power section, a decent sound codec, radiators for M.2 media and an extensive I/O panel. According to the nomenclature, there was also a factory-integrated Wi-Fi 6E wireless module plus Bluetooth 5.2.