If you send an image or video to a contact and the content looks blurry, here's the solution.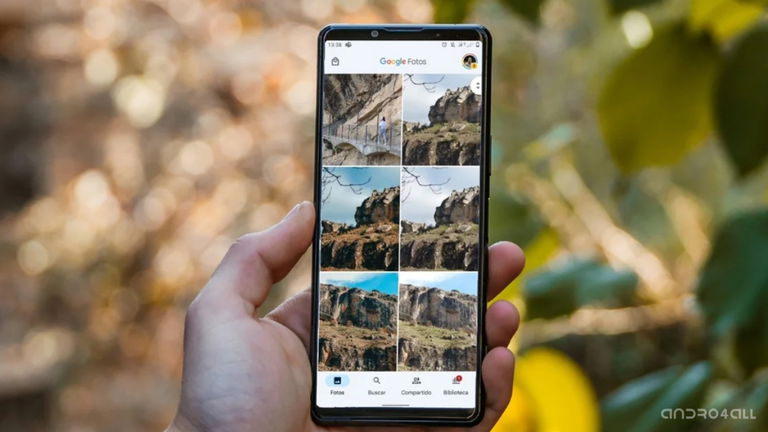 We are going to explain to you what are some factors that could cause your mobile send blurry videos and photos by message. We explore various file sharing solutions and show you what's unique about each one. Thus, you will know how to send your memories in the best way to avoid blurry photos and videos.
Rule out that there is not a problem with your phone's camera
The first step you should take is to check if your phone has any problems when taking photos or recording videos. When this happens and the device is creating faulty media fileswith blurred areas or a very low resolution, the quality will not improve when you send them by message to your contacts.
These are some of the tests that we recommend you do:
Take a look at the gallery. use the gallery app on your phone to see what the latest photos you've taken look like. You also do well to review the videos. If you notice that there is a significant quality deficiency in the items you have opened, something may be wrong with your device.
Avoid uploading images to the cloud. Services like Google Photos can apply compression to images. If there is a problem with the algorithm, it could damage the files and cause unpleasant effects, such as a blurry photo. Check how your photos and videos look before a storage platform processes the files.
Test with the camera app. Take photos and videos with the different sensors and make sure the results are good. In addition, it is also advisable to try camera apps from third parties, to see if it is a problem with the sensor or with the application itself.
Avoid compression of Google Photos
Once you have ruled out problems in the operation of the sensors or the camera application of your device, it is time to tackle the problem from another perspective. And it is that compression applied by some applications could be damaging your photo files.
google photos It has a function that reduces the weight of the images when you share them with others through a message, either by WhatsApp or Telegram. After selecting several files and choosing the channel to send them, the option will appear Big size and Real size. The first option is the one that actually applies compression to the images.
This is quickly appreciated in the total size of the images sent. As if that were not enough, if you send the photos or videos by WhatsApp or Telegram, they will suffer a second compression that could make them look blurry. It is best that you choose the option Real sizeespecially if you are looking to send your memories with the highest quality.
Send files with the highest quality with WhatsApp
WhatsApp is an application used by millions of people every day. And not just for texting. It is also a good means of communication if it is about sending photos or videos.
Of course, the intensive use of WhatsApp for these functions has made the company integrate a compression algorithm to process the images and videos that users are sent. The results are good, but depending on the original quality of the image, the image may appear blurry.
Fortunately, there is a workaround to prevent compression from kicking in. Which is it? Here are the steps:
Enter the application and open the conversation in which you want to send uncompressed photos or videos.
Click on the button to attach files.
Instead of choosing the option Gallery either Camerapress on Document.
The Android file explorer will open with which you can select the image you want to share.
Sometimes you will find it a bit tedious to find a photo in this way, especially if you have a lot of them. But it's the only way send images at the highest quality with WhatsApp.
Remove compression of videos and images in Telegram
Let's talk now about Telegram. This platform has many advantages over WhatsApp and, as far as functions are concerned, it is much more advanced. Without going any further, it allows you send a photo without compression directly from the gallery.
You just have to open the sharing menu and select the photos you want to send. Then tap on the three vertical points and select as files. By doing so, Telegram will bypass the compression process.
Be careful when sending photos and videos by MMS!
The compression algorithms of all the mentioned applications do not usually give problems. The normal thing is that neither Google Photos, nor WhatsApp, nor Telegram blur photos and videos. There could be specific cases, but it is not usual.
Where you can suffer a noticeable loss of quality is sending photos by MMSa kind of multimedia SMS that supports attachments.
Keep in mind that the limit of an MMS is 3.5 MBsomething that will lead the messages application to excessively compress some photos.
Our advice is that you go to the alternatives mentioned to prevent photos and videos you send through messages from being blurry or with poor quality. Despite the Google's good intentions with RCSa kind of iMessage for Android, if you send a multimedia file with the messaging app on your phone you are probably doing it in MMS format.