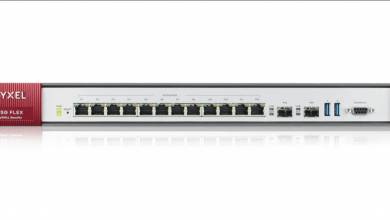 The new USG FLEX H Series offers triple the power to secure SMBs while operating at multi-gigabit speeds.
Zyxel Networks, a leading provider of secure, AI-powered cloud networking solutions, has announced USG FLEX H series is safe firewalls introducing – a new family of devices designed to provide exceptional multi-gigabit performance and premium security to small and medium-sized businesses (SMBs).
High speed triple performance
As businesses continue to upgrade their connected devices and networks to multi-gigabit levels, they need a firewall that delivers the same speed and performance. The USG FLEX H series triple the performance of firewall, VPN and Unified Threat Manager (UTM) throughput provides and 1G and 2.5G to 10G multi-gigabit speedthus offering SMEs ample capacity to meet growing network needs.
Some models also have Power over Ethernet (PoE) options with a power rating of up to 30W, allowing devices such as 5G routers (FWA710) and WiFi 6E access points (APs) to be seamlessly connected and powered, simplifying network cabling. The inclusion of software-defined Ethernet ports, previously only found in enterprise-level products, provides flexibility to meet individual needs (selectable LAN/WAN), thereby offering greater versatility in network settings.
Ken Tsai, senior vice president of Zyxel Networks Gateway SBU, said: "The USG FLEX H Series offers SMBs unmatched performance, enhanced security and a simplified user experience. Zyxel Networks high performance a new generation of firewall appliances gives them the speed and capabilities they need to adapt to the changing security requirements of multi-gigabit networks and effectively protect their valuable digital assets."
AI-based security and hassle-free management
In the face of increasingly complex threats targeting businesses, the USG FLEX H Series leverages AI-based cloud intelligence for multi-level protection. The protection system includes sandboxing, malware protection, DNS/IP/URL filtering, intrusion prevention system (IPS) and application monitoring. In addition, the firewalls support widely used VPN protocols such as IKEv2/EAP and SSL VPN across multiple operating system platforms, all with a single Zyxel Networks SecuExtender VPN Client license key.
The USG FLEX H series helps to simplify the tasks of network administrators and provides independent and centrally managed protection through Zyxel Networks' Nebula Cloud service. Administrators can use the Nebula app to quickly deploy devices and seamlessly switch between the device GUI or the Nebula Control Center to manage the network . It ensures secure connections and enables centralized management of wired and wireless devices, as well as security tools, all from a single window.
Improved user experience with uOS
The USG FLEX H series is built with a focus on user experience and equipped with a new operating system, uOS. The system offers a simple, modern and intuitive user interface, improves overall usability and speeds up the system's response when processing complex configurations. In addition, its graphical dashboard provides a clear and comprehensive overview of the entire network's security landscape, helping network administrators make quick and informed decisions to respond to threats in a timely manner.
The USG FLEX H series includes six models that meet the versatile requirements of small and medium-sized businesses. The bundled version includes a one-year Gold Security Pack license, which includes features such as sandboxing, reputation filter, Nebula Pro Pack, SecuReporter.
All models will be available from the end of October 2023 at Zyxel Networks partners. More information about the USG FLEX H series can be found on the following website: https://www.zyxel.com/hu/hu/products/next-gen-firewall/usg-flex-firewall-usg-flex-500h