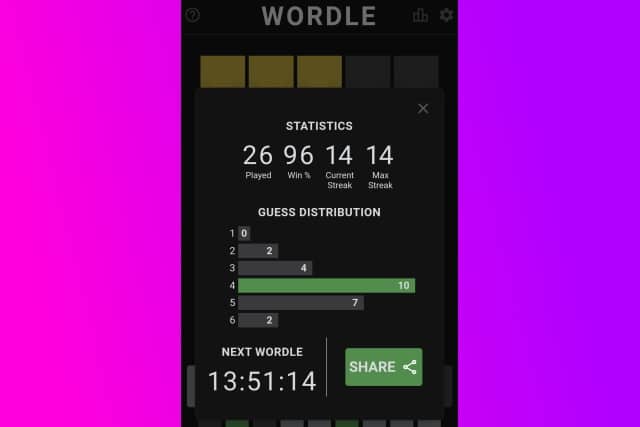 The days of the viral daily word-guessing game Wordle being free could well be numbered. The New York Times has bought the popular puzzle game for an undisclosed seven-figure sum, adding to its game portfolio.
While there are no immediate changes to the game planned, there are fears that the brainchild of software engineer Josh Wardle may not remain free. A carefully worded announcement about the acquisition gives a strong hint that Wordle gameplay may be tweaked and that charges could be on the horizon.
See also:
Precise details of the deal have not been revealed, but the New York Times says that it acquired Wordle for an "undisclosed price in the low-seven figures".
Wardle voices his pleasure at the new home for his creation: "If you've followed along with the story of Wordle, you'll know that New York Times Games played a big part in its origins, and so this step feels very natural to me. I've long admired The Times's approach to the quality of their games and the respect with which they treat their players. Their values are aligned with mine on these matters and I'm thrilled that they will be stewards of the game moving forward".
Jonathan Knight, general manager for The New York Times Games, is similarly upbeat, saying:
We could not be more thrilled to become the new home and proud stewards of this magical game, and are honored to help bring Josh Wardle's cherished creation to more solvers in the months ahead. As part of our portfolio of games, Wordle will have an exciting future with the help of a team of talented engineers, designers, editors and more, furthering the user experience.
It is the wording of a key sentence in the NYT announcement that raises concerns about possible future charges or paywalling for Wordles. The media outlet says: "At the time it moves to The New York Times, Wordle will be free to play for new and existing players, and no changes will be made to its gameplay".