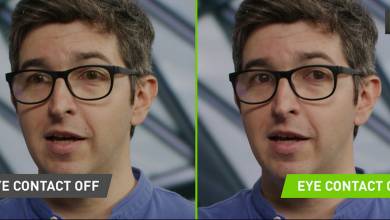 With the latest version of Nvidia Broadcast, you look at the camera even when your eyes are actually elsewhere.
Nowadays, developments based on artificial intelligence are spreading unstoppably even among average users, if we only look at the results of the last few weeks, ChatGPT really took the world by stormand the social media sites are generated with the Lensa AI application with creative (?) selfies.
And now Nvidia has presented a new product that many people can benefit from, at least if they improve it a bit, because the technology in its current form is not yet the real thing.
The new feature is simply called Eye Contact, and it debuted in the latest version 1.4 of the Nvidia Broadcast app. The essence of the solution is that during video calls or streaming, artificial intelligence adjusts our gaze to the camera even when we are not looking into the lens.
With an algorithm that also takes into account the color of our eyes, it is theoretically possible to make it appear that we are talking into the camera even if we are otherwise reading the text from a piece of paper or a screen, but if needed, we can pretend that we are devotedly concentrating while we are browsing the internet in a boring teleconference.
Nvidia is one for that also included a spectacular presentationbut we would rather insert the more life-smelling test of Pixelated Pine here, which reveals that Eye Contact is far from a perfect solution, as the videographer's eyes often produce strange things.
Regardless, the greens have put together a technology that looks promising, which is only a beta version, so it can still improve a lot. Nvidia is also waiting for user feedback on this, so if you want to trick your boss more believably in the future, you can send video raw materials on this interface to train the algorithm.
However, it is worth noting that Nvidia is not the first to try something like this: the "Eye Contact" setting in the iOS FaceTime application also tries to keep our eyes glued to the camera, and since 2020, the It can also be found in Windows this capability, but the latter can only be used with processors equipped with a neural unit (NPU).
Are you more seriously interested in IT? You can find our news and analyzes for IT and infocommunications decision-makers here.