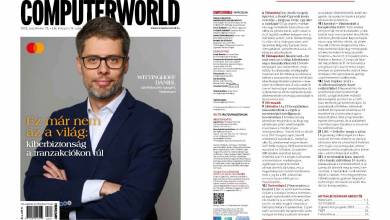 In the article, the online version of the issue of Computerworld magazine published on September 20, 2023 can be paged like a newspaper and read in its entirety.
The series of crisis situations and the resulting difficulties, as well as the transformations associated with hybrid work, have caused challenges for IT decision-makers, company managers involved in IT decisions, and all other readers interested in corporate IT in the last few years. That is why our editors decided to make it easier to access the printed issues of Computerworld magazine, here is the latest one:
4 Opinions
Dr. Gergely Bodó, lawyer, head of the Bodó Law Firm – How should an SME protect its brand?
Introducing a company name, brand name or product name takes a lot of time and money, so it's worth a lot. In most cases, nothing protects brands, anyone can copy them. This is protected by trademark protection, which small and medium-sized enterprises can apply for with European Union support until December 8.
5 On our front page
Mastercard – This is no longer the world: cyber security beyond transactions
With a better knowledge of their vulnerabilities and by constantly fine-tuning their prevention and response strategies, organizations can protect themselves against increasingly sophisticated cyber threats, Mastercard pointed out. According to the company's experts, in addition to technological investments, companies must also develop their data culture and the security awareness of their employees.
9 Companies rely on IT suppliers to deploy artificial intelligence
Readiness significantly determines whether a business approaches AI as a business opportunity. Among other things, this was revealed by SAP Hungary's own research called SurvAI, which was presented at the 24th SAP NOW Hungary 2023 conference in Siófok. According to the survey of almost 300 company managers, companies primarily expect a significant AI impact in the areas of production, marketing, and customer relations, while in traditionally human areas such as law and HR, they shy away from the use of artificial intelligence.
12 The main role is speech
Although the text form is dominant in business communication, one of the most important sources of information is still the human voice, which can influence processes in a positive or even a negative way. That is why innovative voice analysis technologies can be valuable tools in the hands of venture capital investors, business angels, but also entrepreneurs applying for financial resources.
15 Kyndryl – Platform bridge over complexity
In order to modernize their IT environment, companies can update their local systems, connect them to cloud services, or move them to the cloud, but whether they use any combination or all of the three approaches, transformation is always a complex process, Kyndryl pointed out in its latest report. The IT infrastructure provider helps solve this complex task with an open platform, on which operational data meets artificial intelligence and industry expertise.
18 SAS Explore 2023 – AI application factory with SaaS tools
Viya announced service-as-a-service capabilities expanding its analytics and data management platform at SAS's annual technology conference. The new tools offer an environment accessible from anywhere in the cloud for rapid development of AI models and applications, support multiple programming languages, and provide direct access to scalable computing capacities.
21 IDC – Money goes to the cloud
Despite the economic difficulties and slimming frameworks, European companies will not hold back this year and in the following years when they spend on public cloud services, IDC predicted. Software services will continue to attract the most money, while spending on platform services may grow the fastest.
22 The age of neobanks: innovation in the banking sector
With the digital transformation, new actors appeared in the banking sector in the last decade, the neobanks. These are truly digital banks: they do not have a traditional branch network and often place technological innovation at the heart of their business model.