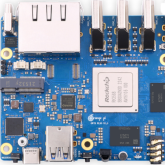 Another single board computer from Shenzhen Xunlong Software will be available for sale soon. Orange Pi 5 Plus is the third and last model in this series. This time we will also be dealing with a fairly efficient "board", because it will be powered by an 8-core processor, which will complement up to 16 GB of RAM. We will get access to quite a lot of ports and connectors and 40 digital GPIO pins. One of the biggest advantages of this equipment, however, may be the price.
Orange Pi 5 Plus is the successor to the 5B model, which has received several improvements. First of all, there is room for more connectors and the title dual 2.5-gigabit Ethernet port on board.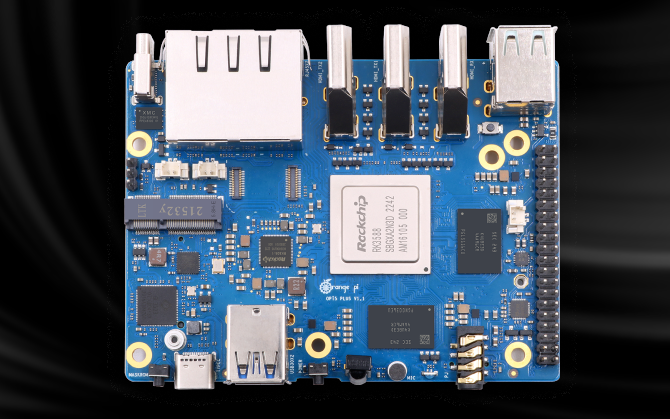 On this small board measuring 100 x 70 mm, there is room for a processor with quite good performance – Rockchip RK3588. It is an octa-core unit that has 4 Cortex-A76 cores clocked at 2.4 GHz and 4 Cortex-A55 cores clocked at 1.8 GHz. RAM based on LPDDR4 or LPDDR4x bones is available in variants: 4, 8 and 16 GB. The built-in eMMC flash memory is also available in several versions: from 32 to 256 GB. We can further expand it using a microSD memory card slot or by placing a 2280 NVMe SSD in the M.2 connector (up to 2000 MB / s). We can install several systems: Android 12, Debian, Orange Pi OS and Ubuntu.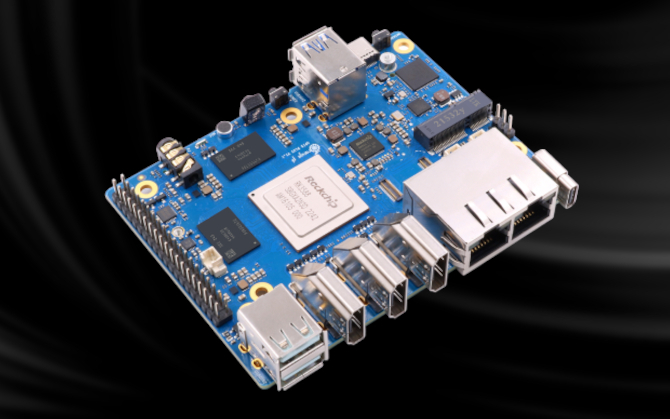 The video connectors are 2 HDMI 2.1 ports (up to 8K, 60 fps), one HDMI 2.0, and USB type C, which allows you to connect the DisplayPort 1.4 cable through the appropriate adapter. There is also a 6-pin FPC socket for installing touch screens and support for the MIPI DSI interface (up to 4K, 60 fps) and MIPI CSI. From the available connectors, we have two USB 3.0 ports, one USB 3.1 Gen1 (5 Gbps), as well as two USB 2.0 ports. In terms of sound, we get support for the ES8388 audio codec, a 3.5 mm Jack socket and a speaker connector. Of course, as in most SBCs, there are 40 digital GPIO pins. On the back of the board there is a second "E-key" M.2 socket (2230). We can easily connect a battery or a fan. You can also mention the 3-pin UART serial port. The board will be powered via the USB-C port (5 V / 4 A). The price for the base model with 4 GB of RAM is $ 89.9, while the 16 GB version costs $ 129. So the price is really interesting.
Source: Orange Pi