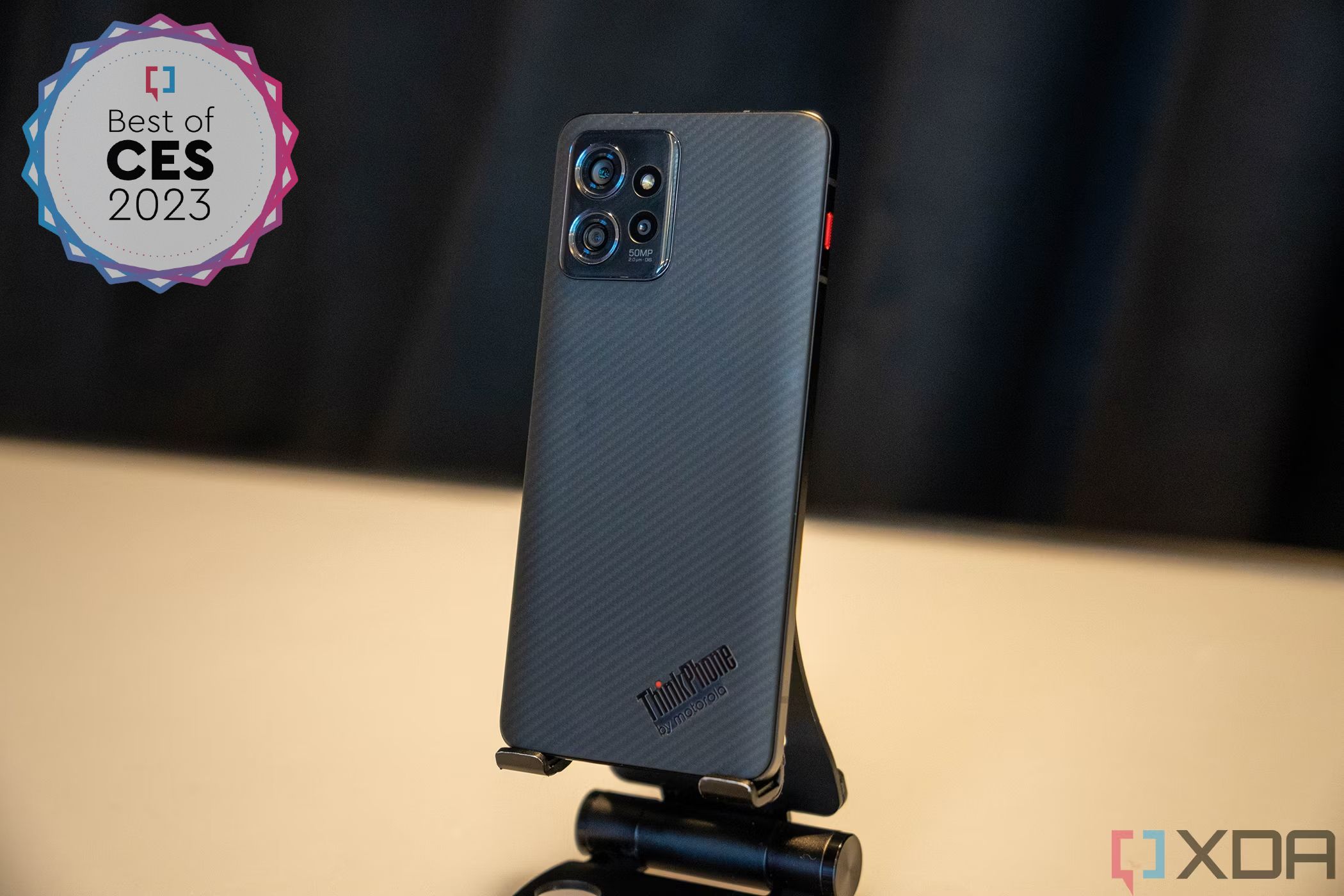 Every year, CES wows us with cool new tech products, whether it's showing off laptops, phones, smart home devices, or just flashy gadgets. CES 2023 was no different, and there was a lot to work through this year. Thankfully, there were many devices we loved to see. From a laptop with two screens to one with a 3D OLED display, companies brought all kinds of cool tech to CES 2023, and we're here to tell you our favorites.
We're not going to be putting products in specific categories here because, for most of them, the reason they're on this list is due to how unique and innovative they are. It wouldn't make sense to categorize them when they often stand alone in their respective category.
Lenovo ThinkPhone by Motorola
Though Lenovo has owned Motorola for some time now, the new Lenovo ThinkPhone by Motorola might be the most obvious brand collaboration yet. For years now, the Lenovo ThinkPad has been a consistent entrant on our list of the best business laptops thanks to their solid build quality, security features, and, of course, the iconic red eraser-like TrackPoint. If you're a ThinkPad enthusiast looking for a smartphone to complement your favorite productivity laptop, or if you just want a phone that puts security at the forefront, there's the new ThinkPhone.
The Lenovo ThinkPhone by Motorola is built using a very durable and lightweight aramid fiber, aircraft-grade aluminum frame, along with Gorilla Glass Victus, to create a phone that can handle drops from 1.25 meters and has an IP68 weather resistance rating. But what would a device from Lenovo with "Think" in the name be without a special red button? The customizable RedKey on the side lets you program direct access to an app or service with just a press. However, what really makes this phone interesting is all the ways Lenovo and Motorola have found to help keep your information safe. From the ThinkShield security platform to Moto Threat Defense and much more, this phone is designed to make IT professionals' lives easier and offer users peace of mind.
Another feature introduced by Lenovo ThinkPhone by Motorola is Think2Think to seamlessly tie the ThinkPhone with the ThinkPad. It brings Instant Connect to connect the phone and laptop easily, a Unified Clipboard and notifications, File Drop to move files between devices wirelessly, App Streaming to open any Android app on your computer, and the ability to use the ThinkPhone's cameras and AI features as your computer's webcam. This new Snapdragon 8+Gen1 smartphone will be released in the coming months, with pricing still unannounced.
Lenovo Yoga Book 9i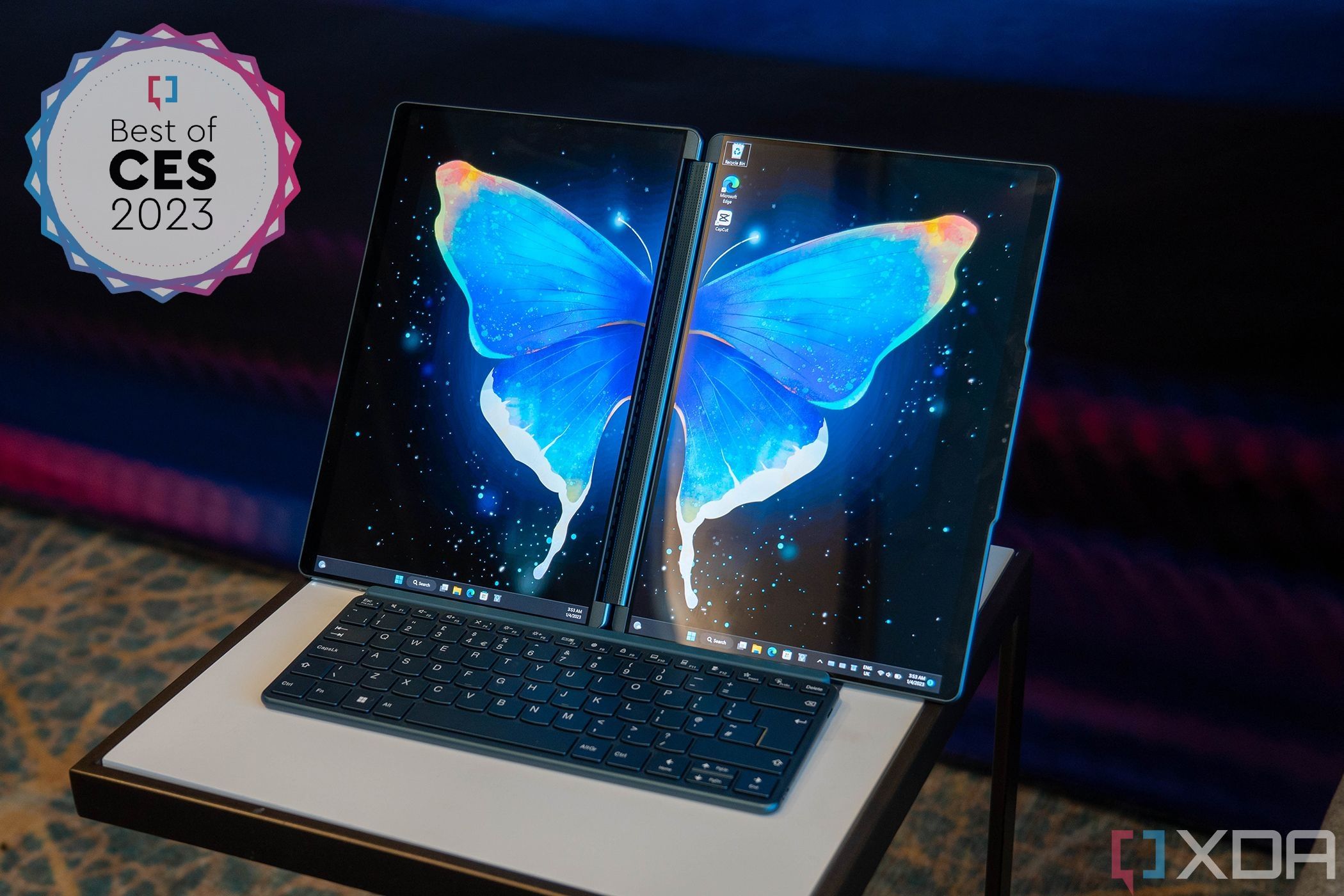 Microsoft's Surface Neo may have never come to market, but Lenovo is keeping the dual-screen dream alive with the Lenovo Yoga Book 9i, and it looks amazing. This is a convertible laptop with two 13.3-inch OLED displays, each with 2.8K (2880 x 1800) resolution, that can be used independently in various modes. You can use it in tent mode, for example, to display a presentation on one screen while controlling it on the other. You can also have two apps side-by-side, allowing you to take notes in OneNote while attending an online class.
The laptop also includes a Bluetooth keyboard, which can be placed on the laptop itself for a more typical laptop experience or connected wirelessly to use both screens at the same time. There's a folio stand, too, allowing you to prop up the laptop for any possible situation.
The Lenovo Yoga Book 9i is shaping up to be an incredibly versatile machine, and it's everything we were hoping to see in the Surface Neo. Oh, and did we mention it looks absolutely gorgeous in its Tidal Blue colorway? Consider us interested in this one when it launches in June, even with its $2,099.99 starting price.
Lenovo ThinkBook Plus Twist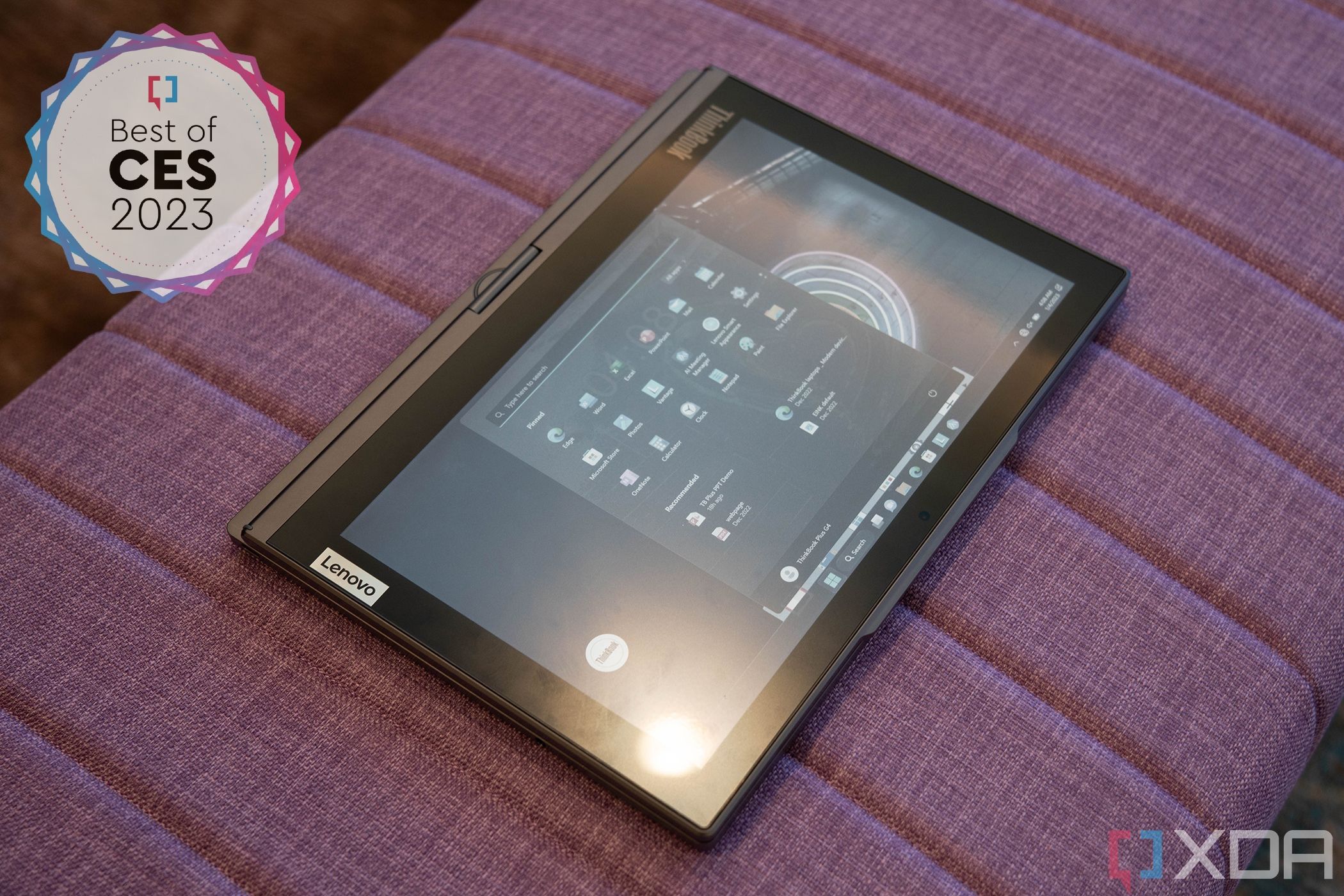 Lenovo has released a few products that blend a typical display and an E Ink panel, but the new ThinkBook Plus Twist is the most unique one yet, and arguably, its best. On the inside, it has a 13.3-inch OLED display, which you'll use in regular laptop mode. But on the lid, there's a 12-inch color E Ink panel that you can use for more comfortable reading.
But here's the twist (pun intended): The lid can actually rotate fully around when it's open, which means you can have the E Ink display on the inside and the OLED panel on the outside. For example, if you're just typing, using the E Ink display in laptop mode can be useful to reduce eye strain, and you don't need a super high refresh rate to accomplish that. You can also use the OLED display to watch video content in tablet mode, so there are a lot of interesting use cases here.
The E Ink display by itself is also interesting, considering it supports color, which is something we don't see often. And a 12Hz refresh rate helps things look fairly smooth, making it that much better for reading or writing. It even supports active pens for drawing and taking notes. It's expected to be available in June, and it will cost $1,649.
HP Dragonfly Pro Chromebook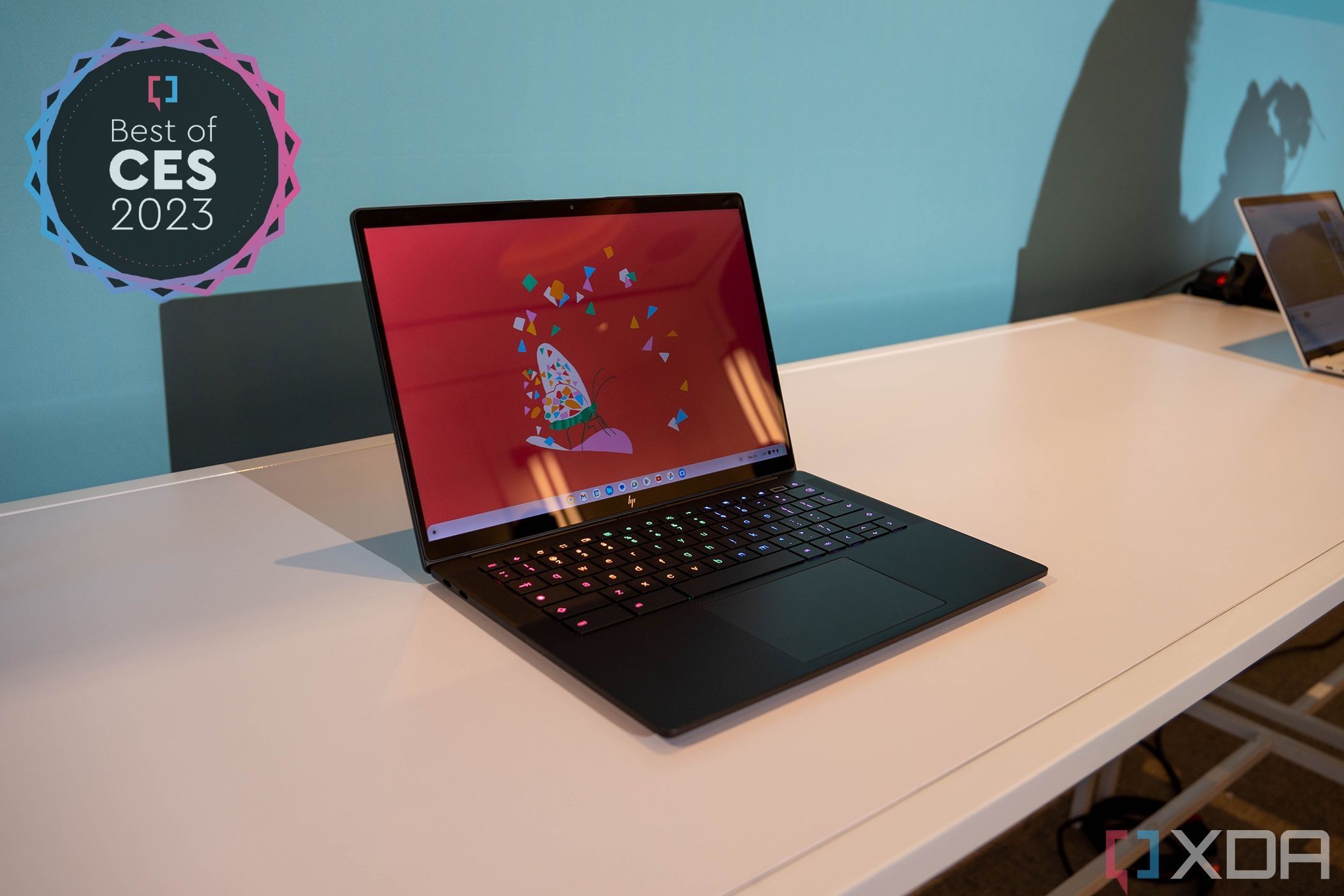 The HP Dragonfly Pro is a brand-new series for HP, and it comes in a Windows and ChromeOS model, both of which feature fresh, modern designs. However, in a surprise twist, the ChromeOS model is actually the standout. For one thing, the HP Dragonfly Pro Chromebook has a much nicer display, with Quad HD resolution and up to a whopping 1,200 nits of brightness. It also has an 8MP webcam, the first ever in a clamshell Chromebook, and something very rare in any laptop (the Windows version only has a 5MP webcam).
The cherry on top of this cake is the RGB backlit keyboard, which you almost never see in a laptop that's not meant for gaming. It gives this laptop a more unique look while still being sleek and clean since the lights only shine through the key labels. It makes for a beautiful laptop that promises a great media experience. It also makes us wonder why the Windows version didn't get the same treatment…
We don't have pricing for this one, but it should be available in the spring.
Dell G15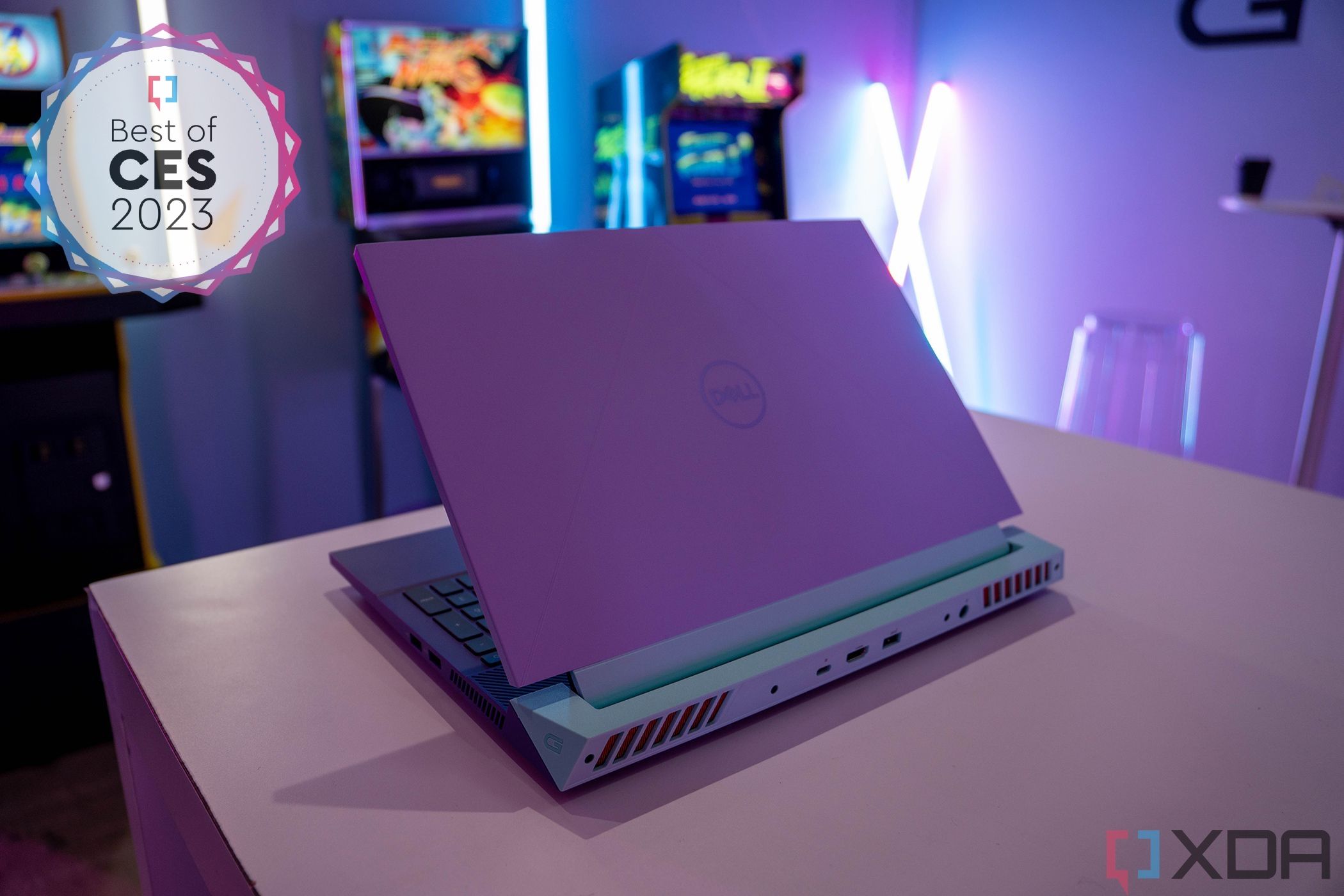 Gaming laptops, especially cheaper ones, often come in a similar dark chassis, but the new Dell G15 is a breath of fresh air in terms of design. It's not exactly a sleek laptop, but it looks unique compared to most other gaming laptops. One of the color options combines purple with mint green, and another combines white with dark blue and some light orange accents. There's still a black version if you do want something boring, though.
Beyond the outside, the Dell G15 packs in the latest specs, with 13th-generation Intel Core HX series processors and Nvidia GeForce RTX 40 series GPUs. It's got plenty of power for all your gaming needs, and it's refreshing to see something that looks this unique in the gaming space, even if it's not a super high-end product. Hopefully, these colors will be widely available, and they'll inspire other companies to do something similar.
The Dell G15 is coming this spring, and it will start at $849.
Dell Premier Collaboration Keyboard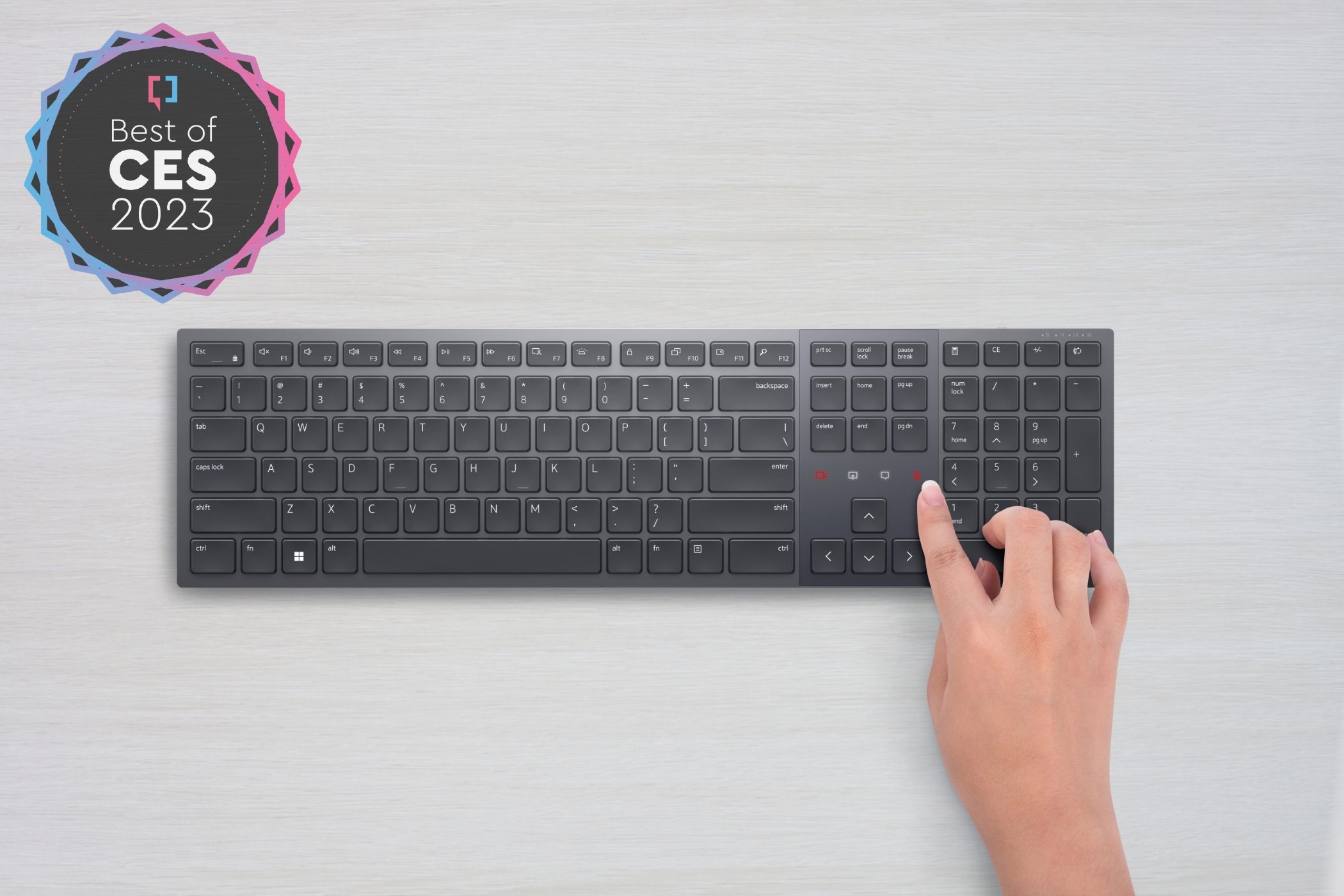 Yes, we're including a keyboard on this list, but trust is, there's a good reason. The Dell Premier Collaboration Keyboard is a sleek desktop option with low-profile scissor-switch keys, but it manages to stand out. One reason is the smart backlighting, which lights up when your hands approach the keyboard, so you can always see the keys as soon as you're about to start typing.
Perhaps even more notable, however, is that this keyboard is Zoom-certified. Indeed, above the arrow keys, you'll find a series of touch-based controls specifically for Zoom, including the ability to mute or unmute the microphone, turn your camera on or off, share your screen, and even open the chat panel. You can do it all with a quick double-tap. In the age of remote and hybrid work, it's surprising we haven't seen anything like this before.
This keyboard will be available by the end of January, and it will cost $109.99.
TCL RayNeo X2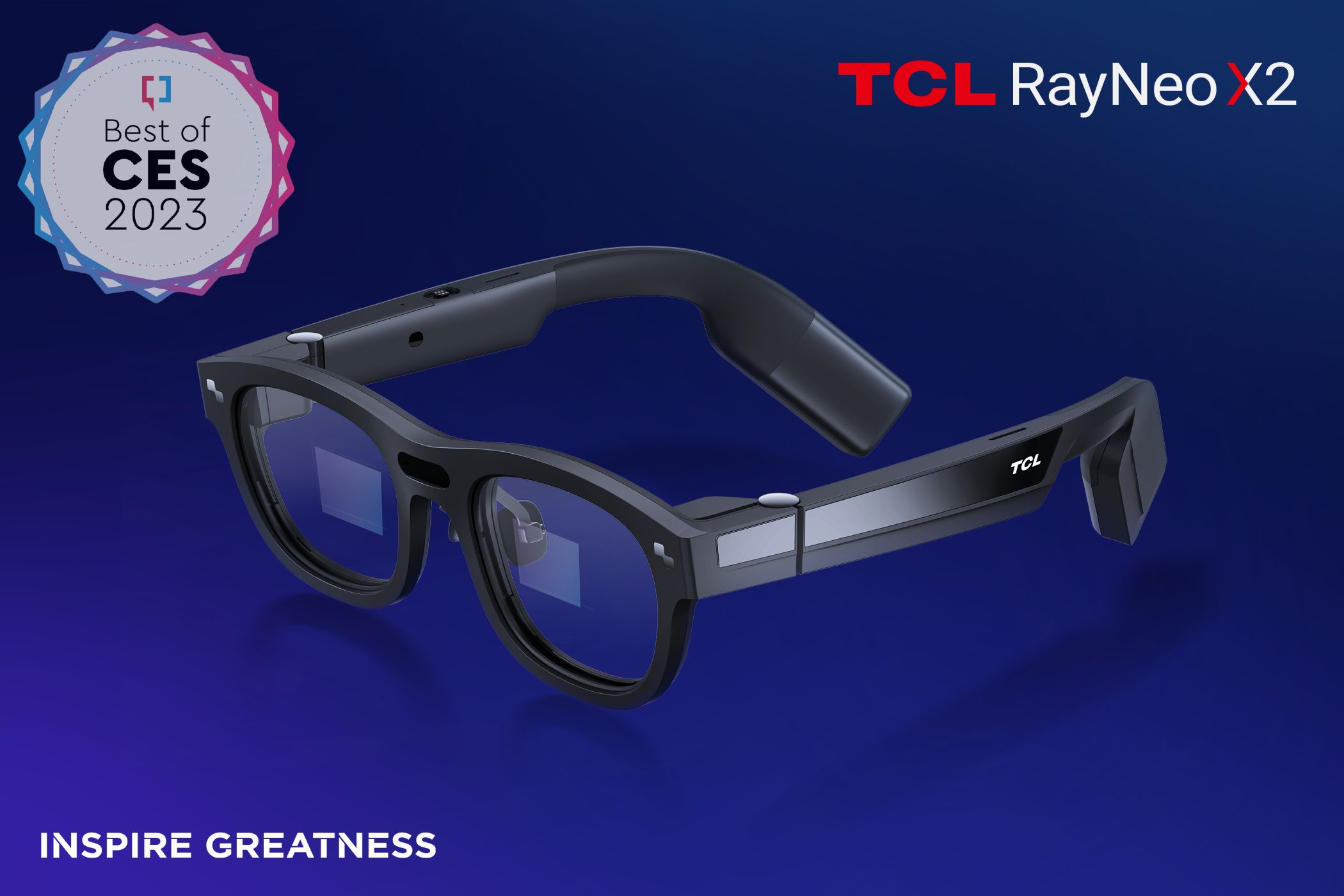 TCL dipped into the smart glasses market in Fall 2022 with the TCL NXTWEAR S, which offers a 130-inch wearable screen for your devices. The company decided to be more ambitious at CES this year with the TCL RayNeo X2. They have a 590mAh battery to power the Qualcomm Snapdragon XR2 platform and various sensors, including Wi-Fi, GPS, Bluetooth, and more. The glasses come with a 16MP camera capable of capturing 1080p video while on the go. In addition to the touch-sensitive strip on the RayNeo X2's arms, there are three microphones for voice commands and dual speakers for listening to responses, music, and more.
However, the stars of the show are the full-color micro-LED displays, which feature display technology that can offer up to 1,000 nits, more than some smartphones, and an impressive 100,000:1 contrast ratio. The RayNeo X2 aims to be the wearer's live translator and smart navigation assistant. The glasses can overlay information about the area onto the live view, in addition to keeping you up-to-date with notifications from your smartphone. TCL managed to pack all of this into relatively normal-looking black-framed glasses. While they are a bit on the thick side, they aren't terrible to look at.
TCL has an impressive set of goals for its new AR glasses, and from what we've seen, is working hard to make them a reality. They are slated for a Q1 2023 release to the developer community to help build apps for a future commercial launch.
Asus Spatial Vision and ProArt StudioBook 16 3D OLED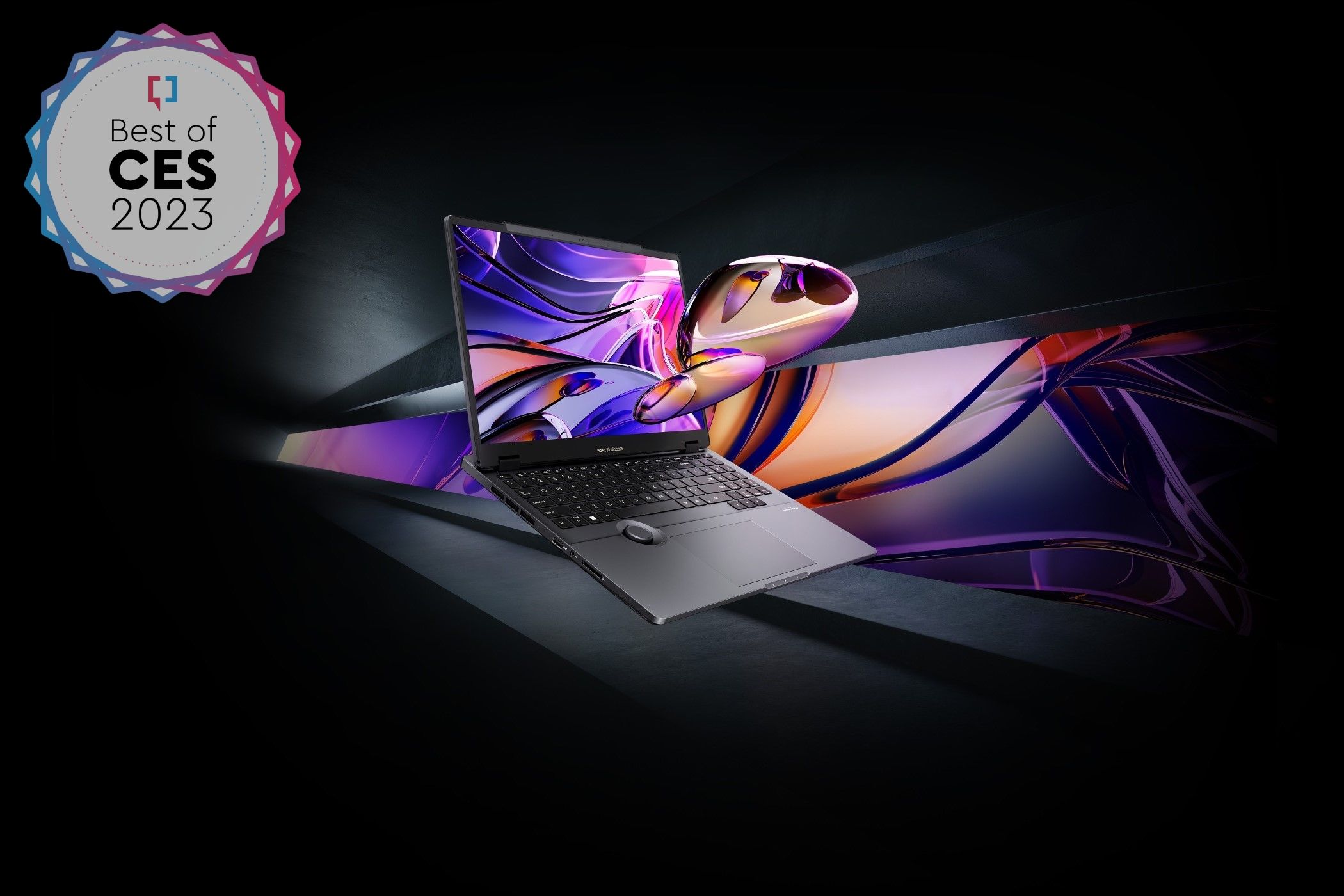 Asus was one of the first companies to go all-in on OLED displays for its laptops, and this year, it's taking the next step by using the first 3D OLED display on a laptop. Mind you, 3D displays on laptops are already very rare — Acer has used them in its SpatialLabs laptops, but that's about it — but OLED makes this experience even more appealing. Asus' Spatial Vision combines the benefits of OLED, including true blacks, a 1,000,000:1 contrast ratio, and fast response times, with an autostereoscopic 3D panel, meaning the 3D images are generated directly in the display without the need for special glasses.
The first laptop to use this 3D OLED display will be the Asus ProArt StudioBook 16 3D OLED, which is a powerful machine for creators that includes the latest Intel Core HX series processors and GeForce RTX 40 series graphics. In addition to a super-sharp 3200 x 2000 resolution, the panel also has a 120Hz refresh rate, making for a fantastic viewing experience in 3D or 2D. And the 3D display should work with most 3D programs and file formats, including Blender and Nvidia Omniverse. It's not for everyone (at least not yet), but this is super cool technology we'd like to see evolve and become more widely adopted.
Acer Chromebox Add-in-One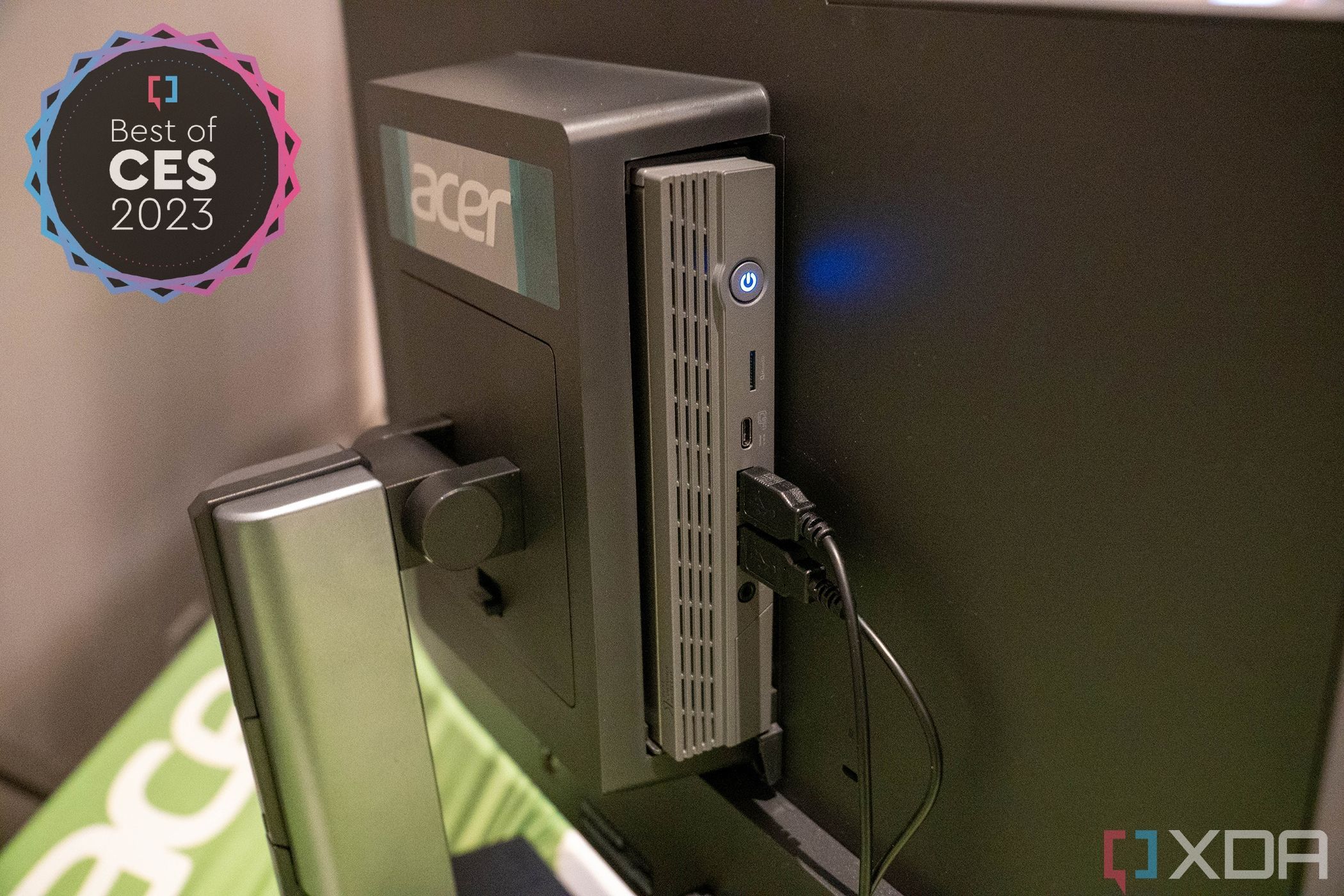 We don't get to see a lot of ChromeOS desktops — usually known as Chromeboxes — but Acer is doing something unique with its latest option. With the Acer Chromebox CXI5, the company is also launching a modular all-in-one system, which includes a 24-inch Full HD monitor where the Chromebox can easily be mounted on the back.
That means you get an integrated experience where the monitor and the computer basically act as one unit. Still, you can easily remove the computer part of it to repair it or upgrade it. It's an all-in-one PC, but the core computing unit can be easily removed and added in, hence the Add-in-One branding. It's a promising solution for businesses that want to upgrade their performance in the future without having to buy a new monitor or who don't have the space for a full desktop setup.
The Acer Add-in-One system will start at $609.99, though the Chromebox itself only starts at $289.99.
Acer Predator X45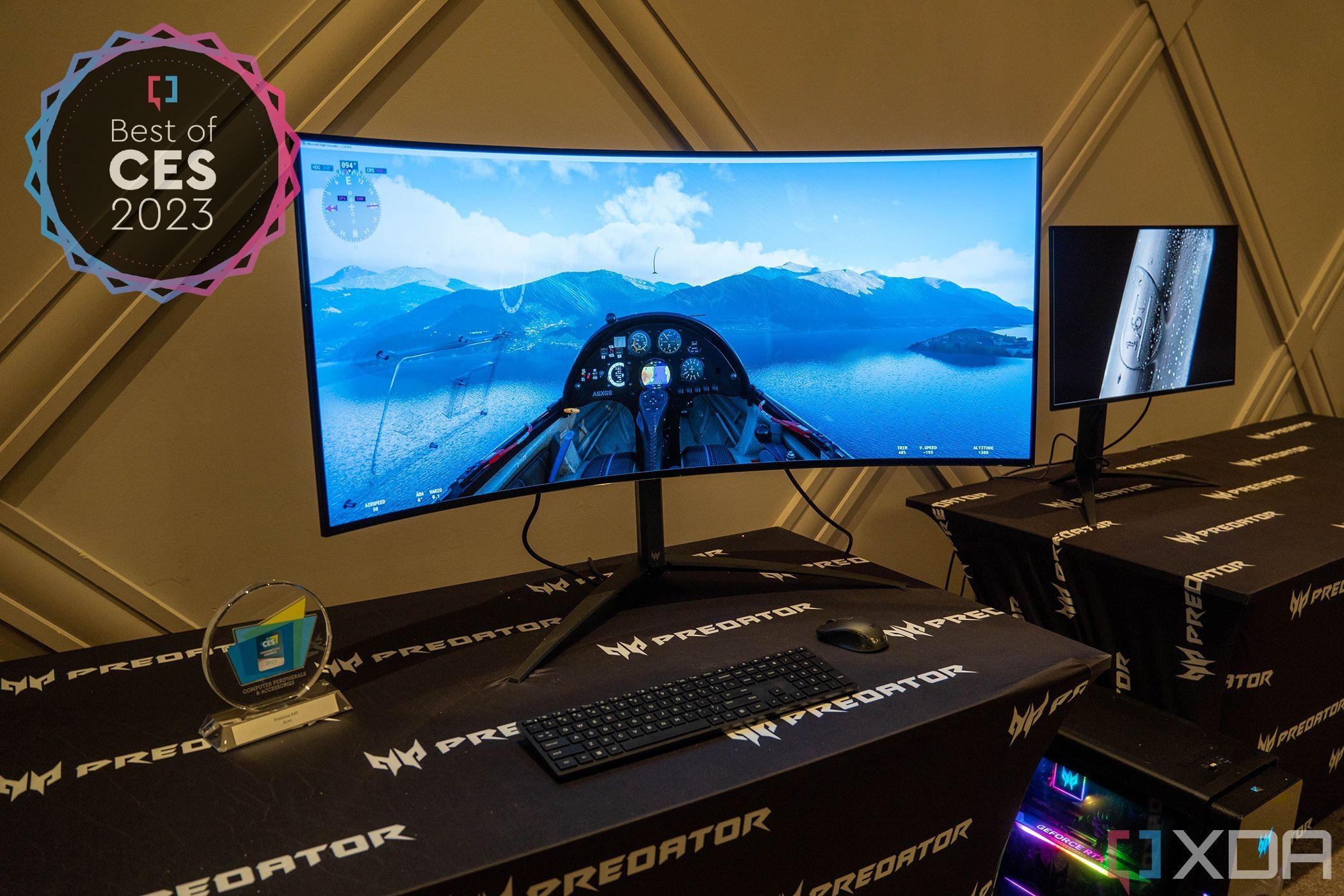 Gamers with a big budget got some pretty cool news from Acer this CES, with the new Predator X45 OLED monitor being one of the highlights. This monitor is no joke. It's a massive 45-inch OLED panel with ultra-wide Quad HD (3440 x 1440) resolution. OLED means you get true blacks and a high contrast ratio, plus you have super fast pixel response times, which is what you want in a gaming monitor.
On top of that, the display reaches a whopping 1,000 nits of brightness and supports HDR10, so the viewing experience should be great for games, movies, or anything else. And something this big is more like a small TV than a typical monitor, so immersion is also phenomenal here. It costs $1,699, so it's not for everyone, but you can't get much better than this for a a top-tier gaming experience.
Nanoleaf 4D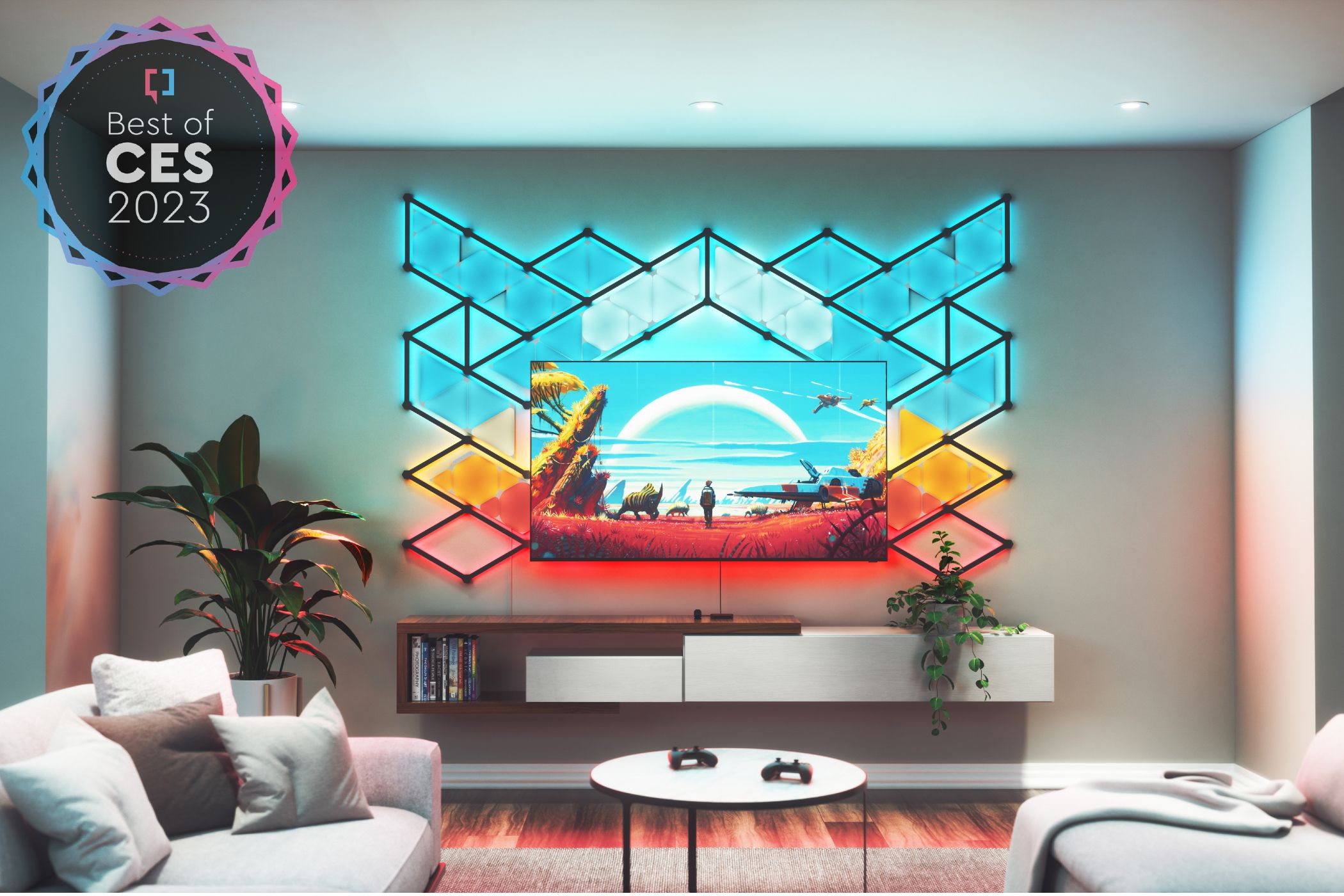 Nanoleaf always brings some cool new lighting products to CES, and this year was no different. While all announced products were impressive in their own right, the standout product was the new Nanoleaf 4D TV Smarter Kit, which combines the company's new Matter-enabled LED lightstrip with 50 addressable zones, a Screen Mirror Camera, and new Sync+ technology to extend what is happening on your TV onto the wall behind it in a vibrant lighting effect.
Nanoleaf isn't the first company to use a camera and an LED lightstrip to mimic the colors on a TV — Govee is one of the best currently offering the tech — but seeing it enter the space after years of excellent products is exciting. To make it even better, should you have other Nanoleaf devices, you'll be able to sync all of them with your Nanoleaf 4D for a more engrossing experience.
Nanoleaf also unveiled its new "Nala" Automation Learning Assistant and Nala Bridge. This could potentially be a major game changer for controlling and managing your Nanoleaf lights to the point where you don't do anything at all. Instead, Nala will learn how you use your lights and start automating them for you. But since this is still a ways off and will need some testing, the Nanoleaf 4D gets the award today.
Samsung Galaxy A14 5G
It's January 2023, and though much of the Samsung focus will be on the upcoming Galaxy S23 series, the Galaxy A14 5G is the first phone out of the gate for Samsung this year, and it's a promising budget device. Historically, the Galaxy A series has produced some of the best budget phones around, so the announcement of this phone at $199 is cause for excitement.
The phone comes with a 6.6-inch FHD+ LCD panel capable of a 90Hz refresh rate, which is crazy at this price point. Running the show is a Mediatek Dimensity 700 with 4GB RAM, 64GB onboard storage that's expandable up to 1TB via microSD card, and a 5,000mAh battery. Oh, and there's a headphone jack too. For cameras, Samsung packed in three lenses on the back: a 50MP main camera, 2MP macro camera, and a 2MP depth camera. Then, there's a 13MP selfie camera in the teardrop display cutout on the front.
The Galaxy A14 5G launches with Android 13 out of the box, so you'll have the newest software from the start. With all of this, the phone looks like a fantastic buy for $199 and will likely be a big hit for Samsung.
---
Those are some of the coolest products we saw at CES 2023, and suffice it to say the return of CES was a great return to form after the last couple of years. We're excited to see these products when they make their way to the market throughout the rest of the year.
Do you have a favorite announcement from CES 2023? Let us know in the comments!