PhonePe Refer & Earn
(Bank Loot) PhonePe Refer & Earn – Upto ₹1000 Cashback On Signup + ₹100/Refer
---
PhonePe Refer & Earn – Hi Guys, Hope You Are Enjoying Our Free Recharge Tricks & Highest Paying Free Recharge Apps With Free Paytm Cash Tricks. PhonePe's Popular Referral Program is Now Even Bigger. Now, You Will Get Assured ₹200 to ₹1000 Scratch Card Per Successful Refer.
Flipkart owned PhonePe launched India's First UPI (Unified Payments Interface) app. PhonePe UPI app is a payment system that allows money transfer between any two bank accounts via smartphone.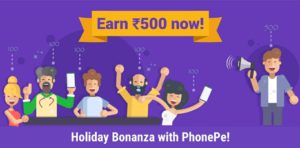 So To Celebrate It Gives Back To Back Offers .We All Very Well Remember Signup And Get Rs.25 Offer And Everybody Looted It Very Well Also Send Rs.1 & Get 50 Back In Bank Loot.
After End Of The We Have Mentioned How You Can Transfer Your PhonePe Cashback Into Bank Account With Simple Trick. You Should Must Try That As Well
Read Full Post Below To Get Idea About This Offer
PhonePe Refer & Earn Offer

: 
| PhonePe | Referral Details |
| --- | --- |
| Referral Link – | phon.pe/ru_alam6xp1 |
| Benefit | ₹100 Cashback On Each Refer |
| Min Send Money | ₹1 |
| Cashback Bank Transferrable | YES |
Why download the PhonePe app

?
Available in 11 different languages
Bank balance check & money storage
Pay a various types of bills & recharges
Send money & transfer
Wallet Top-up & Pin Authorization
Get exclusive rewards for completing payments or paying bills
Use Phonepe Switch to launch your favorite app
Effective Customer Care
Explore various nearby store for easiness 
---
PhonePe Refer & Earn – How To Get Rs.100 Per Refer
Steps For Refer & Earn :-
1. First Of All Just Download PhonePe App From Here
2. Enter Your Unused Mobile Number
3. Now Proceed With Entering M-Pin Email Etc.
4. Now You Have To Link Your Bank Account in PhonePe App. For That Just Follow Below Steps.
5. Open PhonePe App >> Click On Bank Accounts >> Add New Bank Account >> Select The Bank
6. PhonePe App Will Fetch The Bank Account On Same Number
7. Once it Found The Bank Account , You have to Set The UPI PIN 
And Click on Confirm 
Now Send Min ₹1 to ₹200 To Any PhonePe User & You Can get Scratch Card With Any Offer Inside it. – [You Can Send ₹1 to @ybl Address ([email protected]) From Your PhonePe @ybl UPI Address ]
8. Success
Win Upto Rs.1000 :
Also You will get up to ₹100 cashback Scratch Card on Your first ever money transfer on the PhonePe app using UPI; money transfer can be to a contact, PhonePe UPI ID, bank account or self account linked on PhonePe.
How to Earn on First Phonepe UPI Payment? 
Phonepe referral reward is a great way to earn money, and you can even make some quick cash from your first UPI payment. I know you're curious about the procedure, so read on.
First and foremost, ensure that the Phonepe app has been downloaded to your smartphone.
If not, then download Phonepe app using the link mentioned above.
Then, when registering, enter our Phonepe referral code to receive Rs 100.
Following that, send your first UPI phonepe payment of Rs 100 to any shop or friend within the first 7 days of downloading the app.
If you follow this procedure correctly, you will have the opportunity to win a Rs 1000 scratch card, which is fantastic.
Furthermore, you can begin referring your friends on various social media platforms.
Each referral you send to this platform will earn you Rs 200.
So, start today using !! Begin referring, and your journey will be rewarded with a insane referral bonus.
PhonePe App Refer & Earn – Free Rs.100 On Successful Refer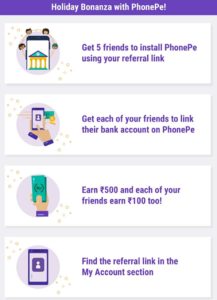 Must Try This If You Want to Convert PhonePe Cashback into Bank Account .
PhonePe Gold Offer -Trick To Transfer PhonePe Cashback into Bank
How to check Phonepe referral amount balance?
When you successfully refer a friend, all of your winnings will be instantly credited to your Phonpe wallet. So, in the end, you can safely check your phonepe refer and earn amount and withdraw money as needed. Check out these simple procedures to check the wallet balance:
Open the Phonepe apk first.
Then select the profile picture on the home page.
Click View All Payment Methods in the Payment Methods section after that.
Finally, you must select the Phonepe wallet option.
Hurray!! You can check the balance in your Phonepe wallet.
How to transfer Phonepe Wallet balance into a Bank account?
Prior to anything else, open the Phonepe app on your smartphone.
Click or hit the "My Money" icon after that.
Visit the Wallets/Gift Voucher section right away after that.
Following that, select "Phonepe Wallet" from the menu.
The Withdrawal button will now be visible at the top of the screen. Please select the "Withdrawal" tab now.
In the next step, Place the wallet icon onto the bank icon by dragging it down.
It's done! Your bank account will get the balance from your Phonepe wallet. 
PhonePe Referral offer – Eligibility Criteria 
Referred friend must do their first payment using BHIM UPI
Referred friend must sign up on the PhonePe app within one hour of clicking on the referral link of the referrer
The referred friend should complete their first payment using BHIM UPI within 7 days of registering on the app
More Details Of This PhonePe Refer Offer :
Referrer will receive ₹100 cashback when the referred user adds their bank account through UPI on PhonePe for the first time
A referred friend is a user who has installed the PhonePe app after clicking on the referral link of the referrer
Referrer will receive cashback for the first hundred successful referrals only
First hundred referrals of a referrer will receive ₹100 cashback when they link their bank account for the first time on PhonePe through UPI
First hundred referrals will be counted from the start of the offer period
Referred friend will get up to ₹1000 cashback on their first ever money transfer on the PhonePe app using UPI; money transfer can be to a contact, PhonePe UPI ID, bank account or self account linked on PhonePe.
Other Ways to Make Money from Phonepe
1) Cashback Offers on Recharge/Pay Bills
PhonePe routinely provides its users with cashback offers on different types of transactions. These cashback offers can be used on a variety of services, including online shopping, bill payments, and mobile recharges.
Through its collaborations, PhonePe also provides exclusive cashback offers on a selection of brands and retailers. Users can take advantage of these deals to save money on their regular purchases and gain incentives for using the app.
2) UPI offers
As the top UPI-based payment app in India, PhonePe provides its consumers with a variety of UPI offers. As a new user, you have access to significant prizes, which is a fantastic opportunity to make money.
Additionally, if you use Phonepe UPI to pay bills or make purchases, you have the opportunity to win a free scratch card. Therefore, Phonepe UPI is the finest choice with an added dosage of income for regular transactions.
The terms and conditions of these UPI deals could change, and they could only be available for a short while. It's always a good idea to check the PhonePe app for the most recent UPI discounts and take advantage of them to save money on your transactions.
3) Gift Vouchers
If you want to buy gift cards for major brands such as Amazon, Flipkart, Swiggy, or any other company, Phonepe is the ideal option. However, the Phonepe app offers a number of discount promotions when buying gift cards, allowing you to save up to 10%.
4) Mutual Fund
PhonePe recently introduced Mutual Fund, allowing users to invest in several mutual funds on the platform. Through PhonePe, users can research various funds, assess their differences, and make direct investments. 
In addition to this, users have the option to monitor the performance of their investments, add to their portfolio, or withdraw money as needed. As a result, they can profit substantially from direct investments with little cost.
5) Digital Gold
To earn some extra bucks, users can purchase and trade digital gold on PhonePe Digital Gold's marketplace. It is really impressive that anyone may purchase digital gold for any amount, starting at just 1 rupee. They also have the choice to sell their digital gold back to PhonePe at market value. As a result, use your plan and profit significantly. 
PhonePe Refer & Earn – Frequently Asked Questions
1) How to find the Phonepe refer and earn link?
– Open the PhonePe app first.
– Second, select "Phonepe Refer & Earn" from the menu.
– You'll be directed to a website where your special referral link is visible.
– It's done! Please forward this PhonePe referral link along to your family or friends.
– Finally, start earning money through it. 
2) What to do if phonepe refer and earn not working?
There are a few things you can try if your PhonePe invite and earn link isn't working as expected:
– Make sure you have a reliable internet connection.
– Ensure that the referral link is correct.
– Check to see whether you qualify for the Phonepe refer and earn program by – – checking it's terms and conditions.
– Get in touch with Phonepe Customer Support Number
– If the problem is still not fixed, wait and try again later.
3) How do I redeem the Phonepe Scratch Card and get cashback?
Follow the below-mentioned steps to get cashback through Phonepe scratch card :
– Open the PhonePe app and log in to your account.
– Look for the scratch card in the "Offers" section on the homepage or the "My Rewards" section in the menu.
– After that, open the scratch card by tapping on it.
– To view the cashback amount, scratch off the card's silver panel.
– In order to redeem the cashback, click the "Redeem" button.
– The cashback will be added to your PhonePe wallet, which you can use to make more purchases.
How do I avail the offer?
Friend needs to install the PhonePe app using the referrer's referral link
Referred friend needs to do a successful payment using BHIM UPI
The offer is valid only once per Bank Account and only once per PhonePe registered customer
When do I get the cashback / benefit?
Cashback will be credited as PhonePe gift voucher balance within 24 hours of successful completion of the transaction (friend's first payment through BHIM UPI on PhonePe) on which the offer is applicable
What happens if I am eligible for more than one offer?
If you are eligible for more than one offer, the offer giving you the maximum Cashback is automatically picked up for you.
What happens in case of refund/cancellation of my transaction?
In case of any cancellations, the cashback given on the transaction will continue to remain in your wallet and non-withdrawable to your bank account. This can continue to be used on PhonePe (recharges, bill payments, etc.)
Refunded amount less of cashback will be credited to the PhonePe wallet and will continue to be withdrawable to your bank account
Phonepe Refer and Earn Customer Care Number
You can contact a Phonepe executive right away if you have any concerns, withdrawal issues,  bug-related issues, or paytm refer and earn problem. The helpful crew at Phonepe makes sure that all of your questions are answered as soon as possible and without any hassle. They take care to ensure that users are satisfied while using the Phonepe apk.
You can contact the customer support centre on 080-68727374 / 022-68727374.
---
PhonePe Referral Terms & Coditions :
user can earn up to ₹9,999 cashback in the PhonePe wallet per financial year (i.e. 1st April to 31st March) from offers disbursed on PhonePe
Offer is applicable on both iOS and Android devices
Any cashback related query should be raised within 30 days from the date your friend registered with PhonePe
Cashback gift voucher can be used for recharges, bill payments and payments on PhonePe partner platforms/stores.
Cashback gift voucher cannot be withdrawn to any linked bank account or transferred to other customers.
The transaction must be initiated using a PhonePe linked bank account and completed by the user within the PhonePe app
PhonePe reserves the right to award offers and related benefits as per internal policy decided by PhonePe from time to time.
PhonePe has the right to amend the terms & conditions, end the offer, or call back any or all of its offers without prior notice.
Customers' participation in the offer constitutes their understanding and agreement to the complete terms and conditions associated with the offer.
In case of any dispute, PhonePe reserves the right to resolve the same as per the Terms & condition
Conclusion
In conclusion, millions of users around India use the popular and safe Phonepe app for payments. Besides that, Phonepe app gives its users one of the best phonepe refer and earn 200 Rs for all its new users. You can receive up to Rs 1000 in your Phonepe balance right now by simply signing up and sending your first UPI.
In light of this, the phone pe refer and earn program has become an insane obsession. Many people frequently invite new friends and can make a limitless amount of real money. If you want to make some quick money, you should definitely check out the article above. Happy earning as a result!