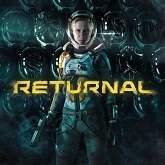 Almost every gamer has heard of NVIDIA DLSS technology. For some it's just a pipe dream, for others it's a very useful feature. However, thanks to such solutions, we often have the opportunity to play at maximum graphics settings in 4K resolution with high image fluidity. It's no different in Returnal, which got an update to DLSS 3, which can double the number of frames per second. Let's check what number of fps we can expect.
Returnal got an update to NVIDIA DLSS 3. The solution can double the number of frames per second. The top NVIDIA GeForce RTX 4090 graphics card gains up to 105 frames per second in 4K resolution.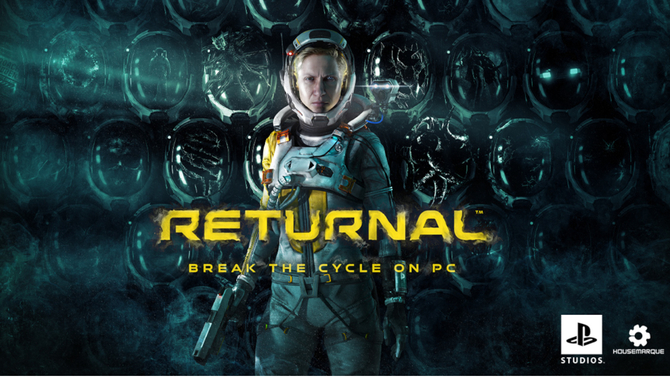 At the outset, it is worth noting that the game was tested using an Intel Core i9-12900K processor, using 32 GB RAM and various graphics cards from the NVIDIA GeFroce RTX 4000 series. The whole thing worked under Windows 11, and the game's graphics settings were pushed to law. Ray Tracing is also enabled. The test was performed only at 4K resolution (3840×2160). So let's take a look at the results. The top card of the series without DLSS enabled generates 84.9 fps, however, after enabling the super sampling technology in performance mode, we can count on a frame rate of about 188.6 fps. The GeFroce RTX 4080 graphics card recorded an increase in liquidity by 61.4 fps. On the other hand, the GeFroce RTX 4070 TI accelerated from 50.6 fps to 117.5 frames per second, which translates into, for example, full use of the 4K 120 Hz monitor.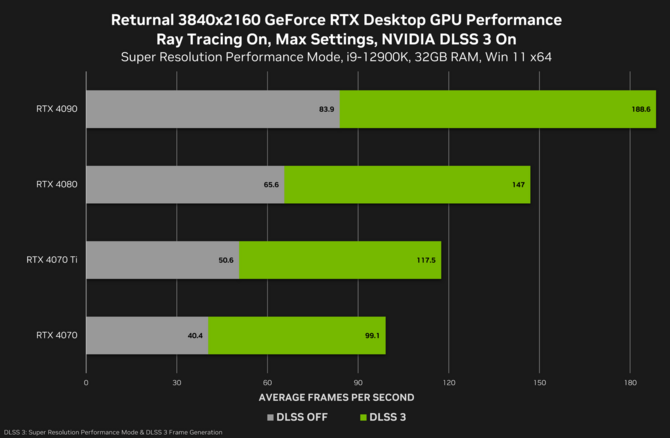 The weakest of the available cards from the NVIDIA GeForce RTX 4000 series, it offers us 40.4 fps without the DLSS 3 function turned on, but after turning it on we get a result of 99.1 fps. Such a procedure will certainly translate into a smoother game, especially if we are the type of player who always needs to have more than 60 frames per second. These tests also show that there is a lot of potential to raise the quality slider in DLSS modes, providing slightly better visuals, but slightly reducing frame rate. Especially when we have a monitor with a native refresh rate of up to 165 Hz or 120 Hz. This solution should also work great with Quad HD monitors with a refresh rate 240 Hz or even 380 Hz. Finally, NVIDIA is gradually expanding the pool of games that support DLSS technologies. At the moment, it is already over 290 titles. It is therefore safe to say that the technology will soon pass its milestone and become the new standard in the future.
Source: NVIDIA