Jul 29, 2023The Hacker NewsBrowser Security / Data Security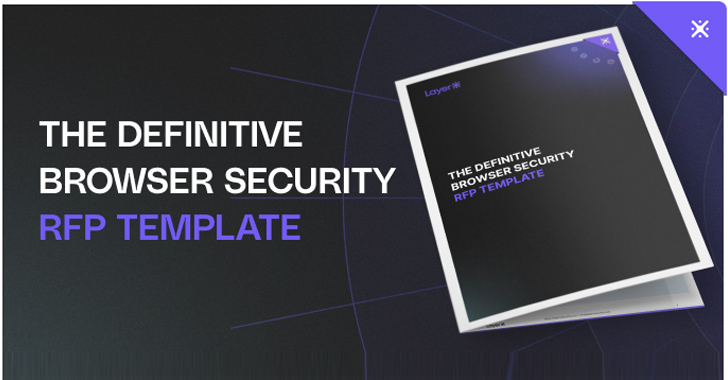 Increasing cyber threats and attacks have made protecting organizational data a paramount concern for businesses of all sizes. A group of experts have recognized the pressing need for comprehensive browser security solutions and collaborated to develop "The Definitive Browser Security RFP Template." This resource helps streamline the process of evaluating and procuring browser security platforms. It provides organizations with a standardized approach to enhance their security posture by protecting the key employee workspace – the browser.
The Importance of a Standardized RFP Template
The RFP (Request for Proposal) template offers numerous advantages for organizations seeking robust browser security solutions. By promoting standardization, the RFP template ensures a consistent structure and format for proposals, saving time and effort for both the procurement team and vendors. Moreover, it facilitates clear and specific instructions to vendors, resulting in higher-quality proposals and a more efficient evaluation process.
Addressing the Diverse Landscape of Browser Security
Browser security is a complex field, with diverse challenges arising from managed devices, personal devices (BYOD policies), external contractor access, sanctioned apps, unsanctioned apps, and more. To tackle these hurdles effectively, the RFP template comprises eight sections:
Deployment – How the browser security platform is implemented across the organization.
User Experience – How the browser security platform integrates into users' ongoing workflows.
Attack Surface Reduction – How the solution prevents attackers from gaining access to the browser and its data.
Zero Trust Access – How the solution secures and manages access through the browser.
SaaS Monitoring and Protection – How the solution tracks and alerts to ensure corporate data is secured.
Protection Against Malicious Web Pages – How the solution prevents attackers from weaponizing the browser.
Secure Third-Party Access and BYOD – How the solution protects unmanaged devices.
User Privacy – How the solution safeguards users' personal information.
How to Use the RFP Template
Organizations can leverage the RFP template effectively by following these steps:
Review Carefully: Decision-makers should thoroughly study each requirement outlined in the RFP template.
Send to Vendors: The RFP should be forwarded to the vendors under evaluation.
Request Specific Solutions: Vendors should complete the 'Solution' column in each section with either 'Yes' or 'No' and provide a verbal description.
Evaluate Responses: The answers provided by vendors will aid in the evaluation process.
Embracing the RFP Template for Enhanced Cybersecurity
As the cyber threat landscape continues to evolve, organizations must prioritize browser security as a critical component of their overall cybersecurity strategy. With "The Definitive Browser Security RFP Template" at their disposal, decision-makers can make informed choices that bolster their defenses against web-borne threats and risks. The template offers a starting point to protecting sensitive organizational data in an increasingly interconnected world.