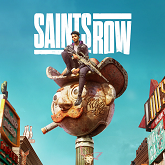 A completely new opening of the series from Deep Silver Volition literally from the first trailers quite strongly divided the gaming community. This title has a certain group of people happy with the direction the series has gone, but the vast majority of people who tested it rejected it at the start. Both the significantly changed tone in the context of the characters or the plot, as well as the terrifying technical problems were criticized. Despite this, the creators are still planning its development.
Saints Row has received a comprehensive content development roadmap. The creators announced today what awaits us in 2023.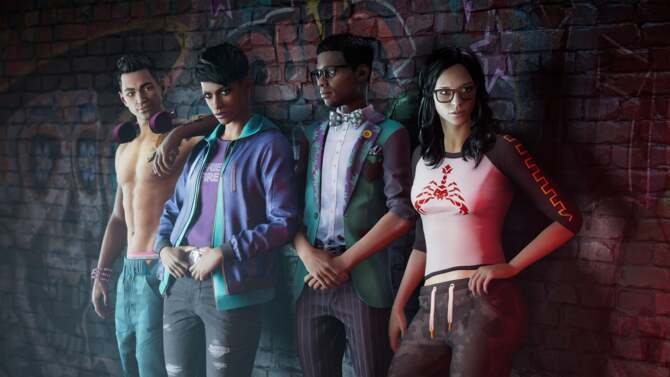 The first of the entire list will be the Dead Island 2 set, and we will see it soon, on April 11. Infernal LA meets Weird Wild West in this free bundle inspired by Deep Silver's upcoming zombie game. Players will be able to dress up their Boss with items from the reckless anti-hero Jacob or the brilliant athlete Amy. They can also be terrifying with new weapons, strut with pride with a new emote, and evoke beach vibes with the iconic flamingo hat and shark statue at their headquarters. The next free update is scheduled for May. It's Sunshine Springs, the new district of Santo Ileso, and a set of gameplay changes (such as a reworked combat system, selfie mode, and more) and fixes. On the same day, Season Pass owners will receive The Heist & The Hazardous, three new missions across Sunshine Springs where the Saints will make a wild heist in revenge against the treacherous celebrity actor…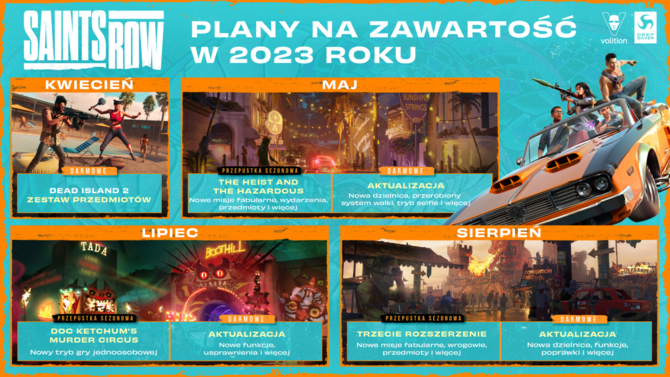 The next content for the season pass will be released in July. Doc Ketchum's Murder Circus is a new single-player mode, but the developers have decided not to reveal the details yet. In addition, there will be more free experience quality updates and new features. Finally, in August, the third, final and biggest expansion for season pass owners will arrive. Also during this period, there will be a second new district and quality updates, free for all players. Each DLC will of course also be available separately.
Source: Deep Silver