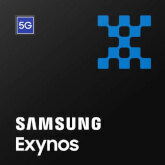 Samsung Exynos systems are not very popular among users. In recent years, they have been perceived as slower units, and additionally consuming more power, which made customers much more likely to reach for smartphones equipped with Qualcomm Snapdragon processors. Despite this, the Koreans do not give up on the development of their own SoCs, as evidenced by the performance results of the upcoming Exynos 2400.
Samsung Exynos 2400 will offer very high multi-thread performance. In the Geekbench 5 test, it outperformed the Apple A16 Bionic chip by 25 percent.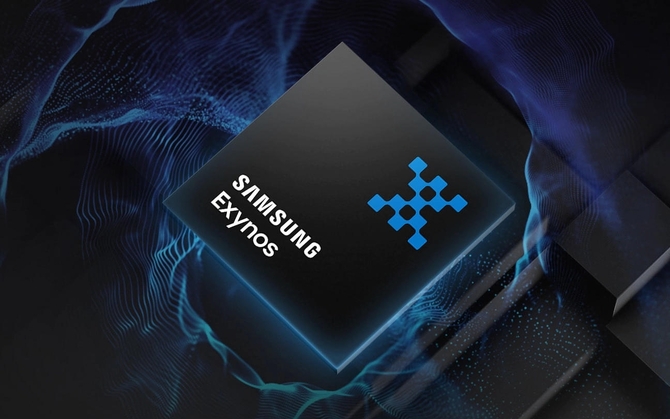 According to current information, the Samsung Exynos 2400 will be equipped with ten cores. The fastest of them, Cortex-X4, will work at a frequency of 3.1 GHz. Two Cortex A-720 cores will reach a maximum of 2.9 GHz, and three more – 2.7 GHz. Four energy-efficient Cortex A-520 cores clocked at 1.8 GHz are designed to handle the least demanding applications. Mobile players will also be able to test the performance of the Xclipse 940 graphics system, which uses the AMD RDNA 2 architecture. It did not take away support for 5G connectivity, fast UFS 4.0 memory and the ability to record video in 8K resolution while maintaining fluidity at 60 frames per second. What performance can users expect?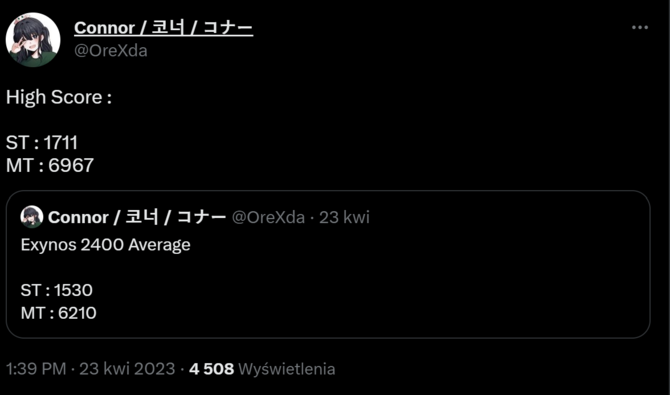 The performance of the chip has been checked in the popular benchmark Geekbench 5. Samsung Exynos 2400 reaches an average of 1530 points. in the single-thread test and 6210 points. in a multithreaded test. The performance is even better when we consider only the best result of 1711 and 6967 points respectively. How does the new SoC look compared to the systems available on the market? Apple A16 Bionic can boast a score of 1867 and 5567 points, and in the case of Snapdragon 8 Gen 2 we are talking about 1604 and 5311 points. Single-thread performance is not surprising, but thanks to the use of ten cores, the new Exynos definitely outperformed the competition in the multi-threaded test. The iGPU capabilities are also interesting. Based on the RDNA 2 architecture, the Xclipse 940 graphics chip turned out to be seven percent faster than the Adreno 750, which will go to the upcoming Snapdragon 8 Gen 3.
GeekBench Compute Score (Vulkan)

Exynos 2400: 13858
Snapdragon 8 Gen 3: 12946

*Thanks for your help @Tech_Reve !

— Connor / 코너 / コナー (@OreXda) April 24, 2023
Source: GeekBench, Twitter @OreXda