Future Samsung smartphones will have much brighter screens thanks to this technology.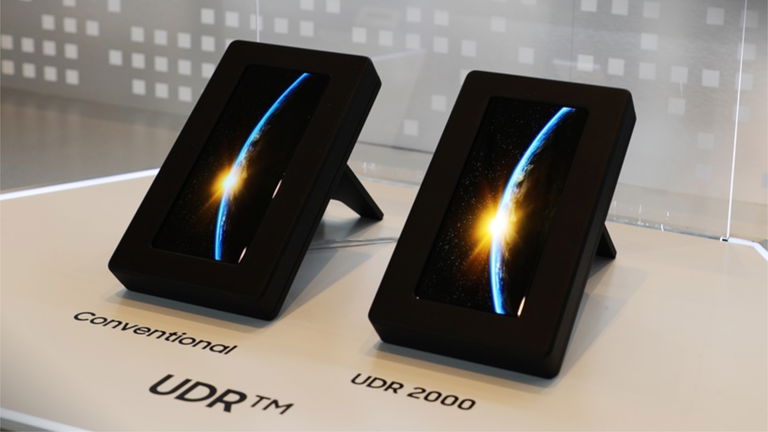 Ultra bright TVs, 5K monitors, smart ovens with camera, cheap smartphonesand now, too, screens for the smartphones of the future. Samsung is taking advantage of CES 2023 that is taking place in Las Vegas to show the world the new technologies and advances developed by its different divisions, and specifically, samsung display today announced its new OLED technologybaptized UDR 2000, and all the advantages that it will bring to the world of smartphones.
It's about the first OLED-based technology developed by Samsung capable of reaching the 2000 nits of brightness Ultra Dynamic Range (UDR) certified, while offering the better image quality even in very bright environments, such as under direct sunlight.
UDR screens will come to Samsung smartphones
The technology announced by Samsung Display during CES comes in two different variants, with 1500 nits and 2000 nits of maximum brightness. In both cases, the panels arrive with UDR certification that represents "excellence" in terms of brightness.
"As the UDR mark indicates the brightness excellence of a panel, Samsung Display's OLED screen purchased by this mark demonstrates that it has been verified by a world-leading verification company for its ultra-high brightness capabilities, up to 1,500 or 2,000 nits. , respectively."
Samsung highlights the different capabilities of this type of panel, not only in terms of range of brightness levels mentioned, but also to their ability to keep these lighting levels high to provide a better viewing experience. In this sense, they also specify that it has been achieved maintain efficiency of the organic material used for the development of these panels, so that this higher brightness should not have too much impact on energy consumption.
It is not clear which will be the first smartphone models to use Samsung's UDR-certified OLED technology, although everything seems to indicate that the Serie Galaxy S23 could benefit from your advances.