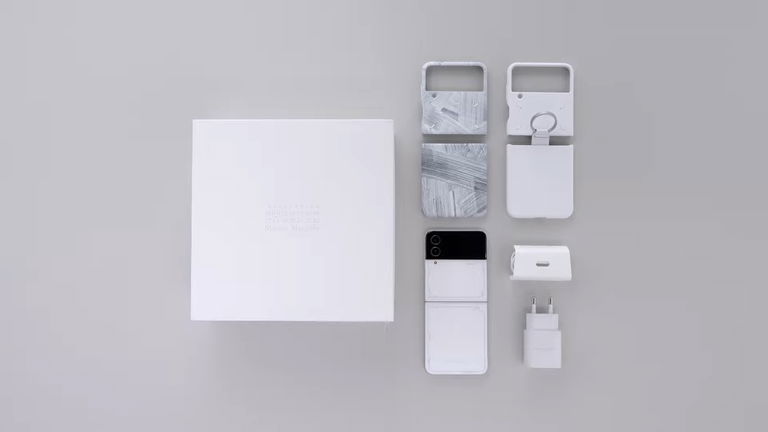 About a month ago we talked about a Samsung Galaxy Z Flip 4 truly exclusive that was not going to be available in Spain. We were referring to the Maison Margiela edition of said device. It is worth remembering that Maison Margiela is a French luxury goods firm. The phone, which is otherwise a Galaxy Z Flip 4 runninghad been "tuned" to fit in with the signature design lines.
A month ago we said that it would be today, December 1, when the device would go on sale in South Korea, Hong Kong and France. Thanks to SamMobile We know that it will be tomorrow, December 2 when it goes on sale in those territories. And, by the way, Samsung has taken the opportunity to make its latest special edition public.
This is how much you get buying this phone
Samsung itself has posted an unboxing video on YouTube. The device arrives in a large white box. Inside are two leather casings, with a ring in which a numerical code is included. You can also find a USB-C cable and a 15W charger. The abundance of white is one of the Maison Margiela design lines.
This limited edition phone features a double contour on the back and front to show the internal circuitry of the phone. Even the interface has been modified, as we already anticipated in our previous article. To match more with the guidelines of the firm, a white wallpaper that resembles the internal circuitry of the phone has been placed as a standard wallpaper.
Of course, it would not be a limited edition phone if the box did not come numbered. As for its price, this exclusive smartphone costs more than 1900 euros to change. Of course, it is not suitable for all budgets.
For you