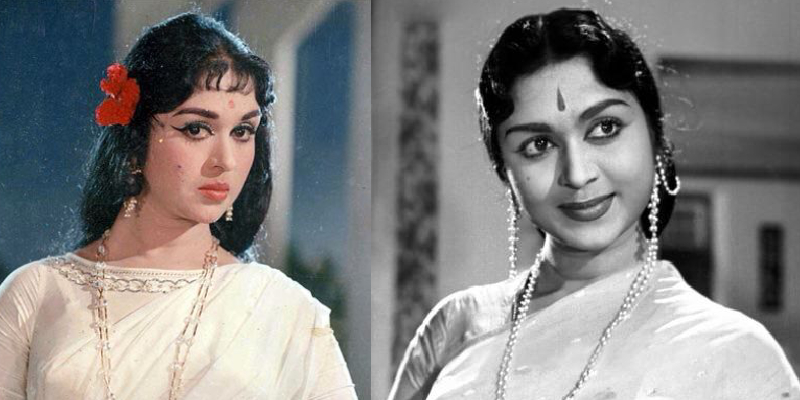 1959 movie "Kalyana Parishi" starring Gemini Ganesan, Saroja Devi and Vijayakumari. The movie was directed by Sridhar. The film became a huge hit during that period.
After the huge success of the movie "Kalyana Parishi" they decided to remake the movie in Telugu. Accordingly, Sridhar remade the film in Telugu with the name "Belly Kanuka". This Telugu remake had Nageswara Rao as the lead and Saroja Devi as the female lead.
One day during the shooting of Belly Kanuka, Saroja Devi said she was not feeling well and postponed the shoot for a day. So director Sridhar postponed the shooting by one day. After that, after the entire shooting of the film, on the last day, Saroja Devi said to Sridhar, "We will meet again".
Why did Saroja Devi say that, it means that Sridhar was going to remake the movie "Kalyana Parish" in Hindi as well. He said "Let's meet again" thinking that he will sign us as the heroine in the Hindi remake too.
Knowing that Saroja Devi says "Let's meet again" for this reason, Sridhar said, "I thought I could sign you as the heroine in Hindi as well." But you did one thing that day, and since then I have changed my mind."
Also Read: This is the hero that Vijay's son is going to direct… SAC shared the secret…
In other words, Saroja Devi asked to postpone the shooting for a day saying that she was not feeling well, and she did not rest at home that day. He participated in the shooting of another film. Sridhar came to know about it that day.
"If you have to go to shoot for another film, you can be generous and tell me the truth. I would certainly have given permission. But you lied to me and went to another shoot, it really hurt me. So I am not going to cast you in this Hindi remake," Sridhar said directly to Saroja Devi's face. Saroja Devi has missed the opportunity to act in Hindi because of this lie.