WhatsApp UPI Send Money Offer
WhatsApp UPI Send Money Offer : Send Rs.1 & Get Upto Rs.11 Cashback
---
WhatsApp UPI Send Money Offer – Hi Guys, Hope You Guys Are Enjoying Our Tricks to Get Free PayTM Cash From Free PayTM Cash Giving Apps. Yesterday, We Have Posted The Free Rs.20 Recharge Loot From Freecharge. Here is Another Loot From Whatsapp To Get Flat Rs.51 Cashback On UPI Send Money. Offer is Valid For Account Specific Users.
We Already knows that Whatsapp the chat messenger App Owned by Facebook has started the UPI Send Money facility Few months ago. This is the 1st time they are offering the Flat Cashback reward directly into bank account. They are giving away flat ₹35 cashback on ₹1 send money to Whatsapp UPI users.
Follow below steps to get exclusive cashback today.
What is Whatsapp UPI Send Money Offer

?
Do UPI Send Money Of ₹1 Or More & You Will Get Assured Cashback Of ₹35 Directly into your bank account. This Offer is account specific & showing in some of the Whatsapp UPI Users. Check On Your Whatsapp Account. Offer is valid 3 times per User.
---
Whatsapp UPI Send Money Offer – How to Get Assured Cashback Free

?
📣 coolzTricks is now on Telegram. Click here to join our channel (@icoolzTricks) and Get Every Loot Deals & Earn Money Tricks
Account specific offer – If it is not showing, you have to remove your bank account from WhatsApp, and you have to remove WhatsApp from your background.
1. First of all just Update your Whatsapp app to Latest available version on Playstore / Appstore
2. Now Activate The Whatsapp UPI by linking Your Bank Account
** Make sure Your Whatsapp Number & Bank account Mobile Number should be same.
3. Now Successfully Link Your Bank account with Whatsapp UPI
4. Your UPI Address will be created on your Whatsapp Page
5. Now Go To Any Whatsapp Contact (Make sure he uses Whatsapp UPI too)
6. Click On Send Money & Check Below banner is showing or Not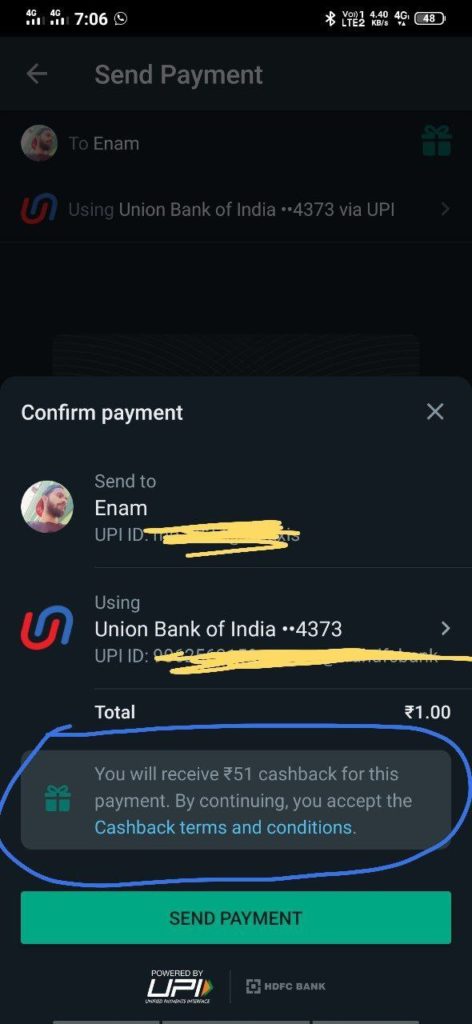 7. If this Banner is showing Then Just Send ₹1 to that contact [If This banner is not showing then you are not eligible] | Follow Below steps if this offer is not showing
8. You will Instantly Get Upto ₹11 cashback directly in your bank account
9. Follow same Process 3 Times With 3 Different Contacts
10. You will get Upto ₹35 cashback 3 times.
11. Enjoy !!
Offer is Not Showing? Check Below steps
1. Visit This Playstore Page Of Whatsapp – Click Here
2. Click On 'Become Beta Tester'
3. Wait for some time , New Beta Version Will Available For Download
4. Now Download Beta Whatsapp Version & Done
5. Now Try This Offer ,,, 99% Chances that this offer will be available
6. Now Loot Lo !!
or
If it is not showing, you have to remove your bank account from WhatsApp, and you have to remove WhatsApp from your background.
Open again and go to payment section you may find this offer
---
We are still updating this post with more Terms & conditions ……


Source link

www.coolztricks.com

John Cena