PayTM First Membership Offers
PayTM First Membership Offers – Free Premium Food,Music,Travel Benefits
---
PayTM First Membership , PayTM First Membership Offers , PayTM First Membership Benefits – Hello Coolz Readers! Here i am back with a Latest News Directly from PayTM HQ for All of Us. PayTM has Launched PayTM First Membership Which is All in One membership Like TimesPrime. This is the most awaited by the Indians and Mostly by the PayTM Users.
We all know that PayTM is spreading good Deals and Cashback Offers Now a Days and Once Again to Survive in Market Across Free Amazon Prime Membership and Free Flipkart Plus Membership, PayTM is Back with PayTM First Subscription. Here i will Give you Full Details of PayTM First Offer.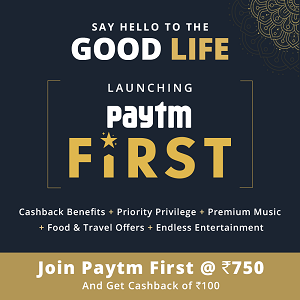 We all Know that Now a days Online TV, Deals, Live Streaming, Series are Trending on Many Apps and this Trends are All Because of Netflix, Amazon Prime Video, ZEE5 and Many Other Leading Brands in Indian Market.
But Yesterday, PayTM is Back Again with PayTM First Premium Subscription for Their Users. Read Full Post Below and Get How To Get Free PayTM First Subscription? What is PayTM First Premium? and Many Other Answers Below.
---
What Is PayTM First Premium?

:
PayTM First is a premium subscription-based rewards & loyalty program for our users. With this, they are offering exclusive benefits, over and above our regular offers. Say Hello To The GOOD LIFE is Punch Line of PayTM First Premium.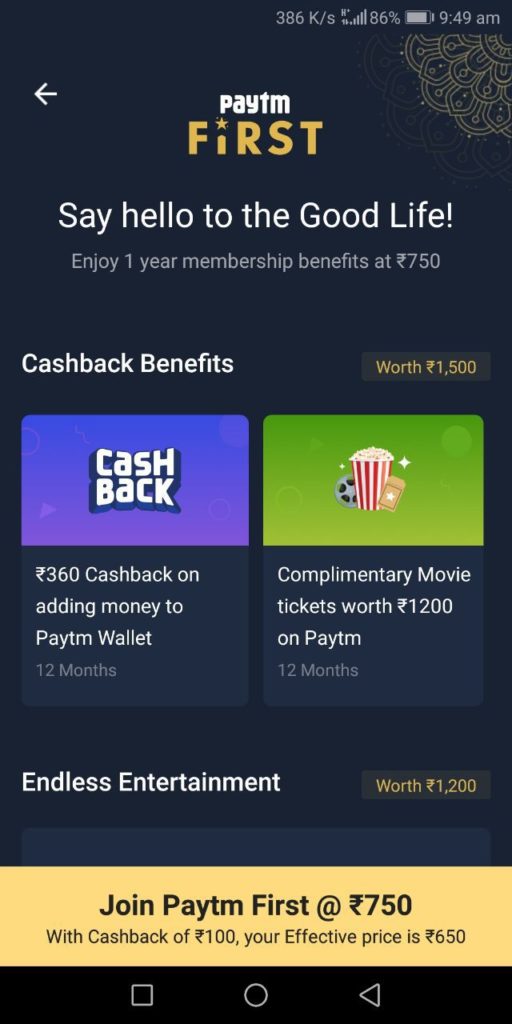 Using PayTM First, User will Get Exciting Memberships, Awesome PayTM Deals, PayTM Cashback, PayTM Loyalty Points, Priority On Deals, Premium Musics and Movies and Many More Extreme Level Services.
Paytm First customers will enjoy a wide range of exclusive benefits from leading partnered brands for the entire year.
---
PayTM First Membership Benefits :
PayTM First Customer will Get Benefits worth Rs. 12000 When they will Purchase PayTM First Membership and Many More Benefits Like, Cashback Benefits, Priority Privilege, Premium Music, Travel & Food Offers, Endless Entertainments and Below Offers.
ViU Premium
Eros Now Annual membership
Uber (benefits up to Rs 6000)
Uber Eats (benefits up to Rs 2400)
Rs 100 cash back on movie ticket booking each month
Paytm Mall with unlimited free and priority shipping
---
PayTM First Membership For Almost FREE or Just ₹19 Only
PayTM is Running The Special Offer, They Are Giving Away Flat 40000 Cashback Points Which is equal to ₹400 & Extra Add Money Offers. Finally You Will Get PayTM First membership For FREE or In Just ₹19 Only
Steps :-
1. Update Your PayTM App & Scroll Down On Page & Find Logo of Paytm First Membership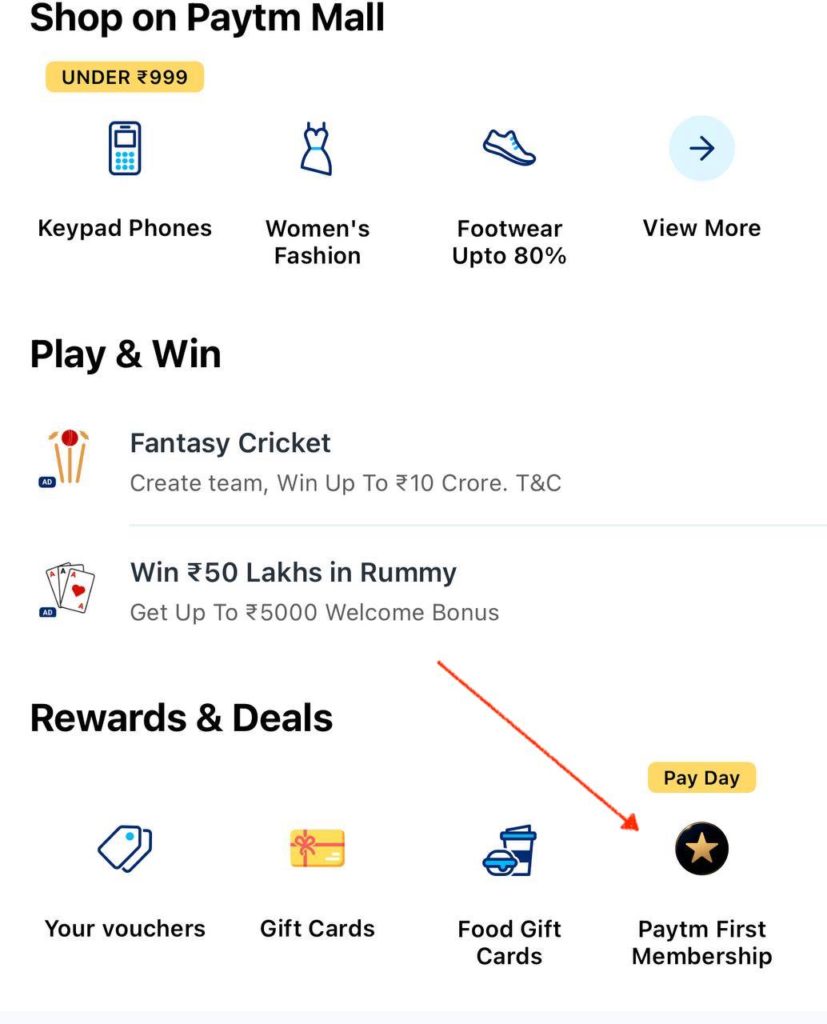 2. Now click on that logo and after that proceed to Buy Paytm Membership
3. You will see that Promo code worth 25000 Cashback points Applied
PayTM First Membership Promo Code Code is – PAYTM25K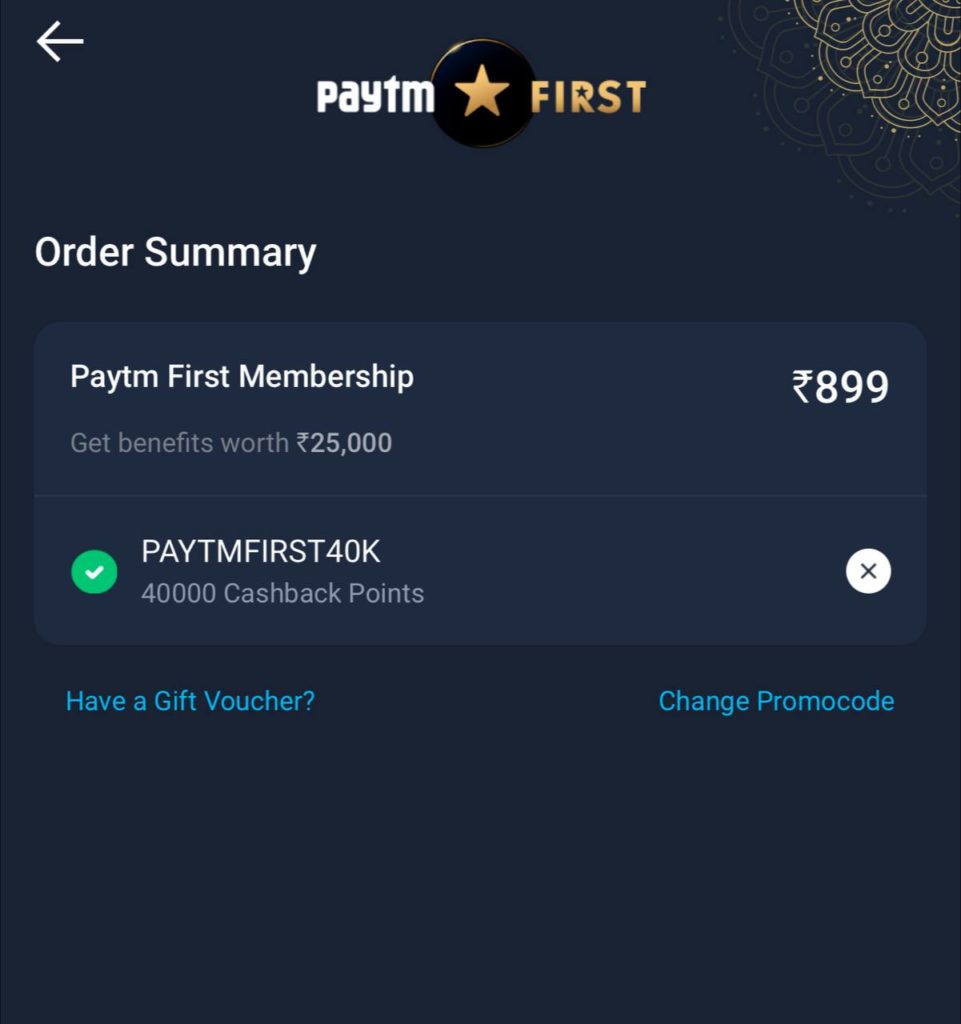 4. Now click buy Membership and proceed to payment page
5. Once you complete the Payment You will receive 25000 Cash back points (= ₹250) instantly
6. So now the membership become ₹649 (₹899-₹250)
7. Now Every Month load ₹500 in Paytm wallet and Get ₹30 Cashback For 6 Months = ₹180 FREE [Every Month You Will Receive Add Money Code] 
8. So now membership become ₹469 (₹649-₹180)
9. Every Month by Paying Any bills Of ₹100 or more You will get ₹5000 Cashback points For 6 Months = ₹50 X 6 = ₹300
10. So, Now membership become ₹169 (₹469-₹300)
Finally You Will Get Paytm First Membership @ Just ₹169
This Free benefits Will Be Included With This Membership :
---
PayTM First Membership Special Plan @ Just ₹1 
Purchase From Here – Buy Here For Just ₹1 [This Deal is Currently Out Of Stock]
1. Purchase the deal from the given link.
2. Get the activation code from MyOrders / Email confirmation / Cashback & vouchers
3. Search Paytm first in app (From the top search button)
4. Select Browse Plans
5. Scroll down till bottom and select Have a gift voucher/code and paste your unique code there.
6. It'll take you to payment page.. Pay using paytm wallet ₹1( REFUNDABLE)
7. After this Open Paytm first and cancel the Auto-renew feature
Flat ₹250 cashback on no min ticket value on flight tickets (Can be used 4times/Month)
6% cashback upto 300 on Bus tickets
Flat 25% cashback on Mobile protection plan
3 Months Gaana Plus / 3 Months Hungama play / 3 months Hungama Music subscription
Get extra 10% discount on Tata CLiQ App
Get 10% extra discount on FirstCry
Flat 18% Off + 12% cashback on all medicine orders by Pharmeasy
Free Chai at Chaayos
3 Months Fresh Club subscription
Get Flat 20% off on Bewakoof App/Web
Upto 15% off at Apollo Pharmacy
Flat 100 Off on Ferns & Petals
Priority Customer service
---
How To Get PayTM First Membership In Just ₹19 | Worth ₹199
Deal is Currently Out of Stock, But it Will Come Back in Stock – Keep Checking 
1, First Of All Just Login Into Your PayTM Account & PayTM Mall Account
2. Now Visit This PayTM Mall Deal Page & Purchase ₹109 Deal
3. Now Visit This PayTM First membership Subscription Page
–> Deal is Currently Out of Stock, But it Will Come Back in Stock – Keep Checking
4. Now Select 3 Month Trial Pack Of ₹199
5. Apply The Promo code You Received From Above PayTM Mall Deal.
6. You Will Receive 3 Months @ Just ₹109 With ₹90 Discount , Effective Price Will Be ₹109
—>>> Then You Will Get ₹30 Add Money Codes For 3 Months = ₹90 Cashback. Means Membership For Free
So Final Price Will Be 109-90 = ₹19 Only
---
Launching Of PayTM First Membership :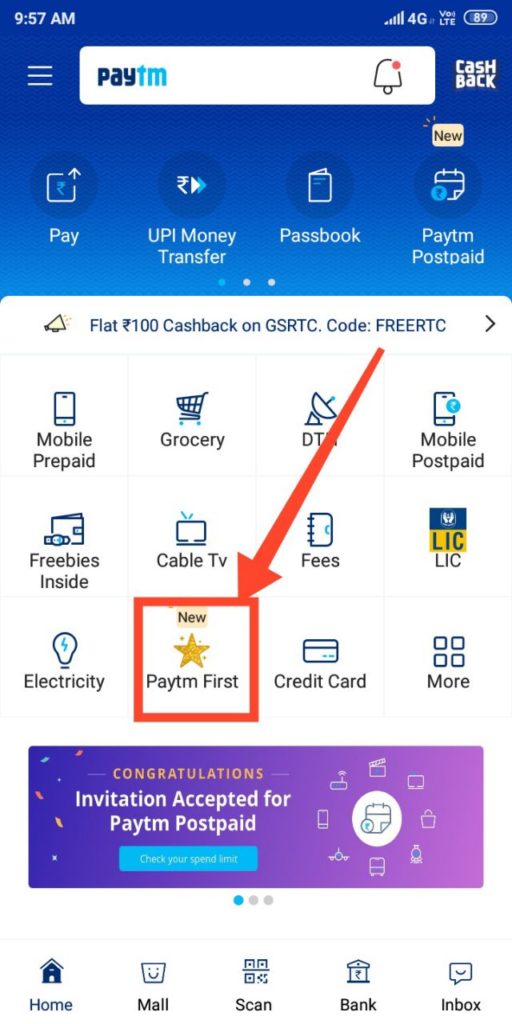 PayTM First is available in beta on Android (join beta program from Play Store to get Early Access) and It is Already Launched on Android Play Store On 5th March. means Yesterday. It should be available on iOS by 6th March Officially.
---
Price Of PayTM First Subscription :
PayTM is available at Just only Rs.750 Per Year For Every User. This Price is Very Cheap in Comparison with any Other Premium Memberships. Additionally, User will get Benefits upto Rs.12000 which is Very Good for the PayTM users. User will Get Rs.100 Cashback in PayTM Wallet After Purchasing PayTM First Subscription. So Final Price of PayTM First Membership is Just Rs.650.