'Varisu', the much awaited film by Vijay fans, was screened today at 4 am in major cities including Chennai with special screenings for the fans. As usual, Vijay fans watched the film with interest. Also, many movie fans watched Varis. After watching the film, they are expressing their opinions about the film on their Twitter page.
A popular opinion is that Varis is a family entertainer. Many people are reporting that the film has a mix of family sentiment and action and mass scenes which are expected by Vijay fans.
Vaaris is a film to watch with family. Many people are saying that director Vamsi has written the screenplay and visuals to be liked by everyone from children to adults. Many people are posting that the movie 'Varisu' is a Pongal feast for Vijay fans.

Vijay's antics with Yogibabu are said to be laugh-out-loud and similarly, Vijay's sentimental scenes with his mother Jayasudha are said to be good.
Similarly, many people are appreciating the music and background music given by Thaman for the songs. Thaman has given excellent music. All songs are good. They are saying that the way the songs are taken is also enjoyable.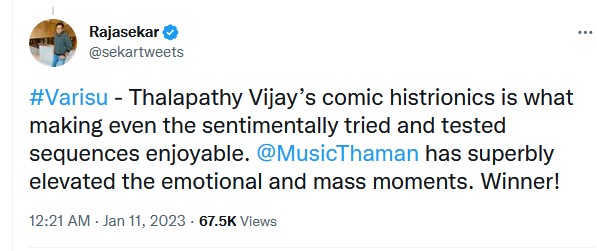 Actress Nisha Ganesh said on Twitter that Vijay is stylish, Vijay fans and family fans will definitely like this movie, director Vamsi should give more family movies like this.
Vamsi has given the film all the emotional and entertaining features of Vijay that a Vijay fan would expect. Vijay is amazing in his dance moves as usual. Rashmika Mandhana's chemistry with Vijay is good. Someone has posted that the second half of the film has many scenes to enjoy in the theatre.
Many people are posting that Varis is a film that fans celebrate and families celebrate as a success.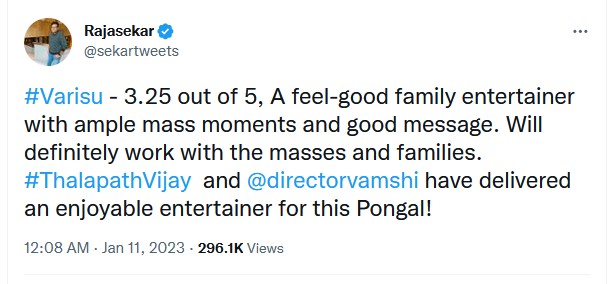 However, many people have given the film a score of 3.5/5. On the one hand, the film is not good. It looks like a Telugu movie. Vijay has over acted. Comedy scenes don't work out. Many people are saying that they can see it once.
It will be known in a couple of days if Varis has won over all the fans.
Also Read: That one word said by the director… Sivaji Ganesan who left the film altogether… Why like this??