Vishnu Vishal, who attended actor Kamal Haasan's birthday party, posted a picture of himself with Kamal and Aamir Khan and captioned it as 'me with superstars'.
However, it was not immediately known where the order came from, and immediately the controversy erupted as Lal Salaam hero Vishnu Vishal changed his title from Superstar to just Star and knocked Kamal Haasan and Aamir Khan down.
Also Read: First the flap!. The film scored a super hit in its second release after 10 years!….
Is there a warning from actor Rajinikanth? Or Selandarya Rajinikanth's order? Criticism started. On one side, Rajini fans started making rounds as to how you can tell Kamal Haasan as a superstar in Aishwarya Rajinikanth's Lal Salaam and that too with superstar Rajinikanth.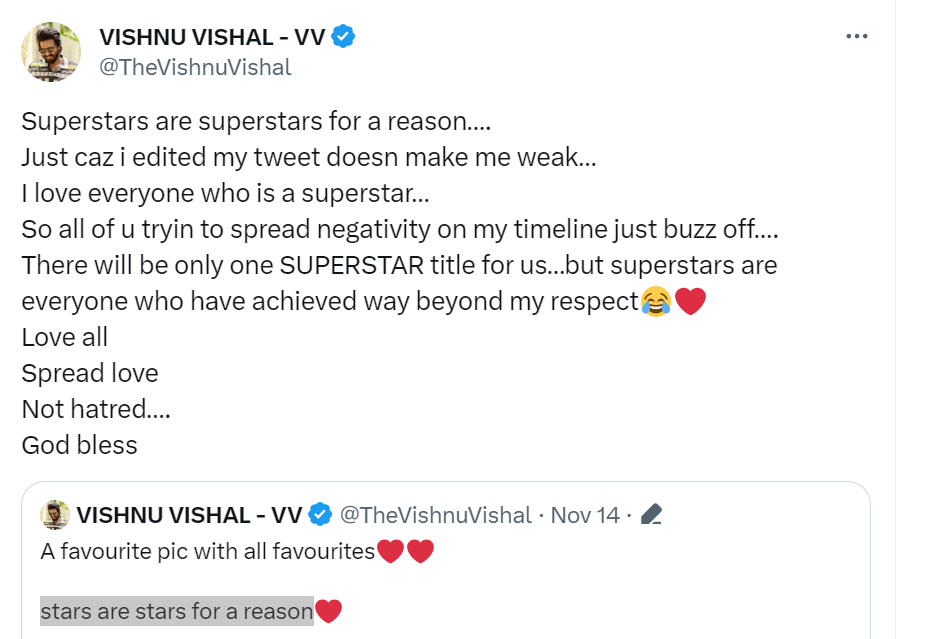 Vishnu Vishal has posted another explanation even though he has changed it to just Star and the controversies have not subsided.
Also Read: It still won't come.. The dog in it is in trouble.. Is Vijay in such a miserable situation?
Don't think I'm too weak when I deleted my tweet that said superstars are superstars and posted that stars are stars, as far as I'm concerned, everyone who comes forward after suffering is a superstar. So, he posted that he should not try to spread negativity about me and put it as a single bow.