To promote innovation and support talented university students in the technology sector, ArubaCloud organized the Aruba Cloud Hackathon.
Due to the change of hours, teams of 3-5 people from full-time students studying in higher education institutions could apply for the 25-hour programming competition. At the hackathon, which started at 9 a.m. on October 28, the task developed by ArubaCloud experts had to be solved in ArubaCloud's cloud environment, the results of which were evaluated by an international jury at the end of the competition. The competing teams had to create a marketplace website in Kubernetes and demonstrate its operation through an application.
A total of 25 students from 4 universities participated in the hackathon for the HUF 15 million startup support, and all teams completed the task by the specified deadline.
The S4 Háló Community and Cultural Center was filled to the brim for the awards ceremony, which started at 6 p.m. on the 29th. In addition to the competitors, family members, supporters of the event and invited representatives of the press were waiting for the results. First, Amedeo Palopoli, the president of the jury, presented ArubaCloud's kubernetes service, and then Dér Heni, the hostess of the evening, announced the results of the competition. First place was won by the BIT Dream Team, the Corvnus team, second was the Nyerni Jöttünk team from the University of Szeged, and third place went to Nuben ante Solis, who came from BME to the programming competition.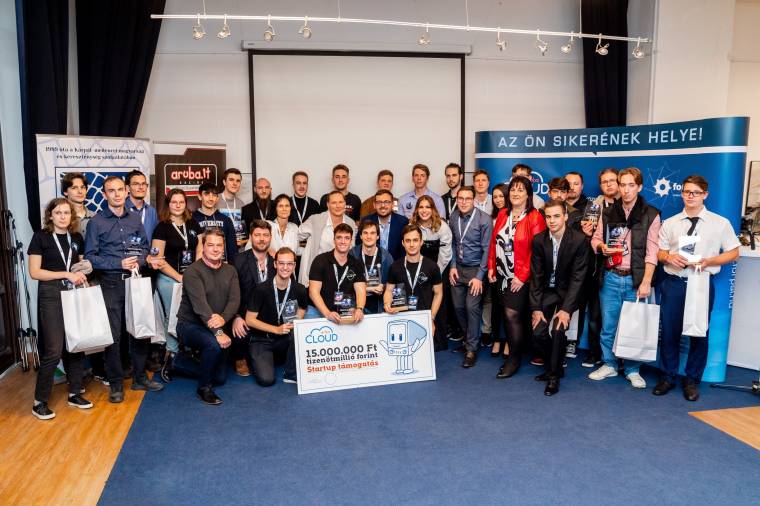 The podium winners were enriched with a ComputerWorld subscription and computer accessories. 2nd place winners can also gain insight into Aruba's data center in Bergamo. The first-place team received HUF 15,000,000 worth of startup support offered by Aruba Cloud, and the opportunity to participate in the Superbike World Championship offered by Aruba Racing. After the reception, comedian György Orosz entertained the audience.
The purpose of the competition is to nurture talent, through which young programmers had the opportunity to learn and receive feedback from mentors and professionals, to show their creativity and expertise, and to build relationships with prominent players in the industry.