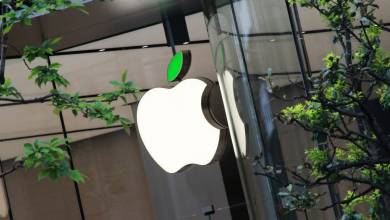 Apple's revenue fell 3% to $94.8 billion in the first three months of the year as consumers curb spending on smartphones and computers amid looming recession fears.
The company's revenue was slightly better than Wall Street had expected, but it was still the second consecutive quarterly decline in revenue for the iPhone maker. Apple's net profit also fell by more than 3% to nearly $24.2 billion compared to the quarter a year earlier.
Apple ( AAPL ) tried to reassure investors by announcing a nearly $90 billion share buyback. Shares of Apple ( AAPL ) were up just over 1% in after-hours trading Thursday after the results.
Despite the steady decline in revenue, there were bright spots in the report
Apple CEO Tim Cook said that despite a challenging macroeconomic environment, Apple "delivered a record March quarter for iPhone sales" and that the installed base of active devices reached an all-time high.
Apple also achieved a service sales record of $20.9 billion in the quarter. The services business – which includes Apple Music and Apple TV+ – is an increasingly important source of revenue for Apple, which is less cyclical than hardware sales. Apple currently has more than 975 million paid subscriptions to its services, which is 150 million more than a year earlier, CFO Luca Maestri told analysts.
Cook also added: "We were particularly pleased with our performance in emerging markets, achieving all-time highs in Mexico, Indonesia, the Philippines, Saudi Arabia, Turkey and the United Arab Emirates, as well as several March quarter records, including Brazil , Malaysia and India".
Global concerns
Apple's latest quarterly earnings report comes amid a sharp decline in PC and smartphone sales globally after a previous upswing. According to Gartner, worldwide PC shipments fell by 30% in the first quarter of 2023 compared to a year earlier. Global smartphone shipments fell 14.6% last quarter, according to separate data from market research firm IDC.
Still, the company's better-than-expected sales report "suggests that Apple's premium smartphone business may be insulated from concerns about declining consumer confidence and a worsening macroeconomic outlook," Jesse Cohen, chief analyst at Investing.com, said in a statement.
Apple's report on Thursday caps Silicon Valley's closely watched earnings season amid broader economic concerns. All five major tech companies beat Wall Street estimates, but the numbers paint a stark picture of the industry right now. Apple and its peers once enjoyed seemingly limitless growth. Now these companies are struggling to increase sales and profits – or post declines.
Thoughtful use of AI
On Thursday, Cook also offered his thoughts on artificial intelligence, which has been a major focus of many big tech companies in recent months.
"I think it's very important that we approach these things thoughtfully and thoughtfully, and there are a number of issues that need to be sorted out … but the potential is definitely very interesting, and we've obviously made huge strides in integrating AI" into our products and services. Cook said. "We see AI as a huge thing and will continue to weave it into our products very thoughtfully".
Record growth in India
Apple CEO Tim Cook said India was an "incredibly exciting market" and a "major focus" for the company, as the Indian business "set a record quarter, very strong, with double-digit growth year-on-year." India has "reached an inflection point," the company's chief said at the company's second-quarter earnings call.
Apple mapped out an ambitious retail expansion in India last month when Cook opened two retail stores in Mumbai and Delhi during his first trip to India in seven years. Apple's CEO praised the "dynamism of the market" and claimed it was "incredibly vibrant".
"Overall, I couldn't be more pleased and excited about the enthusiasm for the brand than what I'm seeing there. There's a lot of people coming into the middle class and I feel like India is at an inflection point, it's great to be there," Cook said.
During Cook's recent trip to India, he met Prime Minister Narendra Modi, along with Electronics and IT Minister Ashwini Vaishnaw and IT Secretary Rajeev Chandrasekhar, and pledged the company's commitment to investing in India.
The tech giant is eyeing India's huge market, where a growing middle class is driving sales growth and could potentially become the home base for manufacturing millions of Apple devices – Apple is diversifying its supply chain away from China.
Hardware, software, tests, interesting and colorful news from the world of IT by clicking here!