Key Takeaways
AMD is introducing the Ryzen 9 7945HX3D, the first mobile Ryzen chip with 3D V-Cache, which offers improved performance and efficiency.
With 3D V-Cache, AMD claims that the 7945HX3D outperforms the standard 7945HX by 11% at 70 watts and by 23% at 40 watts, making it a game changer for power-limited laptops.
Thinner gaming laptops can benefit greatly from 3D V-Cache, as it provides 23% more performance without requiring additional cooling, allowing for more gaming power in smaller packages.
If you're familiar with AMD's Ryzen 7045 series for laptops, you'll know that these chips use the exact same silicon as desktop Ryzen 7000 CPUs, which are among the best CPUs out there, so it was only a matter of time until AMD made mobile versions of its Ryzen 7000X3D series. Today, AMD is announcing just that, the very first mobile Ryzen chip with 3D V-Cache: the Ryzen 9 7945HX3D. While you might think 3D V-Cache is better suited for high-end CPUs in desktops, 3D V-Cache is perhaps better suited for laptops than anything else.
3D V-Cache in Ryzen mobile is a big deal for efficiency
So far, AMD is only announcing a single 7045X3D CPU, the Ryzen 9 7945HX3D, which is not only first place among mobile CPUs in cache, but also a contender for one of the most longwinded mobile chip names. It's essentially a Ryzen 9 7950X3D but with a lower power limit and lower max clock speed for laptops, with a nominal TDP of 55 watts and turbo boost of 5.4 GHz, versus the 120 watts and 5.7GHz on the desktop-oriented 7950X3D. It'll be a little slower but even more efficient from the looks of things.
On the surface, 3D V-Cache is just a way for AMD to improve performance with its CPUs, but that's not the limit of what it can do. The amazing thing about 3D V-Cache is that it doesn't increase power consumption much if at all to boost performance, which I noted in my review of the Ryzen 7 7800X3D. When you consider laptops are some of the most power-limited PCs out there, 3D V-Cache is really a game changer as AMD claims the 7945HX3D outperforms the 7945HX by 11% at 70 watts, and by 23% at 40.
For thinner gaming laptops getting 23% more performance without having to beef up the cooling is going to be a big deal. We're probably not going to see any 3D V-Cache CPUs in 14-inch laptops like the ROG Zephyrus G14, but for 15-inch laptops this will help companies squeeze more gaming performance into ever smaller packages.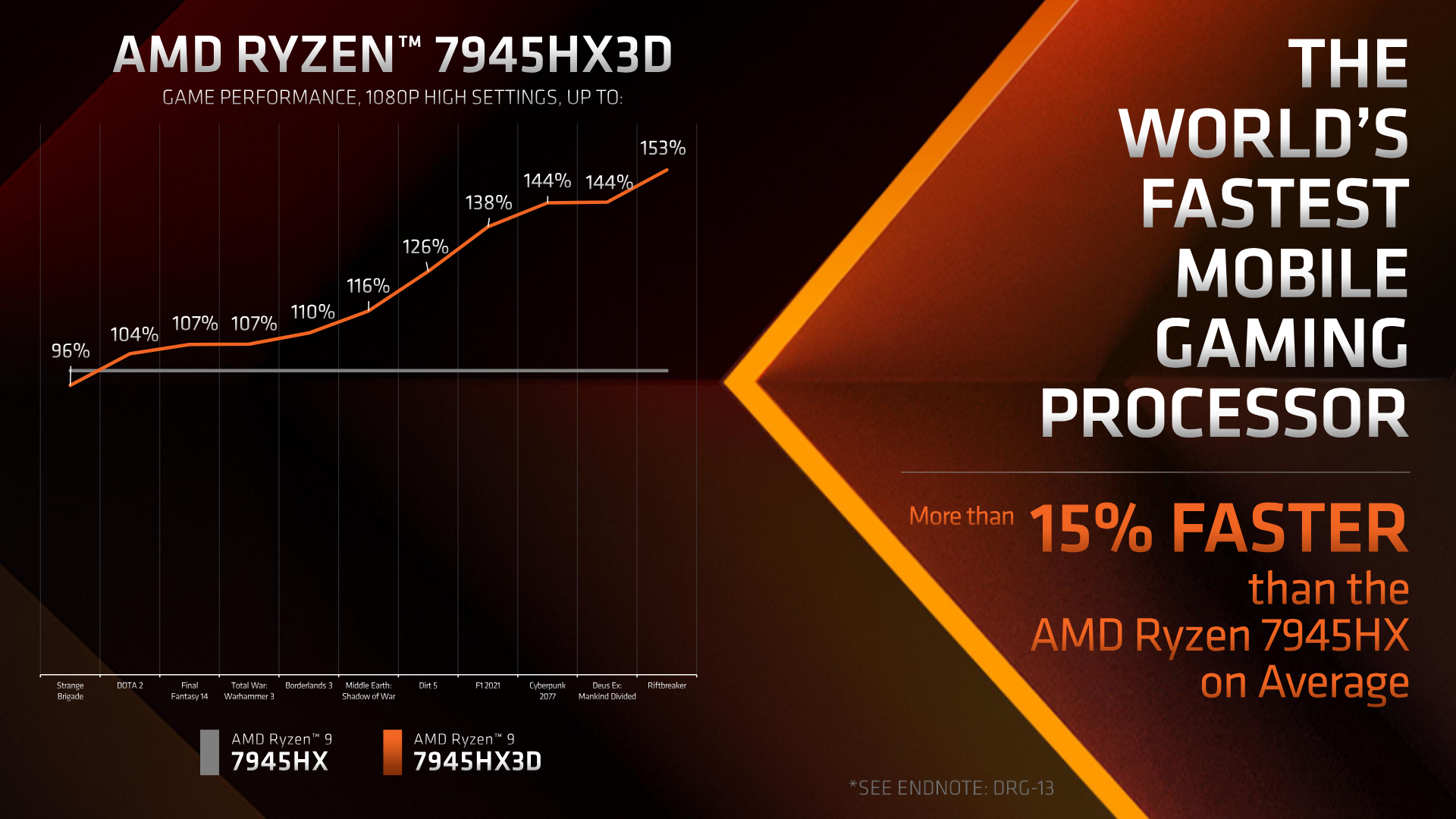 Source: AMD
AMD also showed off some benchmarks in ten games comparing the 7945HX3D against the 7945HX, presumably at a 65 watt TDP based on the laptop AMD benchmarked. While the 7945HX3D was 15% faster than the 7945HX on average, in some games the difference climbed as high as 53%, and in half the games the difference was at least 16%. One game showed a performance regression, but that's the exception rather than the rule with 3D V-Cache.
Unfortunately, AMD has only announced the 16-core 7945HX3D, while the whole 7045 series ranges from 6 to 16 cores. Most gamers are probably going to be more interested in the mobile version of the Ryzen 7 7800X3D, presumably the Ryzen 7 7745HX3D or 7845HX3D, since a 16-core CPU for gaming isn't going to be any more useful than an 8-core. If AMD has plans to expand the 7045X3D series, it hasn't disclosed them.
The first laptop to feature the Ryzen 9 7945HX3D is Asus's ROG Strix Scar 17, which will be available with the 7945HX3D starting August 22. We don't know what pricing will look like, but the 7945HX version costs $3,700, so expect to pay at least $4,000 or more for the 3D V-Cache version.