We already know when the smartphone with the fastest charge on the market will arrive (for now).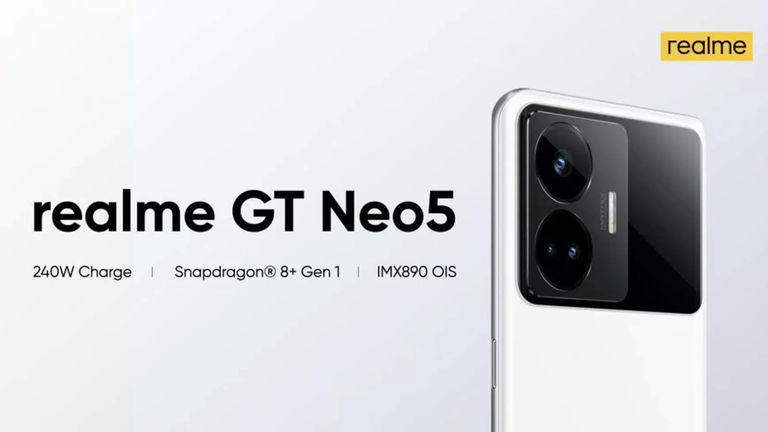 As he did last year with his GT3 Neo, really wants to become the mobile phone manufacturer again with the fastest charge on the market. And he just marked a date on the calendar to meet his goal.
Through a press release, the Chinese company has confirmed that February will be the month in which he will celebrate the presentation of his new realme GT Neo 5his first mobile to equip the renovated 240 W charging system.
Said terminal will land in the Chinese market in the first place, before making the leap to the rest of the regions of the planet.
The fastest charge under the USB-C standard will be carried by the realme GT Neo 5
The company says that this new system will be the fastest seen to date under the USB-C standard. Explain that the technology is based on a solution of safe charging and low voltagewhich allows to reach the 240W with a power conversion efficiency of 98.7%.
Likewise, the charging system is complemented with a 12A charging cable, customized with four 21 AWG wires, the highest standard in the industry. Said cable will be included with the new realme GT Neo 5.
The charger, for its part, will use technology based on GaN (gallium nitride) that offers one of the highest densities in the industry, 2.34 W/CC.
Apart from all of the above, the realme GT Neo 5 will have up to thirteen temperature sensors different people in charge of controlling the heat in real time, and to that we will have to add the graphene based heat dissipation system largest ever seen on a smartphone, reaching 6580 square millimeters.
The realme GT Neo 5 will thus be able to support more than 1600 charge cycles according to the tests carried out by the company.
But fast charging It will not be the only virtue of this device. According to recent leaks, we know that the realme GT Neo 5 will feature a Qualcomm Snapdragon 8+ Gen 1 processor inside, and that its camera system will be led by the sensor Sony IMX890 50 megapixel resolutionthe same that we already find in other high-end smartphones such as the recent OnePlus 11.
The presentation of the realme GT Neo 5 will take place in China in February. For now, the brand has not disclosed data regarding its availability in the global market.