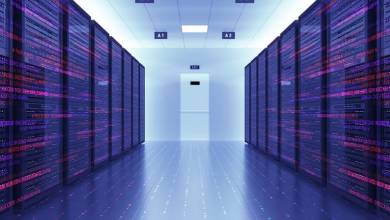 IBM has significantly reduced the size of some of its Big Iron z16 mainframes and given it a new operating system that prioritizes AI and edge computing.
The new configurations – including the Telum processor-based 68-core IBM z16 Single Frame and Rack Mounted models, as well as the new IBM LinuxONE Rockhopper 4 and LinuxONE Rockhopper Rack Mount boxes – are expected to offer customers better data center configuration options while reducing energy consumption. Both new Rack Mount boxes are 18U, compared to the current smallest Single Frame models, which are 42U.
IBM expert Marcel Mitran said that moving workloads from x86 servers to LinuxONE or z6 resulted in 75% energy savings and a 67% reduction in required data center space. "Compared to previous generations of zSystems and LinuxONE, both new systems consume less power than comparably configured previous-generation systems and improve computing power by 18 percent for each kilowatt-hour of electricity consumed," he said.
Because the new z16 takes up half as much rack space as before, storage, networking and other adjacent systems can occupy the same rack, providing higher mainframe computing density in a much smaller package. This will certainly make it much easier for customers to manage and maintain their mainframes in the future, says Steven Dickens, vice president and practice leader at Futurum Research.
While the design change is significant, the new boxes are optimized to run the recently detailed version of the mainframe operating system, /OS 3.1. The operating system will include new features, including a new AI framework for operating systems, designed to add intelligence to /OS that optimizes IT processes, simplifies management, improves performance and reduces expertise requirements . "Paired with a z16 system, the new z/OS further enables the platform's AI-accelerating, quantum-secure and flexible capacity capabilities," Mitran said.
According to Mitran, customers can partition the rack-mountable system into 40 different logical partitions, the equivalent of 40 metal servers capable of hosting hundreds of workloads at sustained high utilization.
The new z16s can also facilitate other new use cases, such as edge computing, where customers can more easily place high-performance resources closer to users, which can be especially valuable in the AI ​​development environment, IBM said. Other edge uses may include locations with limited rack space, such as manufacturing and healthcare facilities.
Hardware, software, tests, interesting and colorful news from the world of IT by clicking here!