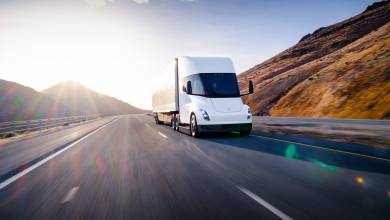 The appearance of the Tesla Semi has sparked surprising concerns that tractor-trailers are responsible for moving a significant portion of freight, and the true capabilities of electric tractor-trailers are unclear.
However, the analysis of the American science and technology blog NextBigFuture, which has a huge following, revealed that a The Tesla Semi outperforms its competitors in a number of categories, regardless of their propulsion. The analysis considered 9 factors when comparing the Tesla Semi to competitors including the Nikola Tre, Peterbilt 579EV, Volvo VRNe, and more. The nine factors include price, range, payload, federal discount, state discounts, efficiency, performance, maximum weight (Gross Combination Weight) and charging time.
Perhaps the Tesla Semi bests the competition in charging time (between 30 minutes and an hour), price (under $200,000, including incentives) and maximum range (500 miles, or 800 kilometers). The Tesla Semi not only goes further on a single charge, but it does it all while charging several times faster than its nearest competitors, and it is also powerful enough to drive normal semi-trailer loads. According to Teslarati, a portal specialized in Tesla affairs, Semi offers the best possible business opportunity for both independent truckers and organizations.
However, there is a very significant catch. The Tesla Semi is unsellable to many trucking companies due to the lack of charging infrastructure. For now, this tractor unit is a realistic alternative for companies that operate on permanent routes where there is access to charging. This is currently seriously narrowing the Semi market even in the USA.
The other big obstacle, as NextBigFuture pointed out, is the price. Even if the Tesla Semi sometimes only costs as much as its direct competitors, it's still tens of thousands of dollars more expensive than diesel trucks, which can easily be had for $130,000 to $160,000. At the Tesla Semi launch event, potential buyers were assured that they could save not only on fuel but also on repairs, but the initial costs are still too steep. Overall, the analysis showed that the Tesla Semi represents a major technological leap, which may motivate other car manufacturers to further develop and introduce new products.
Hardware, software, tests, interesting and colorful news from the world of IT by clicking here!