The next model in the Surface Duo series would have a format more similar to Samsung's Galaxy ZFold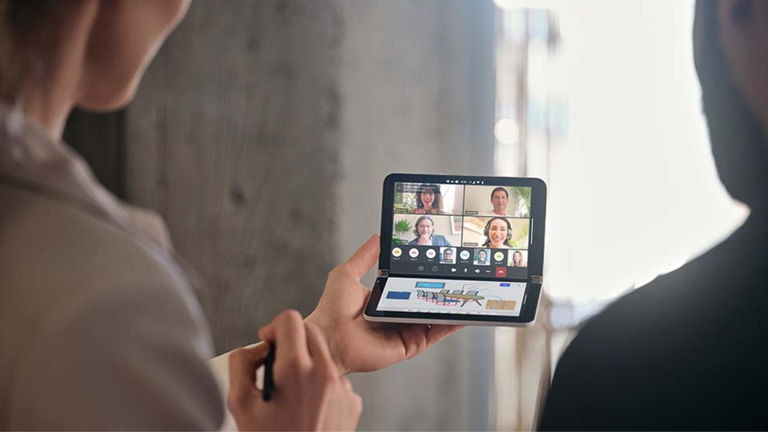 The Serie Microsoft Surface Duo has not reached the levels of success that the company expected, probably because it reached the market offering a different concept from that of the foldable smartphonesjust at the moment in which the latter began to take off.
After experimenting with dual screen format With two different generations of the Surface Duo series, the company now plans to change focus of the series, building a device with folding screen that could arrive at some point in this year 2023.
Microsoft's next Surface Duo would have a folding screen
As reported from windows central citing sources close to the company's plans, Microsoft would have decided to cancel the third generation of Surface Duo with double screen.
Apparently, this device, which will not finally see the light of day, was planned for be released at the end of the year 2023and would have narrower screens and smaller margins than in the current generation, in addition to incorporating other improvements such as wireless charging.
However, seeing the advances of companies like OPPO with its Find N2Microsoft would have decided change your plans, canceling the device and focusing on the development of a new product based on a folding screen with a 180 degree hinge.
This model would have a large indoor screen with folding format, and an exterior screen. Thus, the company would adopt the format that firms like Samsung have popularized with their Galaxy Z Fold series.
The specific characteristics of this new model are a mystery for now. Furthermore, there are rumors suggesting that this device might not arrive alone. Apparently, Microsoft would be considering launch new Android smartphones with a more traditional form factor under the Surface brand Coming soon.
To this day, no more information is known about the Redmond company's plans regarding its Android-based Surface series, but there is no doubt that Microsoft wants to become a major player in the hand-held telephony league. of the Google operating system.