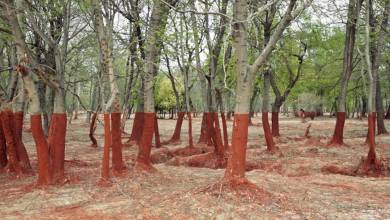 Recycling of the bauxite residue has begun.
The recycling of residual bauxite (red mud) has begun, and the possibilities for this were presented on Tuesday in Székesfehérvár, at the closing conference of the tender entitled Extraction of rare earth metals and production of secondary raw materials within the framework of the complex utilization of red mud.
Márton Penk, the managing director of Martin Metals Kft., which leads the consortium developing the recycling, said that their five-member consortium realized its research and development project with the help of one billion forints of EU support, the total cost was 1.481 billion forints. Their goal was to research the extraction possibilities of the mineral raw materials found in the domestic red mud deposited as mining and chemical waste from the Ajka reservoirs, and to develop utilization procedures, technologies and tools.
He said that as a result of the project, several processes and two production technologies were developed, and equipment was established in Ajka and Inota, further usability depends on economics.
Márton Penk emphasized that they were able to extract a significant amount of iron oxide from the red mud, but it was also tested as an additive mixed with heat-resistant cements. It is mostly suitable as an additive during concrete production, even without pretreatment, because its alkalinity does not cause problems, while it improves the concrete's strength and increases its service life. The company also started using red mud as a concrete additive, for this purpose a new concrete production plant was built in Inota, where the production technologies were developed, the test operation was carried out, and product production will begin – he explained.
László Tamás, on behalf of Golder Associates Zrt., said that red mud is a very valuable source of secondary raw materials, which is why they investigated the environmental effects of different uses, the role it plays in reducing the carbon footprint and achieving climate neutrality, and how well it can be integrated into the circular economy. in. He indicated that there are about 10 billion dollars worth of raw materials in the reservoirs.
István Kiss stated that their company, Geovol Kft., investigated whether the chemical effect of red mud could be neutralized, and in the end, they achieved the best results out of the various tests with carbon dioxide.
Margit Balázs, representing Bay Zoltán Nonprofit Kft., said that they built a bioreactor and tried to extract iron from the red mud with the help of bacteria, and also tried to extract valuable metal content (scandium, iron, aluminum, calcium, sodium, titanium) from the red mud with the help of biosorption.
Pannon University mixed the red mud with various industrial wastes, sewage sludge, green waste and residential biological waste, and tested its usability on plants. It was found that the mixture of red mud and compost has a positive effect on the growth of plants, because red mud has a good phosphorus binding capacity, so it can be used as a fertilizer substitute.
The institution also tried extracting scandium, but the process is extremely expensive, not economical by itself, but can be made economical together with the extraction of iron, titanium and other rare earth metals. In addition, the use of bauxite residue was investigated in the case of ceramics, concrete and binders: it is suitable for replacing various components in the production of bricks, cement mortar, concrete and geopolymer binders, and it can also be used as a heat-insulating building element when foamed.