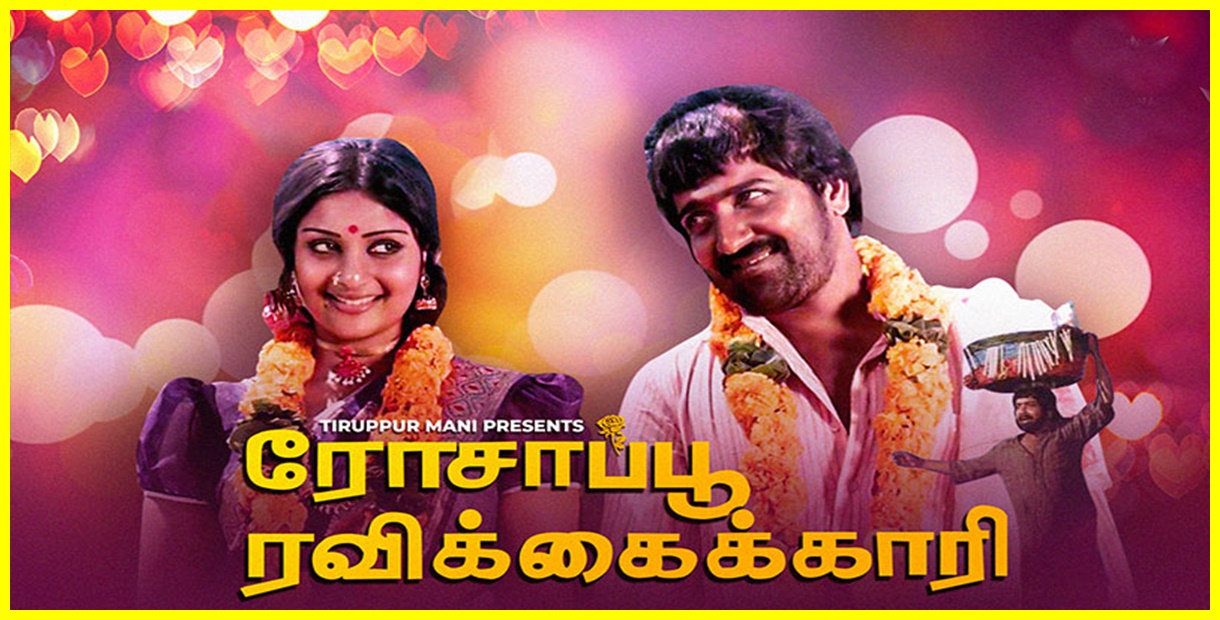 This novel Parasangada Kendathimma is very popular in Kannada. Written by Srialanahalli. Badicha Pattanathuppen marries a village trader.
The story is created with the focus on the issues and problems that arise after that. This novel reveals that love blossoms even after marriage.
1978 in Kannada; The novel was made into a film. Rosapoo Ravikaikaari is a superhit film adapted from the same film. This film, starring Sivakumar and Deepa, hit the shelves everywhere.
The plot of the film is pre-independence era. This is a story that takes place in a hilly village.
All the songs in the musician's handwriting pierced the heart like soul-searing sound rays.
Vanijayaram's song conveys subtle feelings. Even if we listen to this song Ennull Angu Angu Geetham now, it will make our mind go crazy. So delicious.
Heroine Deepa wears city clothes like blouse and petticoat. As a result, the villagers protest against her saying that this is a cultural change.
Deepa falls in love with Sivachandra, who is an assistant to an English officer, because of the clothes he wears, the English words he uses and his manners.
Her mind goes out on a bike ride with him and looks for a new partner. Now comes a musical. That is this heart touching song.
A woman is reluctant to make mistakes. Her mind wanders. Nature is also silently watching this. This is what we know. But to add more strength to this song Ilayaraja has composed the music in a natural way.
If we listen closely to the song, we can see this. You will know that our hearts have been waiting for a song like this. So the surprise prevails that Thano Musician is also known as Ragadevan.
Musical instruments such as sarangi, flute, tabla play a melodious rhythm to this song.
The violin, flute and sitar instruments play rhythmic rhythms on the lines that the mind is intoxicated.
Sivakumar has played his role as a trader belonging to a hilly village. He sings Vethala Vethala Vethalayao to relieve his tiredness after business and the rhythm beats.
Malaysiavasudevan has sung the background music for the character in the song. His innocent voice is a plus point for him. Similarly, uncle gave me jasmine one day… S.B.B. and S.B.Sailaja sang the song.
Once the village elder's son asked Sempattai to sing a song to him who was devastated by the slander about his wife. At that time, the song sung by Sivakumar, who was red-haired, was Uchi Vakunadhupu Pichipoo Vachhakkili song. A classy song. This song was a hit in all classes.
The humming song of spp in the background of Udukai music. Accordingly Raja's music is mesmerizing.