The weather is still uncertain, but the good weather will be here soon!
Although, according to traffic data, every year more and more people are so determined that they cycle and rollerblade all year round, on the first days above 10 degrees, the number of cyclists and roller skaters number in cities. What should we do if we take out our micromobility devices after many months of inactivity? Promoting the diversity of urban transport Future Mobility Association experts now advise on this.
According to the data of BKK's bicycle counter points, the amount of bicycle crossings in the winter period has increased by 92 percent in the last six years, i.e., cycling is increasingly losing its seasonal character.
According to the experts of the Future Mobility Association, the reasons for this are to be found in the increase in the number of cycle paths and lanes in addition to rising fuel costs, in the pursuit of sustainability, in addition to the fact that bicycles and scooters are really efficient and fast means of transportation in the city.
That's why there are many people who don't ride bikes or scooters under certain weather conditions – according to BKK data, most people used the bike lanes in May last year, when 319,000 people passed one of the posted measuring points. The growth starts every year from March (last year at this time 153 thousand crossings were measured) and the number of cyclists and roller skaters does not decrease until the first colder days. But those who only use their devices between March and October usually have to prepare them for use again after several months of downtime.
This year, we will continue the work we have started and would like to continue to highlight that, especially in urban transport, the range of opportunities to live beyond the car is getting wider and wider. When the weather is good, bicycles, scooters and scooters reappear, which provide the most suitable means of transport for us, either with private or shared car rides or with public transport. It is worth incorporating as many different solutions as possible into our personal transport, as in many cases they can make it cheaper, faster, stress-free or more convenient to get to our destination
– said Gábor Pukler, president of the Future Mobility Association.
How to prepare a traditional bicycle
It is worth checking the tire pressure and the condition of the wheels not only before the first spring trip, but also regularly, every few days. Tires that are too soft are difficult to control, slow and dangerous, and tires that are too hard slide more easily – you need to find the right tire pressure, which depends on the width and type of tire and the rider's weight. If it has been standing for months bicycle with a deflated interior, it is worth inflating it a few days before the first trip, and then checking whether it holds the pressure.
Before the first trip of spring, the bike definitely deserves a wash, but don't do it in a high-pressure car wash, but do it with a bucket, cleaning agent, brush, and leave out the parts of the chain drive. During cleaning, make sure that oil does not accidentally get on, for example, the brake disc or the braking surface of the rim.
Lubrication can then follow: in the absence of this, you can hear a lot of squeaking bikes in the spring. Be sure to turn the crank back a few times before putting it into operation, and if it does not turn easily, oiling will be necessary.
Before setting off, it is important to check the brakes, check the screws and check the lights.
Electric bicycle, scooter, scooter
Before the first spring trip of the electrically powered micromobility devices, we also check the tire pressure and make sure to fully charge the battery. Always connect the charger to the outlet first and then to your device, and the cable should not be wound up!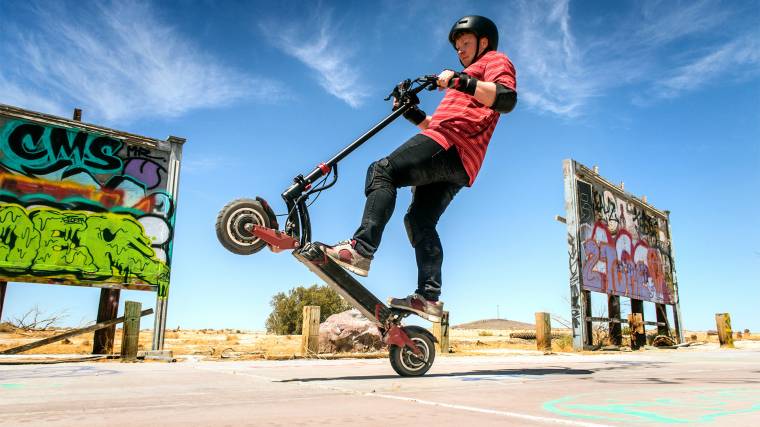 During our first trip, pay attention to whether the scooter that you took out again does not squeak. If you experience something unusual during the test drive, contact a specialist service center, because the experience is that in this case the device can be repaired much more cheaply. If you haven't used your vehicle in the winter, be careful the first few times you drive: I take part in traffic with more care than usual, since even a few months of absence can be felt in the previously usual movements. Moreover, other road users are also used to scooters and cyclists, which is why it is worth driving more carefully.
Prepare yourself too!
In addition to the tools, it doesn't hurt to prepare yourself: in the 10-15 degrees in spring, you still have to pay attention to the appropriate clothing, since even an average city speed of 20 km/h can reduce the feeling of heat by 7 degrees – our hands, neck and ears can easily get cold, which is otherwise pleasant. also during walking time.
If you haven't cycled or roller-skated for months, give yourself time to warm up so that routines and movements that you haven't used for a long time come back – if you don't do it, it often ends in an accident, warn the experts of the Future Mobility Association.
It is also worth preparing for this: there is already an assistance service on the market specifically aimed at cyclists and scooter riders – which can be supplemented with accident insurance and liability insurance – which we provide to the owners of newly purchased bicycles and scooters, so that even in the event of a problem, they know they can turn to them for quick and professional help
– said Amir Bányai, Business Development Director of Autohome Magyarország.
We still have a lot to tell you, you can find everything interesting here!