After announcing changes to access its API last month, Twitter has finally released a formal price sheet and also opened a sign-up page, giving those interested a chance to put down money to gain access. There are currently three tiers, coming in as Free, Basic, and Enterprise. As you might have guessed, the Free tier will cost users nothing but will have quite a bit of restrictions, while the Basic tier will cost $100 per month. The company does not list pricing for its Enterprise package, instead requesting those interested to contact the platform for details about its monthly subscription tiers.
Now, those looking at the Free tier, you'll get access to 1 app ID, post up to 1,500 tweets per month at the app level, and will have a rate limit. Twitter is recommending this account for those that just want to explore the API or those that just need write-only access. This could be a great solution for someone that needs API access for a bot, but when you break down 1,500 tweets in a month, that just leaves around 50 tweets per day. Of course, there's always the option of bumping up to the Basic account, which gives access to 2 app IDs, with up to 50,000 tweets per month at the app level, and also provides 3,000 tweets at the user level, and 10,000 tweets per month on the read limit.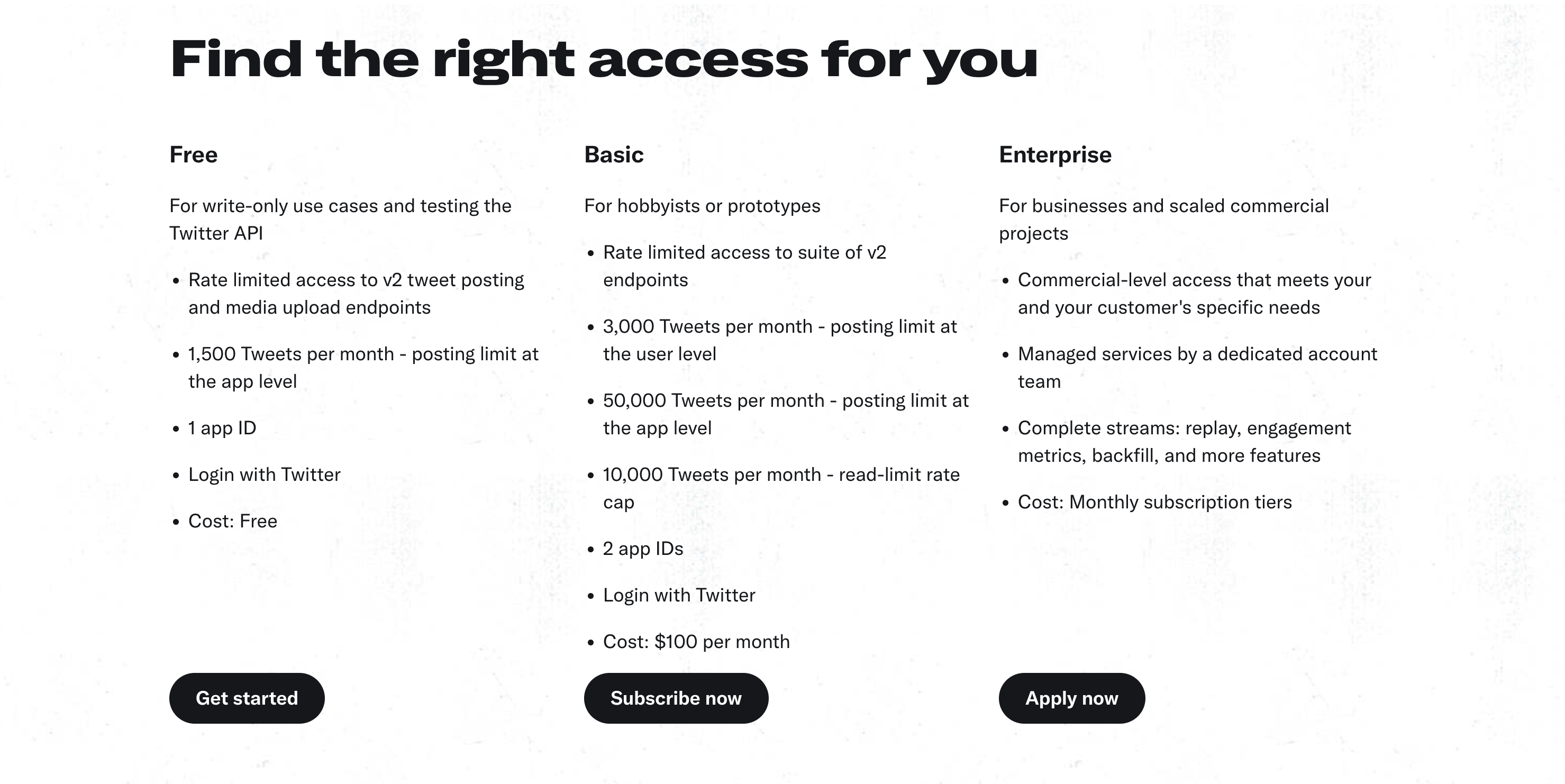 As far as the Enterprise tier, Twitter doesn't really provide specifics, so those interested will have to contact the company directly to see what kind of limits are set. Furthermore, there are currently no plans for students and teachers, but Twitter did share that it's looking into possibly offering something in the future.
While this is a lot of change, it's really nothing unexpected at this point, as Twitter owner Elon Musk has made rapid adjustments to the platform since it was purchased last year. As a final note, the company also shared that it would be winding down current plans like Standard, Essential, Elevated, and Premium over the next 30 days. It recommended those on old tiers to move over to the new plans for a "smooth transition."
---
Source: Twitter Dev (Twitter)