Uphaar By Croma Freebies Offer
Register and Win Free sweets as gift from Uphaar by Croma Offer
---
Diwali, the festival of lights, is a time when families come together to celebrate, exchange gifts, and indulge in an array of mouthwatering sweets. It's a time for joy, togetherness, and the sharing of happiness. This year, Croma, has decided to make this Diwali even more special with their Uphaar offer. Just register and you can get Uphaar from Croma.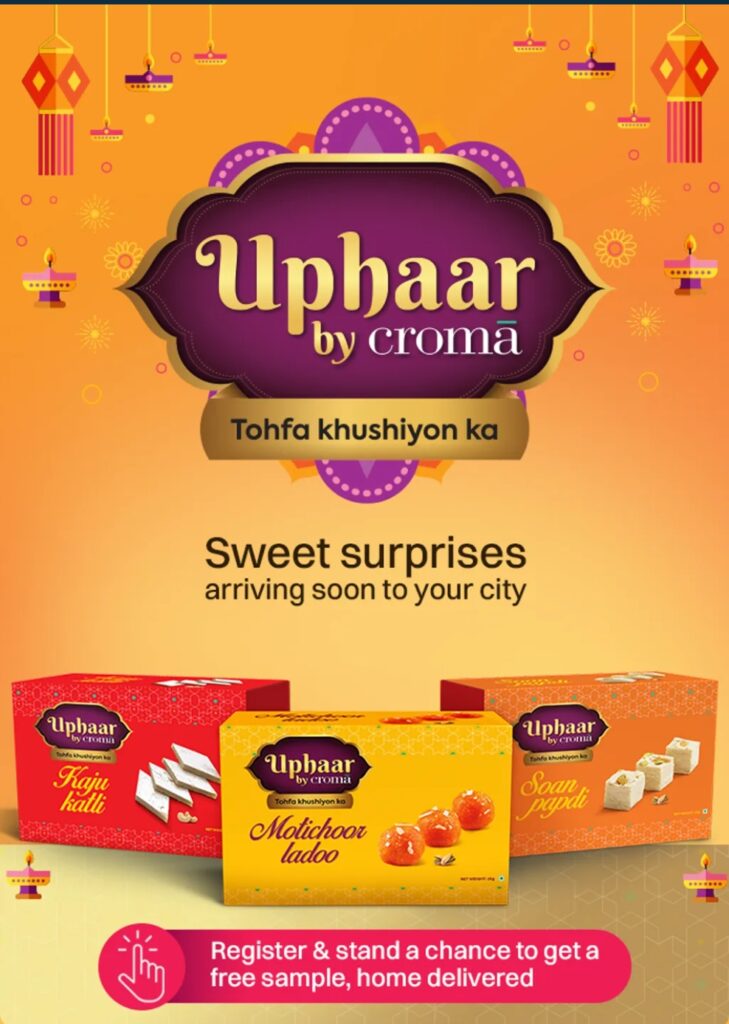 Users can get the delicious Soan Papdi, the Motichoor Laddoo, and the Kaju Katli. These traditional sweets are a part of Diwali celebrations, and Croma is making them even more accessible to everyone.
About Uphaar by Croma: Uphaar is our delightful introduction to the world of treats. What makes us special? Our combination of time-honored traditions and innovation, all beautifully packaged to add that extra sprinkle of delight to your Diwali treats.
How to get Free Gift from Uphaar by Croma?
1, First of all, Visit the offer page from below.
2. Full your details.
3. You have to enter name, Mobile Number, Address with pin code.
4. Submit it.
5. Done, You're eligible to get Free Gifts.
6. You will get Free sweets from Croma if you're lucky.
7. Enjoy.
Terms and Conditions
You agree and confirm that all the details provided by you are correct and complete in all aspects.
Croma (Infiniti Retail Ltd.) will not be responsible for any gratification loss due to incorrect details.
If you are selected for the free sample, the product sent to you will be at IRL's discretion basis stock availability. There will be no return or exchange of the product at any Croma store or facility.
IRL reserves the right to modify or withdraw this Campaign at any time without any notice and liability towards you.IRL's decision in this regard shall be final and binding.
All information submitted in connection with this Campaign will be treated in accordance with these T&Cs and the Privacy Notice available at www.croma.com.
By registering in this Campaign, you hereby agree to release Infiniti Retail Limited ("IRL") from liability, and hold harmless IRL and its directors, employees or agents. This release is for any and all liability for personal injuries (including death), property loss or damage, and misuse of the Prizes offered under this Campaign, in connection with any activity or directly or indirectly, by reason of the acceptance, possession, or participation in this Campaign, even if caused or contributed to by IRL's negligence.
Employees of Infiniti Retail Limited are not eligible to participate in this Campaign.
All disputes are subject to exclusive jurisdiction of Courts in Mumbai