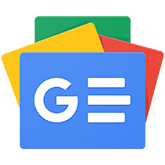 I was born not only before the first graphical web browser appeared, but even before the official creation of the Internet. Since then, I have observed the development of the global network, being fascinated by the possibility of accessing materials posted on servers in various countries around the world. It used to be an experience bordering on magic for me, but now it is as natural as breathing. It was possible to access knowledge resources, discussion groups, forums, download various materials, and the sources of information were developing year by year. At some point, there were so many sources that it was necessary to select and aggregate specific pages in such a way that I only reached the topics I wanted to read. So I started using RSS readers like Feedly and Inoreader. However, in the 21st century this is not the best solution.
Author: Tomasz Duda
Currently Internet it has developed to such an extent that it has basically become permanently integrated into our everyday lives. Most people no longer use RSS readers because interesting information is provided on a plate in places such as X (Twitter), Facebook and others. However, the reality is that there are much more online sources of information than there used to be, and many of them take the form of classic websites or online portals. Therefore, an easy and quick review of the messages coming from them is not an easy task. However, it is worth keeping up with the times and instead of using RSS readers (old, although still functional), you can try to make browsing the content easier using more modern tools. One of them is Google News. Of course, this is nothing new, because the service has existed for many years, but if someone has used RSS before, they can simply check whether such a change suits them.
The latest news and favorite topics in one place, on many devices, with automatic synchronization. Google News can replace your RSS reader. Start using them.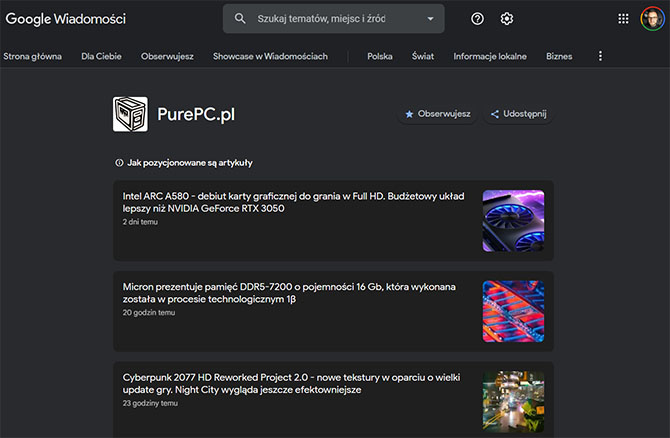 Google is a true giant in many respects. Suffice it to mention that the operating system created by this company, i.e. Android, is used by the majority of smartphone users on the planet (about 70%). Many people also use their Gmail email, watch videos on YouTube, upload files to Cloud Drive, use a payment system, monitor their physical condition, online office suite and other tools. And as you know, they are all connected to one user profile. Such data synchronization with a specific account has many advantages, including: allows you to access the same things on many different devices: smartphones, computers, tablets and even smartwatches. Google News is no exception. If you start using them on your phone and add your favorite topics or pages there, in a moment you will be able to view them wherever you are logged in to this account.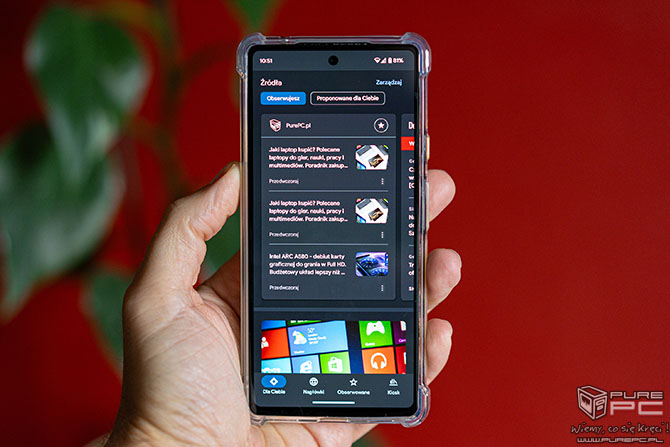 Google News as an RSS reader
Above, I have already mentioned the two most important arguments that make Google News play a role similar to an RSS reader: selecting only those topics that interest you and their synchronization. But that's not all. Another advantage is that the service does not require us to manually enter the addresses of information sources, but provides a functional search engine. In other words, we don't even need to know what source we want to receive information from, just enter the appropriate keyword, e.g. "Android" or "GeForce", and Google News will automatically find appropriate sources that write about this topic. The most important thing, however, is that such a search can be added to favorites (followed), which in practice means that from then on we have instant access to the selected topic or many topics. This results in significant time savings. How to do it?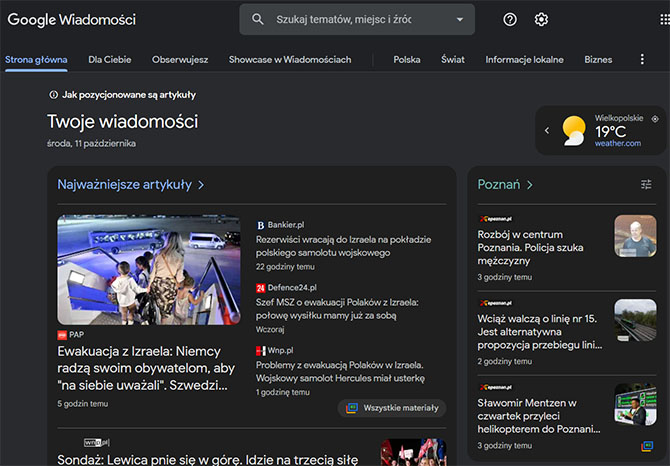 Open Google News (sign in with your main Google account if necessary), enter the phrase you are interested in in the search engine. The s should appear belowsuggested entries, some of which are marked as topics. Click one of them. The search results will appear and at the top next to a given term you can select an option Follow (star button). And now the most important thing: you can perform many such searches, each time marking a given topic as watched, thereby creating your list of information sources that interest you. You can view them by going to the "Following" tab at the top. You can change the order of individual sources, and you can also easily delete them.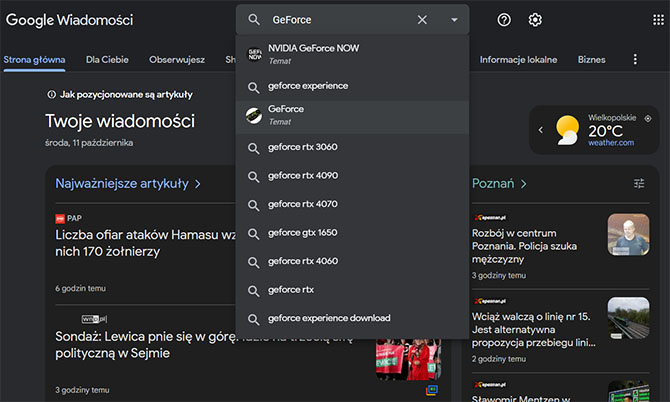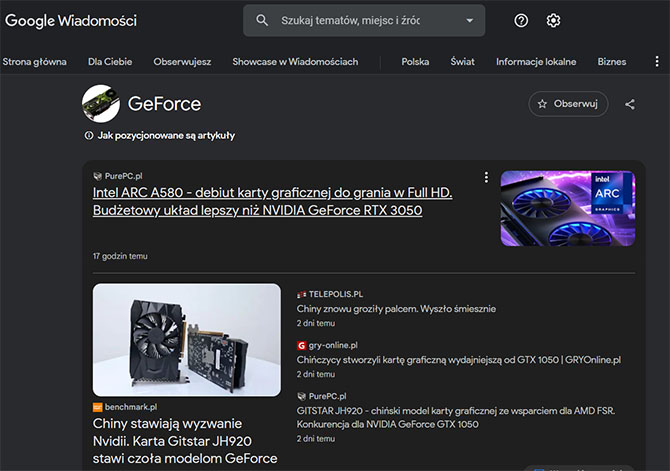 You don't want to look for a specific topic, but prefer to observe a variety of content from one specific source? No problem! Simply enter the name of your favorite portal in the search box and there is a chance that it will be found in Google News. On the left side you will see important articles from it (both new and older ones that are more popular and still relevant), while on the right side you can click the button Follow. You will then add this source of information to your favorites list. Also in Watching you can add a local news source, especially if you live in a city (but not only). You indicate the name of your town and from now on you have access to news from your area in one place.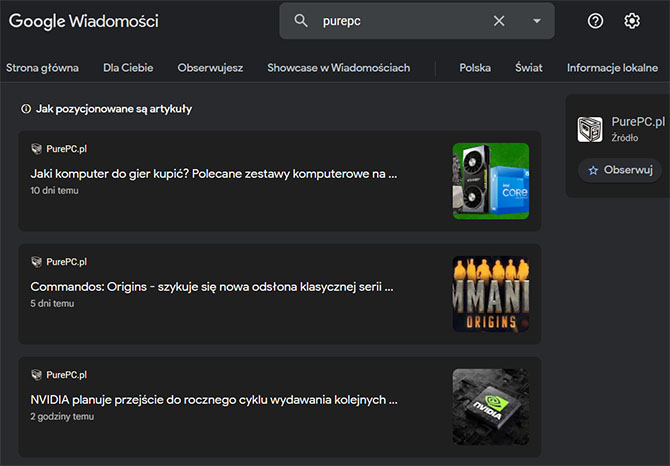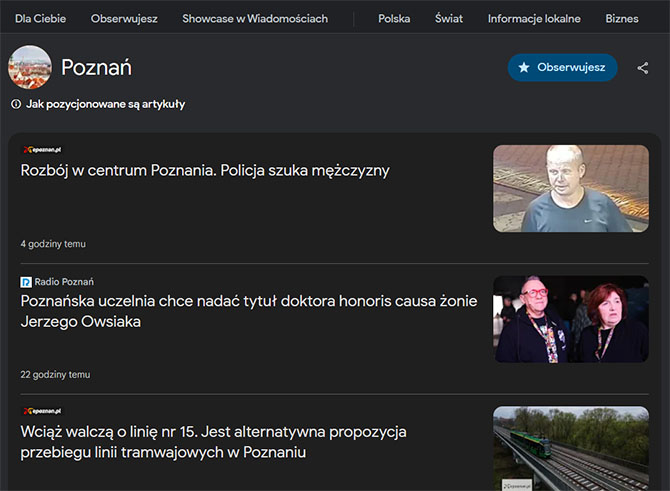 Entering the card "For you" at the top, you can immediately view a whole set of content that is different, but still tailored to your interests. The above-mentioned functions of collecting content by topics, portals and cities bring Google News closer to what typical RSS readers offer. It is also worth taking a look at the home page, which is divided into sections. Here you can find, among others: "Your topics", i.e. obligatory information. Google requires you to select from 2 to 12 topics that interest you. They are independent of what you additionally choose and you cannot choose less than two. In my opinion, it is worth selecting only the two most relevant ones (in my case it is Science and Technology and Mobile Phones), and defining all the rest as described above, i.e. using the search engine. To change "Your Themes" use the Customize button on the right.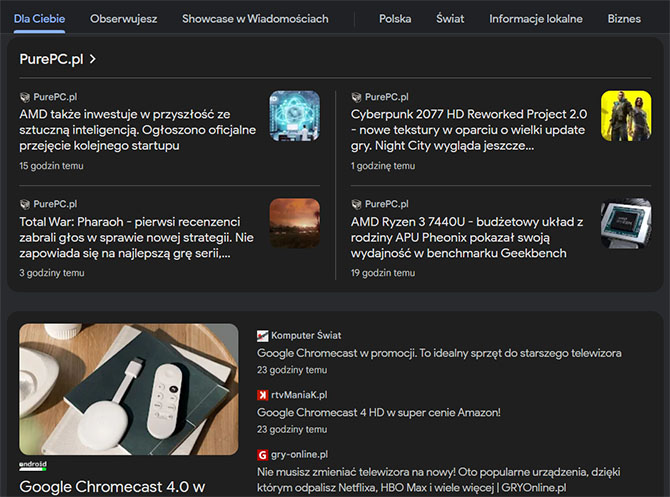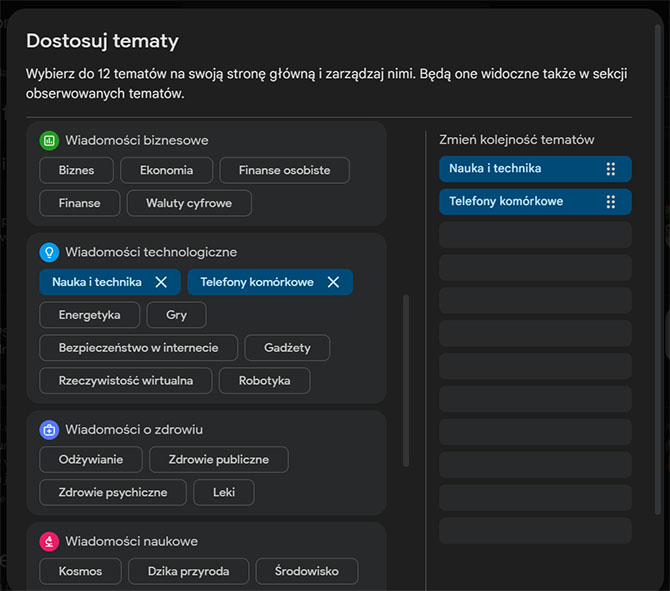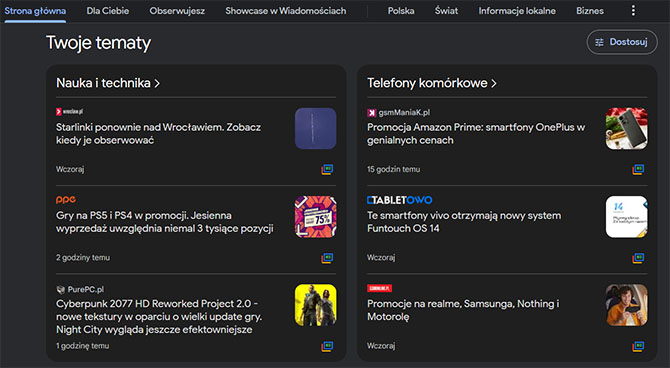 If you find a lot of interesting topics, but you don't have time to read everything at the moment, you can save the article in Google News for later. When viewing your content list, simply place your cursor over the entry, click the three dots to the right of it, and select Save for Later. There is also an option to share an article, go directly to a given website, like a given content or, on the contrary, indicate that you do not like it or even hide a given source of information. Where can I find articles saved for later? It's simple: go to the "You are following" tab and then to "Saved articles". Similarly, you can save entire searches if you want to return to them at a later time.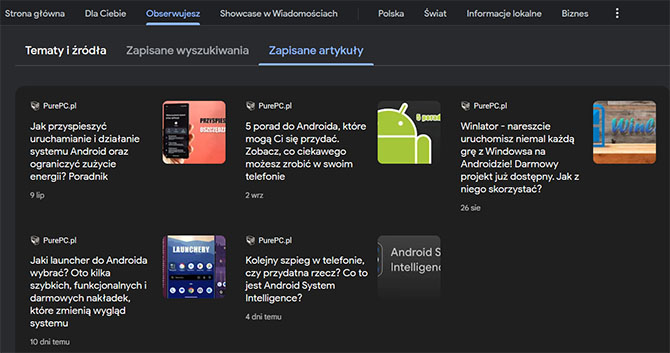 I demonstrated the above steps using Google News as an online service (as a website). However, what is even more important in today's times is that you can just as easily view these news and other articles on your smartphone, tablet, or even smartwatch using the Google News app. Sure, some RSS readers, especially the more famous ones, also have their own applications, but the universality of the Google solution and the ease of synchronizing content between devices, within an extremely popular account, is a huge advantage. Moreover, in my opinion, "Google News" simply seems to be a more modern and popular solution.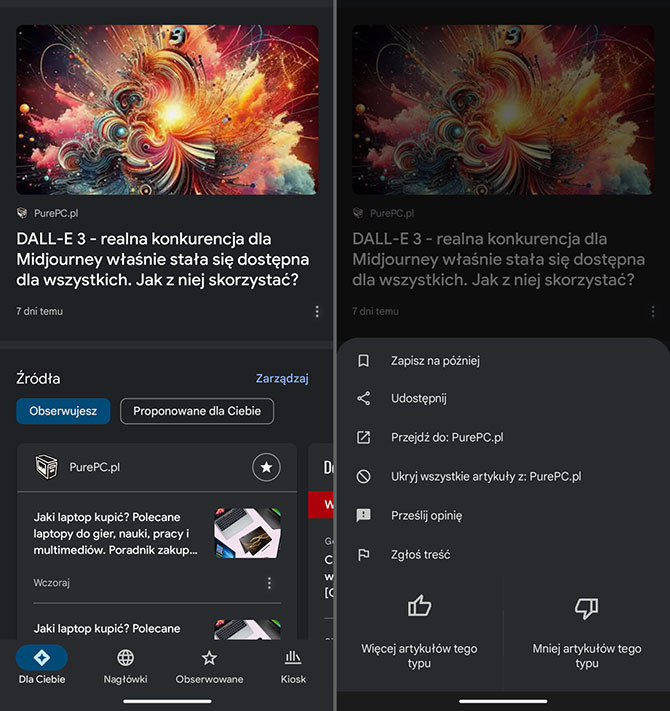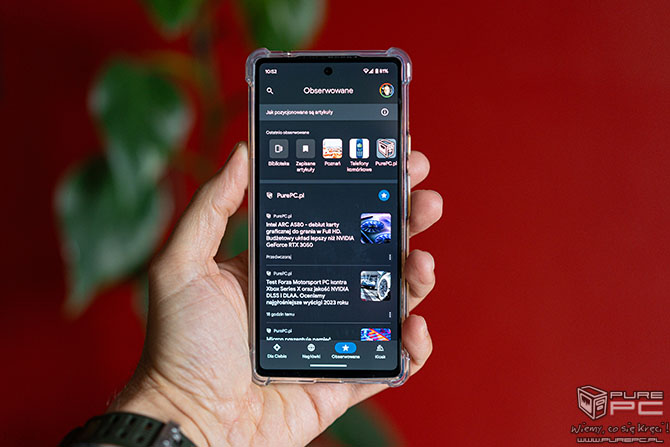 Google News has another ace up its sleeve. Answer the question for yourself whether you display a news panel on your smartphone, located on the left side of the main screen, and if so, do you do it regularly? This is the Google Discover panel. You won't find it in some phones, in some it's completely different, but it's still used quite often. Well, it is also strongly linked to Google News (it is based on the same individual content preferences). In other words, by setting Messages appropriately, you immediately gain a functional and useful addition in the form of the Discover panel. Of course, the above description does not cover the entire functionality, but focuses on a few features that may encourage some people to switch from a classic RSS reader to another (in my opinion, more modern) service. Let me know which solution you use, or maybe none of them and you prefer something completely different? I encourage you to comment. Have a nice day!