Ponmana Semmel MGR and artist Karunanidhi were enemies in politics. However, both have been good friends growing up in the film industry. Karunanidhi has written amazing dialogues for films starring MGR. MGR as an actor and Karunanidhi as a storyteller and narrator grew up together.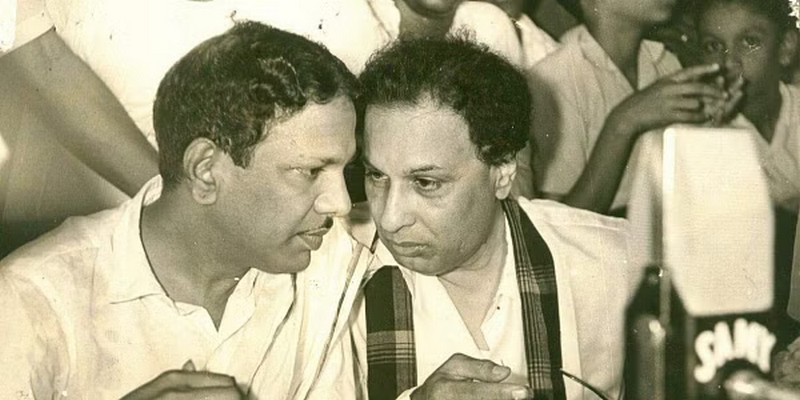 Both of them were attached to scholar Anna. That is why MGR joined DMK. But due to some problems, MGR had to start a separate party. MGR It was MGR who gave due importance and respect to Karunanidhi in the Legislative Assembly even when he was the Chief Minister and Karunanidhi was the Leader of the Opposition.
Ok let's get to the point. Poet Vali wrote many amazing songs for MGR. Poet Vali had narrated the incident on a stage when he was writing a song for MGR starrer 'Meng Thangam'.
Krishnan Panchu Director.. MGR Hero.. Music by MS Viswanathan. Jayalalitha is the heroine of the movie. A love song featured in the film. The first line was sung by MS Viswanathan himself. The first line is 'I enjoy in moderation'. I have to write from the next line. But nothing appeared to me. So, I put the Vettel leaf in my mouth and chewed it.
Then artist Karunanidhi came there. 'What if Wally wrote the song?' he asked. I said that the first line is 'I enjoy it in moderation'.. I didn't get the next line. The artist immediately said, 'He who gives anything without measure'. I was amazed. This is a lyric written by artist Karunanidhi for MGR. Then when I met MGR he hugged and kissed me for that lyric. Immediately I said, 'If you want to kiss that line, you should give it to Karunanidhi.'
Vali shared such an interesting news on that stage.