Many entrepreneurs know what they should do if they want to be more successful, but are unable to break away from their daily routines. Or if he achieves a little business success, it increases his workload to the point of unbearableness. Jövőkép presents the recipe for getting out of this entrepreneurial trap in a particularly entertaining way.
An entrepreneur is a special type of person who chases dreams. His character includes a series of failures and recovery, through which he acquires the experience and knowledge necessary for success. Nothing is given for free in this world. Sometimes luck can help, but there are many more people who pay the price of trying with their health, family peace or their previously accumulated wealth. For those who find it too much, they quit or get stuck halfway to success. But there are also those who keep going until they reach their goal and finally become an entrepreneur. Jövőkép is about them, but not only for them.
Is it necessary to fail so many times, is it possible to prepare well in advance for the challenges of being an entrepreneur – for example, from books? It is difficult to answer this clearly, but it is quite certain that the part of the entrepreneurship literature that shows that even the most experienced ones fought cruelly for success can provide a serious confirmation to overcome discouragement and to continue. It is enough to mention only two case study classics: Lloyd Shefsky's book: Fire Your Boss – and Make Your Dreams Come True and Malcolm Gladwell's book: Exceptional People – The Other Side of Success.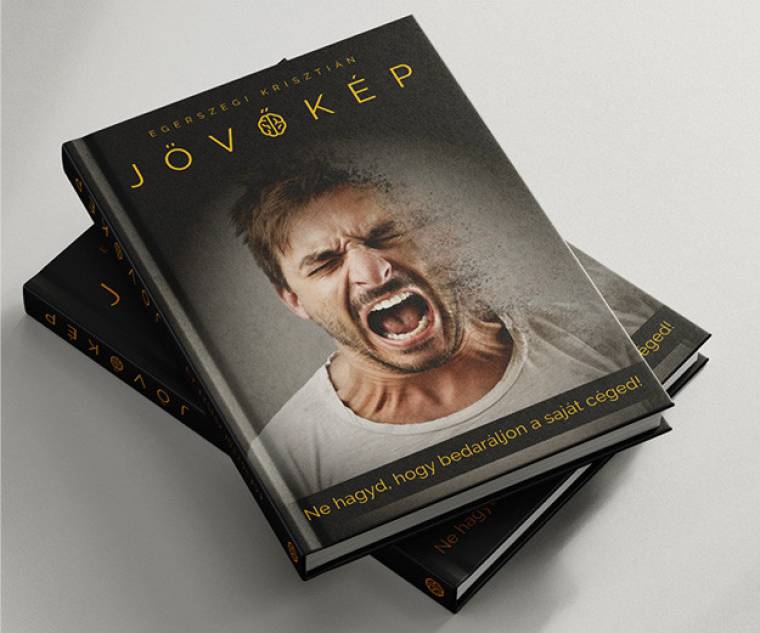 A particularly improved version of this genre is Krisztián Egerszegi's book, a Future vision – Don't let your own company get in the way! Strictly speaking, of course, this is not non-fiction, but a short novel, but perhaps it would be more correct to define it as an educational novel, which definitely belongs to the entrepreneurial books. It also differs from the other two works in that Shefsky is a business lawyer and university professor at a cool business school, while Gladwell is a journalist, publicist, and speaker. However, the author of Jövőkép is an entrepreneur himself, one of the owners of MiniCRM Zrt., a CRM and company management system developer, and the founder of Cégpítók. Thus, he had the opportunity to shape the character of Péter Gaál based on his own experiences, learning the stories of his business partners and based on the example of the entrepreneurs featured in the Cégépítók podcast, which is connected to him, and to tell the story of his journey, which led him through all the important stops and pitfalls that can occur in the life of an entrepreneur.
Jövőkép is a readable book, but not easily entertaining, unless one appreciates it as holding a mirror in one's hand and being forced to think about what one sees in it. For those who have already fired their boss and become their own boss, or dream of doing so, what could be more useful than this? Readers – if they already have a business or are planning one – can encounter problems in every line of the short novel that they cannot avoid, or that already define their lives.
In the meantime, of course, there is reason to worry about the fate of the main character, who makes bad decisions while always wanting to do the right thing. His basic values ​​and goals come into irreconcilable conflict with daily practice, and his life begins to fall apart in the wake of the collisions. The book's strongest feature is that it wants to convey the message that, according to the author, is essential for becoming a professional, progressive entrepreneur. It shares the key to the level of entrepreneurship, where the founder is no longer a slave to his company (employees and company systems work for him), but can see it as his own child, in which he can enjoy while carefully developing it and not trying on a daily basis make it more and more successful. Moreover, his own life can also be well balanced.
In order to get here, someone needs a suitable vision of the future. The hero of Krisztián Egerszegi's book – while his entrepreneurial personality also transforms and develops – gradually reaches the level of understanding – with some friendly and professional support – that he understands his role in building his company, he can set up the Vision that, using it as a compass, not only his business may be affected, but also your private life.
>>He looked up at the lamp. Hundreds of moths circled around him. They made senseless circles around the light, constantly bumping into the storm. This didn't deter them either: they made the same rounds over and over again.
As do I, Peter thought. I, too, chased the wrong goals like butterflies. I was always going somewhere, but never in the right direction.
The cigarette fell out of his hand. Jövőkép changed everything and showed the direction.
He started back at a running pace…<<
Hardware, software, tests, interesting and colorful news from the world of IT by clicking here!