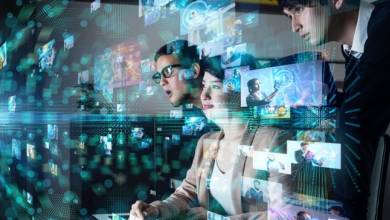 Qualysoft has created an acronym for it for simplicity.
Competence-based IT service and consulting companies with a more complex product portfolio than their counterparts based on traditional models are becoming more and more popular worldwide. The revised service modules combine solutions with which, for example, old IT platforms can be integrated. A so-called mosaic development model was created from the combination of boxed solutions and open source technology. Thanks to this, the changed and new needs of large corporate players in most industries have become fully serviceable.
Since the outbreak of the Covid-19 pandemic, due to the spread of remote work and its becoming the norm, as well as the disruption of value chains, there has been an increasing demand for digital solutions that make the operations of large companies more efficient. It was also necessary to rethink the normal operating processes that had been used before, and the time had come to modernize the old IT systems operating at large multinational companies, which were often considered outdated. More and more IT service companies started to restructure their portfolio of services recommended for large companies, thus competency-based IT service and consulting companies were created. These companies look for customer pain points and assess the main problems faced by industry players in the context of consultative advice.
What makes an IT service provider competence-based?
Competence-based companies are able to creatively and flexibly handle ever-changing market requirements while keeping in mind individual user requests, on the other hand, they also focus on future trends related to modern technologies, for example the automation and optimization of predefined processes in the financial area, or even to the potential of Industry 4.0. Such companies always propose the most ambitious solution to customers, be it a boxed solution or a unique development.
Competency-based services have also appeared in Hungary
"Companies like ours take advantage of their extended, competence-based service portfolio, their industry experience, and take into account the rate of return and how efficiently the introduced product will be used during the entire life cycle already during the assessment phase," he said. Katalin Korcsok, the sales and business development director of the Hungarian office of Qualysoft Group, which has German roots and currently operates in 8 countries. Qualysoft has created an acronym for the sake of simplicity: they define themselves as a CBIT company (competence-based IT).
According to the specialist, CBIT companies are generally able to serve digital transformation efforts extremely efficiently, in addition to being able to satisfy any IT needs of large corporate clients. Qualysoft, for example, is able to integrate systems based on heterogeneous technology using various platforms. In addition, they can even build solutions suitable for special needs around boxed Microsoft products with the help of open source components. The combined use of boxed products and open source code is also called hybrid or mosaic development.
What makes Qualysoft a CBIT company?
"During the pandemic, customers are asking for help to support remote work, and more recently for security and cloud-based solutions. For example, we supported remote work with the help of Microsoft Azure's cloud-based collaboration tools. And as a result of the epidemic, we developed a framework with which the company's resource management, customer management and business intelligence platforms we can manage it effectively. All of these are also part of Competence-Based IT (CBIT), but they are located at the lowest level, as a kind of cornerstones," said Katalin Korcsok.
According to the specialist, in addition to the above, the leading IT service providers have also strengthened their related services, such as ensuring service continuity (BCP – Business Continuity Plan), which can be very effectively supported by new generation IT solutions, such as DevOps technologies / methodology, (or including, for example, IaC – infrastructure as code solutions), in which Qualysoft is a prominent player.
Hardware, software, tests, interesting and colorful news from the world of IT by clicking here!