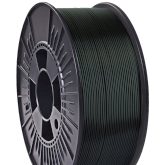 When choosing your first 3D printer, you also face other decisions. Freshly after buying it, we need to decide what filament we want to use for our prints. There are really many types on the market, and each 3D printer also has its limitations in handling certain materials. First, we need to make sure that the selected filament is compatible with our equipment, because each requires certain conditions to print. The purpose of our printout is also very important, because one filament will be quite easy to use, but less durable, while another may be more plastic, but using it in printouts will involve certain requirements. In order to make the best decision, you must first find out what the characteristics of individual filaments are and what we can expect from them.
Author: Natan Faleńczyk
The filament itself is a material that is used to print 3D models. It is therefore analogous to toner or ink for traditional printers. Depending on the type, we can meet filaments of natural origin, as well as those that have their source in completely artificial ingredients. After processing a certain material, fibers of different diameters (usually 1.75 mm) are obtained, which are then wound onto spools. The product is then packaged and sold as such. This guide was created for beginners who have not had much to do with the aspect of 3D printing, but want to start their adventure. As the type of filament itself does not give 100% certainty that our prints will come out perfectly, I will try to list proven companies from which the purchase will be associated with very good quality of the material. Unfortunately, it is very easy to find a filament that attracts with its price in the auction, but right after the purchase we have only problems with it. So it's worth spending a little more money but enjoying trouble-free printing. I invite you to familiarize yourself with all the "basic" filaments, starting with the most popular PLA.
Choosing the right filament for your 3D printer may seem like a very difficult task at first. However, after a closer look at each of them, we will make a decision with a much better result.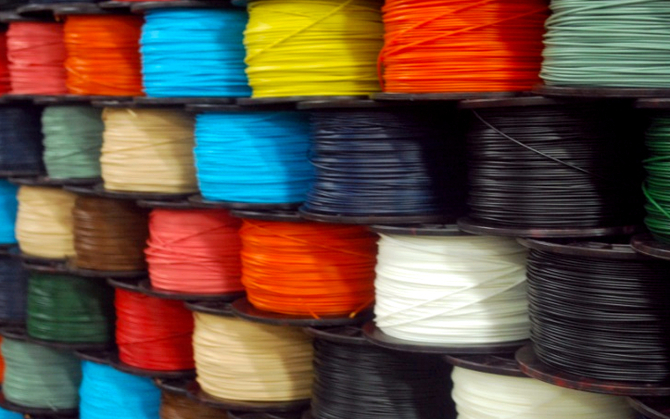 PLA filament
As mentioned earlier, it is the most popular 3D printer filament for at least two reasons: it is very easy to print and it costs relatively little. PLA, or more precisely polylactide (lactic acid), is a raw material of natural origin. It is obtained from various types of fermented plant starch (maize, potatoes, sugar cane, cassava, beets), so it is biodegradable. The big advantage is also that it is completely harmless to humans, so when printing, we do not have to worry about toxic fumes. It is quite a stiff material, which, however, is not very suitable for subjecting it to additional processing. This filament is recommended for novice users. Like everyone, however, it has its drawbacks. These include poor resistance to UV radiation (so outdoor use is completely out of the question), as well as low resistance to higher temperatures (the material can deform). Despite its advantages, it is not suitable for contact with food, which must be remembered. Due to its price, we can use it for "sketches" of our projects, printing figurines or utility items that will not be exposed to less favorable conditions. It does not require high temperatures – usually from 190 to 230 ° C for the nozzle and about 60 ° C for the bed.
ABS filament
One of the most durable, but at the same time quite heavy to print materials. It requires a fairly high nozzle temperature (from 240 to even 260 degrees Celsius), so not every printer will be able to handle it correctly. In addition, ABS (acrylonitrile butadiene styrene) is a very shrinkable filament and requires a heated bed, because otherwise it may start to crack during a sudden temperature change. Therefore, the best heated chamber is required, and in the case of open structures, protection of the print area against temperature changes. This polymer is made using crude oil, so it also requires printing in a very well-ventilated room, because in this case harmful (even toxic) substances are emitted. Despite its disadvantages, this material is used in everyday objects and we certainly have a few things at home that are made of it. It is a material with a very high temperature resistance (from -20 to 80°C) and can be successfully subjected to additional processing, such as drilling.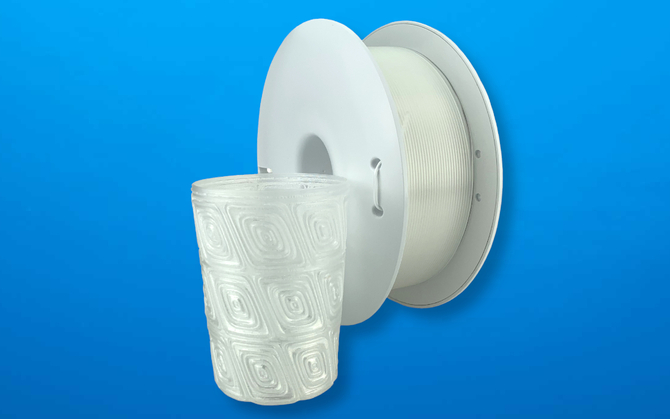 TPU filament
TPU (thermoplastic polyurethane) is a rubber-like filament that has a very wide range of applications. If we need to make an element that will be quite similar in properties to rubber, we have come to the right place. We can successfully make a smartphone case or all types of gaskets out of it. It is available in different Shore hardness scales. A heated bed (40 to 80°C) and a slow print speed (20 to 40 mm/s) are required. The nozzle temperature itself usually oscillates between 210 and 240 degrees Celsius, so most even basic 3D printers should have no problem with its operation. However, the plastic is not shrinkable like ABS, so we do not have to worry about temperature changes. It can be mentioned that TPU is resistant to shocks and dampens them very well. After squeezing the print, it will return to its original shape after a while. It is also quite resistant to abrasion, various types of lubricants and chemicals.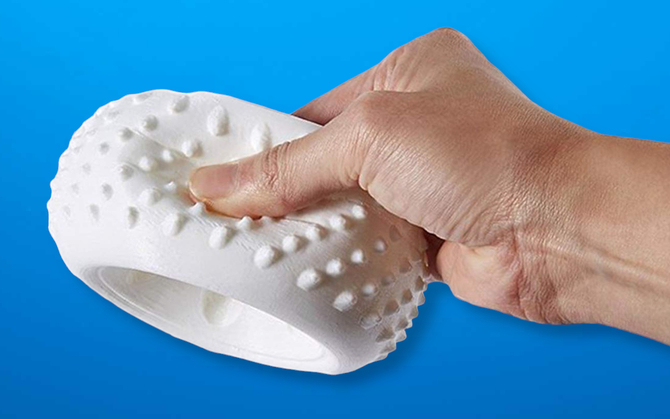 PETG filament
PETG (Ethyl Polyterephthalate + Glycol) is the second most popular filament, mainly due to its features and ease of printing. Models made with it come out smooth, do not scratch, are waterproof and quite durable. During printing, no substance is emitted that would not be conducive to our health, nor is there any smell. It is worth remembering that we should store it in as dry conditions as possible, because moisture adversely affects its properties. It is also distinguished from other filaments by its resistance to temperatures up to 70°C. It is one of the very versatile materials, so we can successfully use it in most of our projects. During printing, the bed should be heated (from 60 to 70°C), and the temperature of the nozzle usually oscillates between 220 – 250 degrees Celsius. It can be added that this filament does not shrink and is recommended for beginners.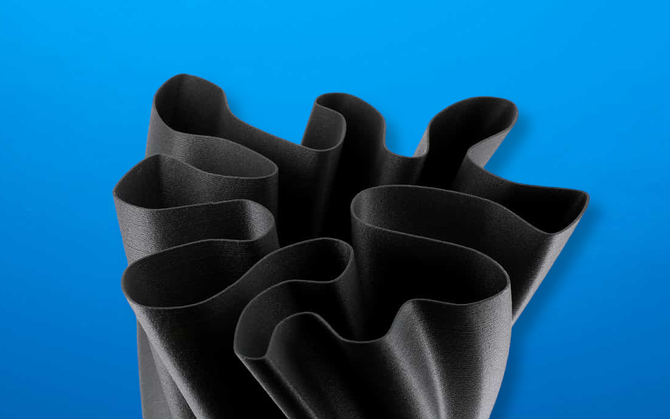 ASA filament
The ASA (Acrylonitrile Styrene Acryl) filament is very similar in its properties to ABS – although unfortunately also the unfavorable ones. But starting with the advantages: this material is very resistant to UV radiation and unfavorable weather conditions (including moisture and temperature changes), so we can easily use it for projects with external use. However, when printed, it emits toxic substances and an unpleasant smell, so good ventilation is essential. It is also distinguished by quite a strong contraction, just like the mentioned ABS. It should be borne in mind that its print temperatures, when it comes to the nozzle, range from 240 to 260 ° C, and the bed itself must be heated in the range of 90 to 110 ° C. However, a heated chamber will work best in this case. The requirements of the material for printing are quite high, but it is compensated by its strengths.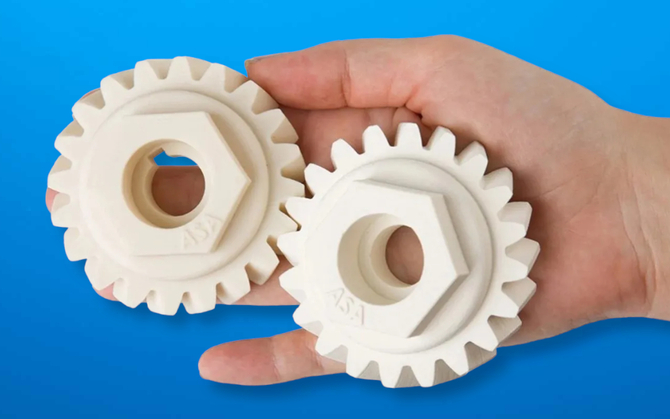 Recommended companies
As it was indicated in the introduction, specific companies involved in the production of good quality materials will be listed here, which we will certainly not regret after purchasing. This is not sponsored material in any way, I just realize how hard it is to buy a good quality filament. The more so that despite many positive comments on the Internet, we often come across a faulty product.
Nanocaddo – PLA (1 kg of filament costs about PLN 50) – a relatively new player on the market, but despite the relatively low price, the material is of very good quality and we will not have problems with its operation
Devil Design – PETG (1 kg of filament – PLN 89) – the price for the filament is not the lowest, but the quality fully compensates for the expense and we will not experience any problems with the printout (including nozzle clogging)
Rosa 3D (Rosa-Flex 96A) – TPU (0.5 kg of filament – PLN 104) – a very durable and relatively easy to print filament, which, like the others, does not cause problems in printing
Devil Design – ASA (1 kg of filament – PLN 115) – once again the company has already been mentioned, because its filaments are usually of very good quality and simply pay off
PF Filament – ABS (1 kg of filament – PLN 55) – well-regarded, and at the same time very cheap filament, which should not cause us any problems
Certainly, every 3D printer user has their own proven companies from which they purchase the material. I encourage you to share them in the comments. Thanks to this, we may be able to create a list of proven filaments from trusted sellers. Certainly, each of us will benefit from such a procedure.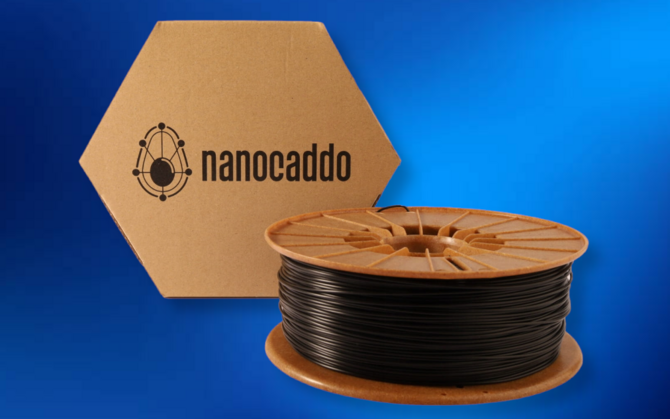 Summary
I hope that this guide helped people who are starting their adventure with 3D printing in making a decision about buying the right filament. Of course, there are many more materials available on the market, although they will not be of much importance to beginners, which is why they are not discussed in this list. It can be added that some filaments, such as PLA or ABS, have their improved version with the note "+" or "Plus". They are characterized by strengthening their strong features and partial improvement of the weaker ones. Most users usually use the three most popular materials, which are PLA, PETG and TPU, because the combination of these three provides the right capabilities to print almost any design. Of course, those of them that require durable materials, resistant to external factors, will need the use of ABS or ASA, but in this case, we must remember about good ventilation of the room so as not to inhale toxic fumes. If you have any questions, feel free to ask them in the comments. Probably also among PurePC readers there are people who are more familiar with 3D printing and will give us their advice.