Apple AirPods Pro 2

Our top choice

$200 $249 Save $49

The Airpods Pro (2nd Generation) are stars in a long line of excellent audio products from Apple. Sound quality is clear, Transparency mode is top tier, and ear tip fit is secure. 

Pros

Neutral sound profile
Good noise cancelation
Sleek design

Cons

Microphone quality is just okay
Hard to use with Android

Bose QuietComfort Earbuds II

Best for Android users

The Bose QuietComfort Earbuds II provide excellent ANC, customizable EQ, and extra stability for a secure fit on the go. If blocking out the world around you is a top priority, this pair might be for you. 

Pros

Great ANC
Secure fit
Custom audio settings

Cons

Pricey
Battery life could be better
Two audio stalwarts have updated their ever-popular pods, launching the Apple AirPods Pro 2 and the Bose QuietComfort Earbuds 2 within weeks of one another. Both promise excellent active noise cancelation (ANC), up to six hours of battery, and responsive touch controls, but which small-but-mighty pair will deliver when it comes to all of your listening needs? While the models seem similar on the surface, we did our due diligence, bringing you a thorough comparison, so you can have all the info you need to invest in a pair of excellent wireless earbuds.
AirPods Pro 2 vs. Bose QuietComfort Earbuds 2: Price, availability, and specs
Despite similar specs, there is a $50 difference between these options. The QuietComfort 2 Earbuds retail for $299, while the AirPods typically come in at $249. So, if you'd rather save some money, Apple is the way to go. Depending on the time of year, you may be able to get the AirPods Pro at an even lower price. We've seen them for as low as $199. That isn't to say you'll never find the Bose earbuds on sale, but you likely have better luck getting cheaper AirPods Pro.
Whichever one you choose, both models are readily available online at all the major retailers like Amazon and Best Buy and in stores. You shouldn't have any trouble picking up a new pair on the go or from the comfort of your home.
| | Bose QuietComfort Earbuds II | Apple AirPods Pro 2 |
| --- | --- | --- |
| Noise Cancellation | Yes | Yes |
| Microphones | 4 microphones in each earbud | Dual beamforming microphones, Inward-facing microphone |
| Connectivity | Bluetooth 5.3 | Bluetooth 5.3, Bluetooth multipoint |
| IP rating | IPX4 | IPX4 |
| Weight (earbuds) | 6.24g per bud (0.22oz) | 30.9 x 21.8 x 24.mm |
| Dimensions (earbuds) | 1.2″ H x 0.68″ W x 0.88″ D | 5.3g |
| Charging | USB-C | MagSafe, Qi wireless charging, Apple Watch Charging, or lightning connector |
Design and fit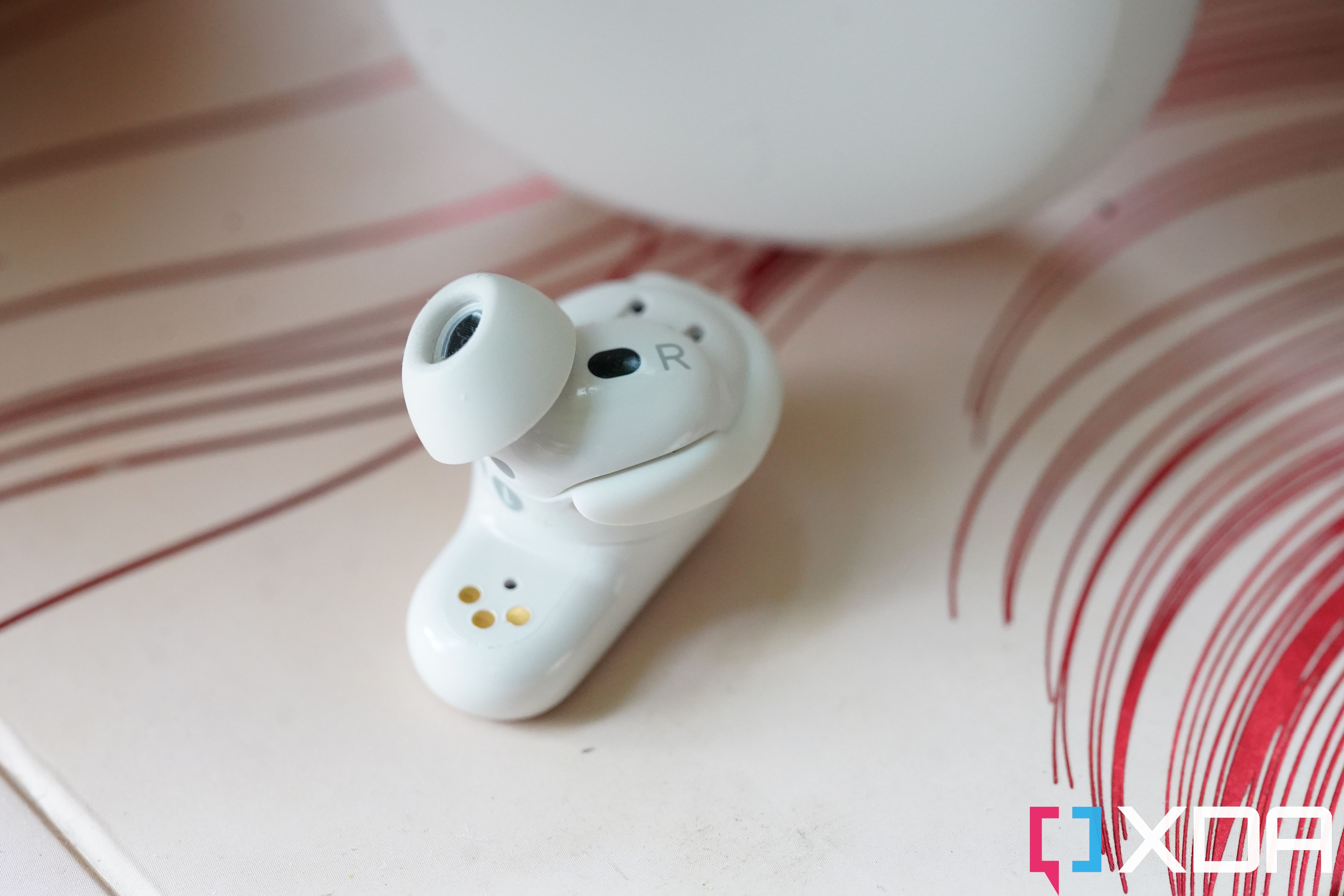 When it comes to appearance, the AirPods Pro 2 maintain the classic white, stemmed design of its predecessors and comes with four ear tip sizes. You can even take an Apple Ear Fit Test to ensure you've selected the right size for optimal listening and noise cancelation. The QuietComfort Earbuds 2s have a flatter, larger shape and come in multiple colors and three tip sizes.
The Bose earbuds also include silicone stability bands that help secure them to the ear, making them ideal for HIIT workouts, running, and other activities that require a lot of movement. So, while the AirPods have more ear tip sizes to fit a wider variety of ears, the Bose model will provide more stability. Both have rounded cases with an embedded Bluetooth pairing button, and the Apple case also has a lanyard loop.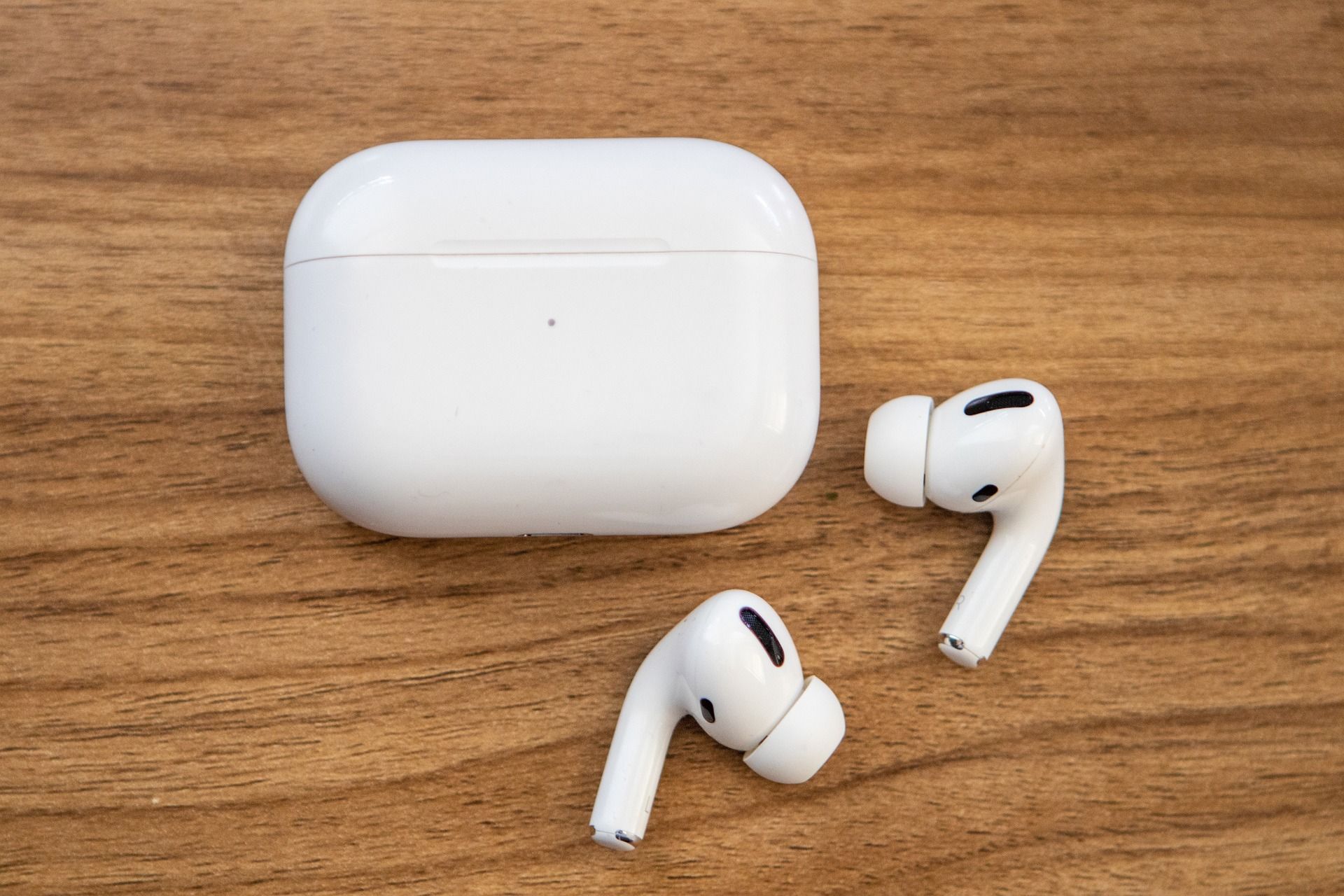 Both models also support customizable touch controls. The AirPods Pro 2 require you to use the stems that can play, pause, skip, adjust volume, toggle noise cancelation modes, and answer calls when squeezed. You can also make hands-free commands when connected to an Apple Device by saying "Hey Siri" and requesting adjustments. You can change these controls in the iOS Settings app.
The QuietComfort Earbuds 2 can perform the same actions by tapping and swiping against the outer surface of the earbud. You can't cycle through ANC modes, but you can adjust ANC and more after installing the Bose Music App.
Both the Apple and Bose earbuds have an IPX4 rating, which means they are resistant to light water splashes but not much else. Even though you can't submerge them in water, both pairs should be fine in terms of sweat and humidity.
Sound and call quality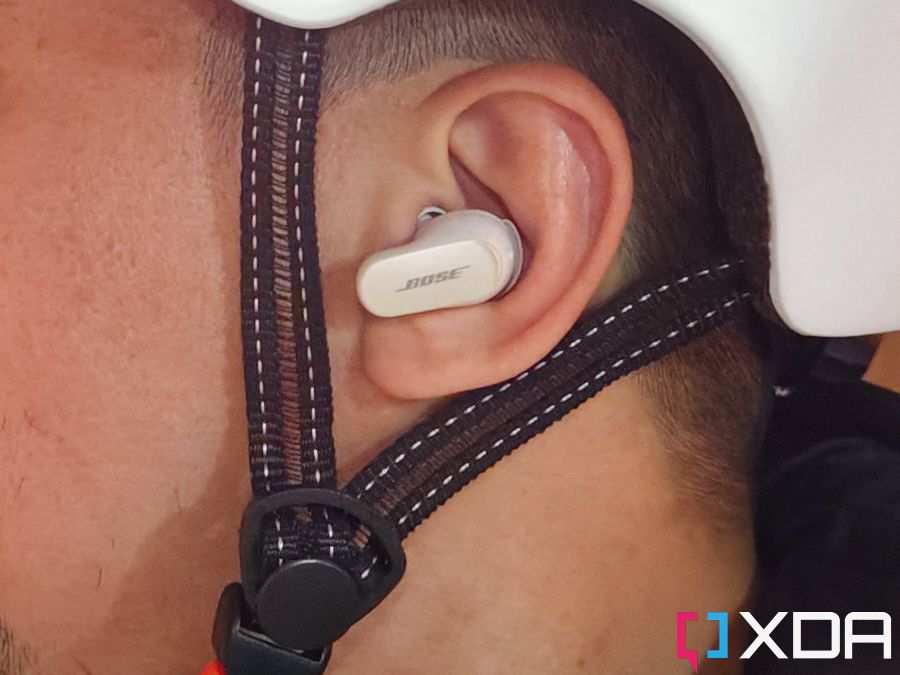 With two great options from Apple and Bose, it can be difficult to discern which pair of in-ear headphones deliver the best sound overall. The AirPods Pro generally have a neutral sound profile, which is ideal for those listening to a wide variety of content. Lows and mids come through loud and clear, while highs are crisp if sometimes a little quiet. Additionally, Adaptive EQ means the AirPods constantly monitor what you're hearing and respond in real-time to adjust frequencies. Finally, AirPods bring you spatial audio, which gives the impression that sound is coming from all around you for a 3D experience.
The QC 2s also provide good coverage across all frequencies; however, the low-end can be punchy, which is reminiscent of bass-boosting Bluetooth speakers. You may not need this much thump, which can muddy mids and highs. However, these earbuds come with an app that supports EQ customization and provides presets including bass boost, bass reducer, treble boost, and treble reducer, meaning you can adjust the overly boomy bass. Like the AirPods Pro 2, the QC 2s tailor the performance to fit the wearer, sending out a test signal and monitoring the response to adjust its output. They'll do this each time they're used for a specific, consistent sound.
When it comes to call quality, both models do a solid job indoors. The Bose earbuds come with four built-in mics for maximum clarity, but we've found that call quality is also great with the AirPods Pro 2. The QC 2s maintain fairly consistent ANC during phone calls, while the AirPods waver slightly. However, both models struggle outdoors when subjected to wind. While you'll still hear those on the other line, your voice will likely get muddied.
Bose typically comes out on top in ANC, and that remains true with the QC 2s; however, the victory is marginal. But Bose is unmatched in removing low-end from your listening experience, outperforming the AirPods Pro 2. On the flip side, the AirPods are super responsive and great at silencing those pesky mids that the Bose earbuds sometimes miss.
Software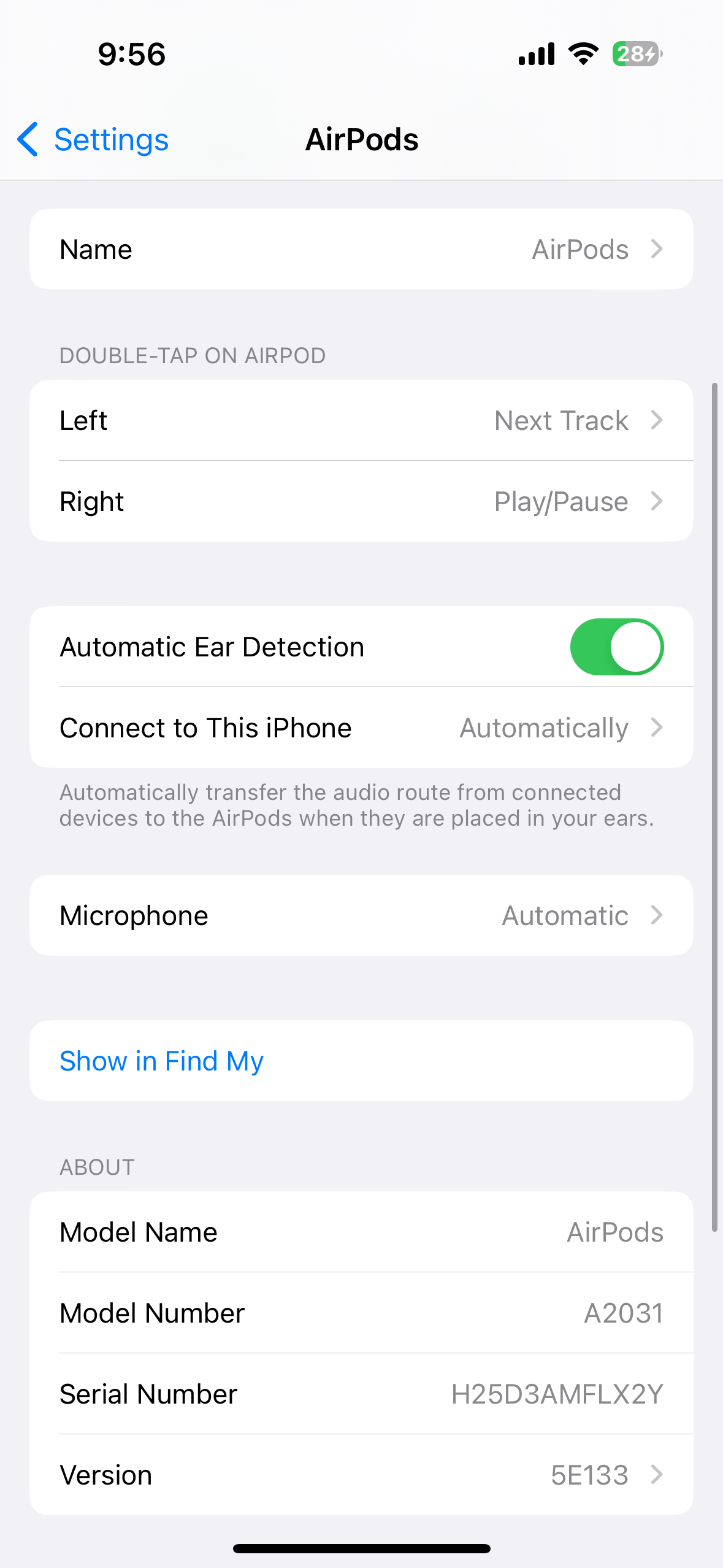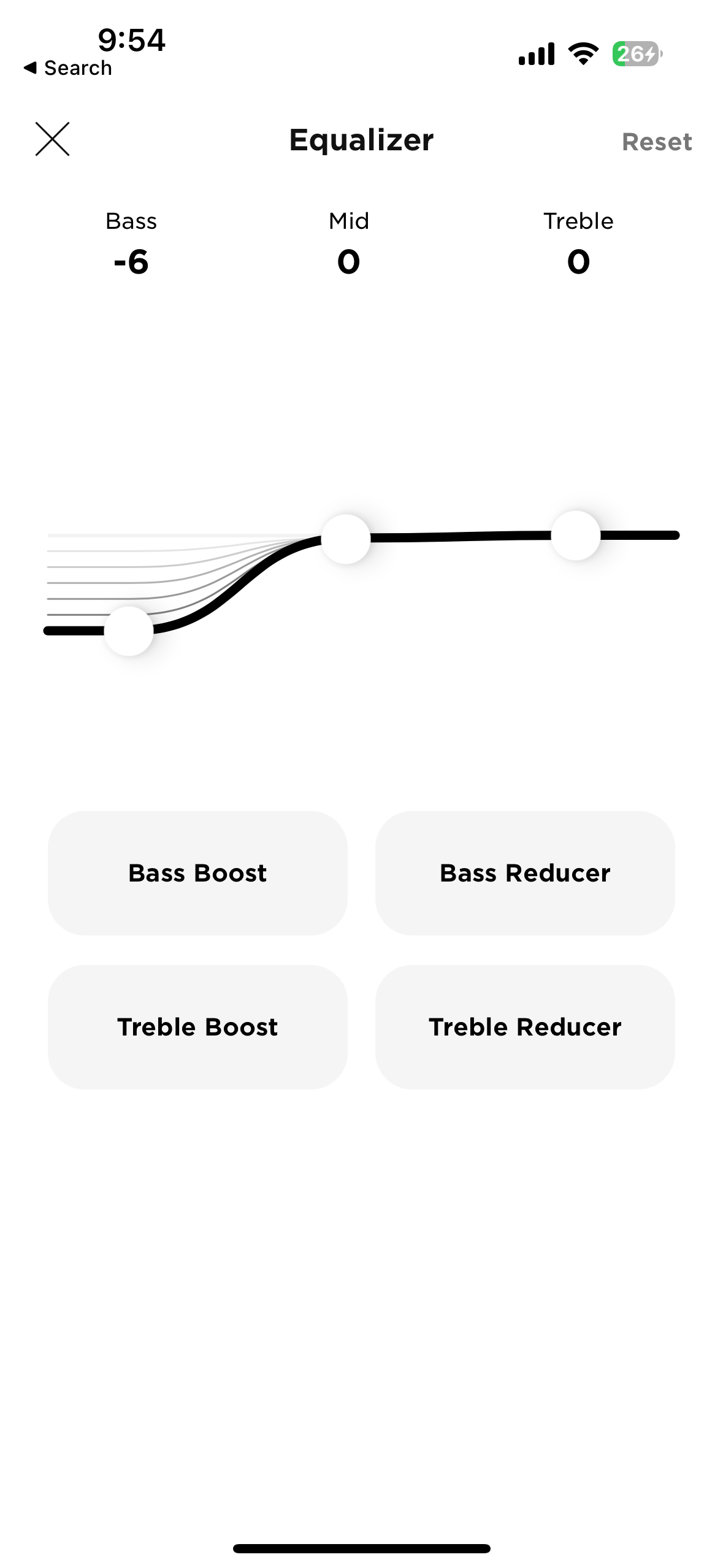 With the Bose QuietComfort 2s, you'll use the Bose Music App where you can easily adjust your audio preferences, rename your headphones, and adjust noise cancelation. The app can be installed on iOS and Android devices and is fairly straightforward with a streamlined interface. The AirPods Pro 2 are designed to be adjusted via your Apple device's settings, which is also easy to navigate. There you can customize tap controls, name your pods, and toggle between ANC modes. You can pair the AirPods to an Android via Bluetooth, but you may need to install a third-party app to make adjustments.
Both models allow you to cycle through many ANC modes. When you want to listen to music but remain attuned to your surroundings, you can trigger the QuietComfort Earbuds' Aware Mode, which utilizes ActiveSense technology to minimize loud sounds and soften background noise. Apple's Adaptive Transparency Mode functions similarly, reducing loud sounds without eliminating them so that you can stay connected to the world around you. With the AirPods, you can also turn noise cancelation off completely, which isn't possible with the QC 2s.
Overall, if a long plane, train, or car ride is in your future, we recommend reaching for the Bose earbuds.
Battery life
The AirPods Pro 2 can last up to 6 hours (5.5 hours with Spatial Audio enabled and 4.5 of talking time). A fully charged case will provide an additional five charges to the pods themselves, and 5 minutes in the case can offer a full hour of playback.
The Bose QuietComfort Earbuds 2s also offer up to 6 hours of listening time, three additional charges with a fully powered case, and an impressive 2 hours of charge after just 20 minutes.
The AirPods Pro 2 come out on top, although neither model excels in battery life. Overall, most are happy with the battery life for casual, everyday phone calls, work commutes, and gym sessions. Of course, if you anticipate needing more than 6 hours of continuous playback, say you're embarking on a long plane ride or you've got back-to-back Zoom meetings, you might need to reach for a longer-lasting pair.
The Apple case requires a wireless charging pad or lightning cable, while the Bose case relies on USB-C to charge but does not support wireless charging. Though some see Apple's lightning cable as an inconvenience, if you're already an iPhone user, you shouldn't have a problem charging regularly. A USB-C cable is more versatile and readily available overall, but you'll still need to ensure you have the correct power block to charge up. Both models come with the appropriate charging cables, so you should be able to make it work with either pair.
AirPods Pro 2 vs. Bose QuietComfort Earbuds 2: Which is right for you?
Overall, the AirPods Pro 2 and the Bose QuietComfort Earbuds II are super similar, with a few key differences. Bose wins in noise cancelation, but Apple prevails regarding price, battery, and out-of-the-box sound, making it our top pick. Without an iOS device, this is moot. If you're an Android user pairing with Apple AirPods, you'll miss out on Spatial Audio, firmware updates, and more. In this case, the QuietComfort Earbuds II will provide more support.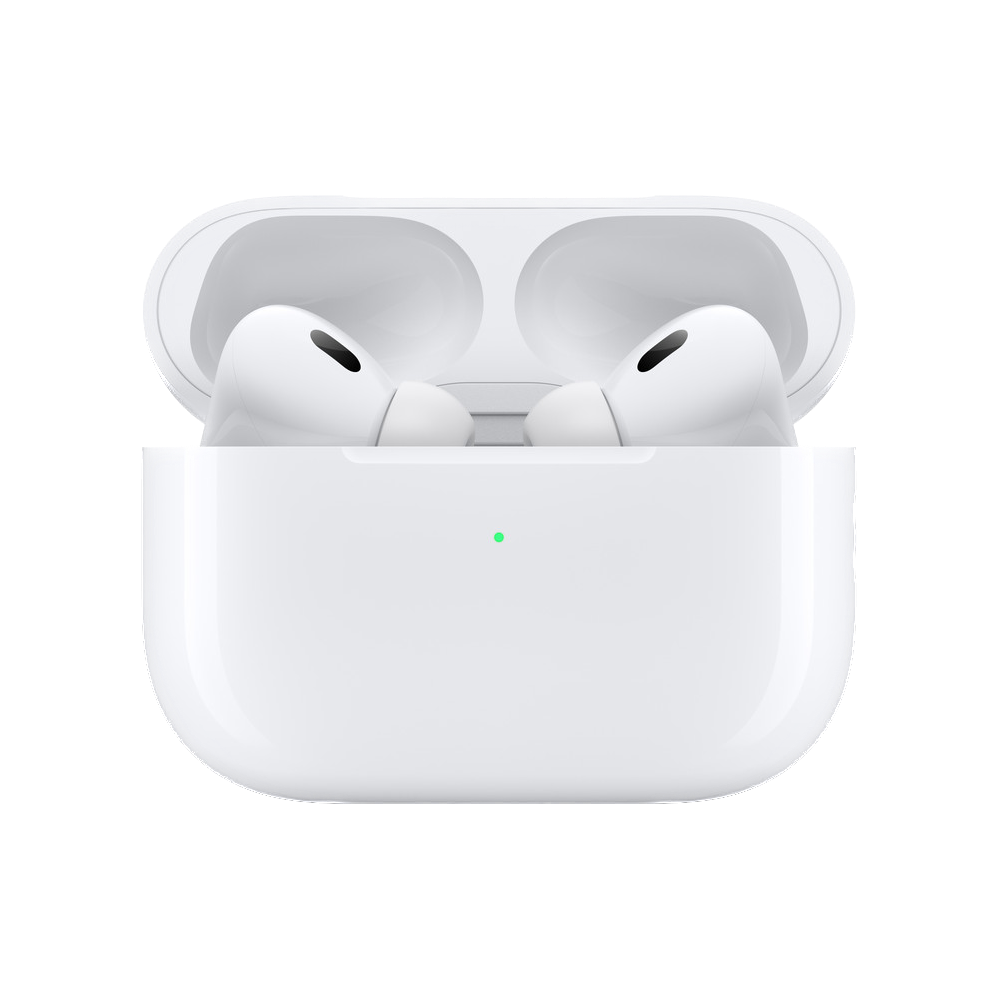 Apple AirPods Pro 2
The winner
$200 $249 Save $49
The AirPods Pro 2 is our recommendation for a sleek, high-performing noise-canceling earbuds. The overall sound profile is crisp and clean across the full frequency range, and though not cheap, they are more affordable than their competitor.
Noise Cancellation

Yes

Microphones

Dual beamforming microphones, Inward-facing microphone

Connectivity

Bluetooth 5.3, Bluetooth multipoint

IP rating

IPX4

Weight (earbuds)

30.9 x 21.8 x 24.mm

Dimensions (earbuds)

5.3g

Charging

MagSafe, Qi wireless charging, Apple Watch Charging, or lightning connector
If you're an Android user looking for a great set of earbuds, the Bose QuietComfort II's should be your pick over Apple's model. The noise cancellation is unparalleled, the app is user-friendly, and the sound quality is solid. While the price point is a bit high, Bose's reputation for well-developed, long-lasting audio products means you can trust that it will deliver a high-quality product.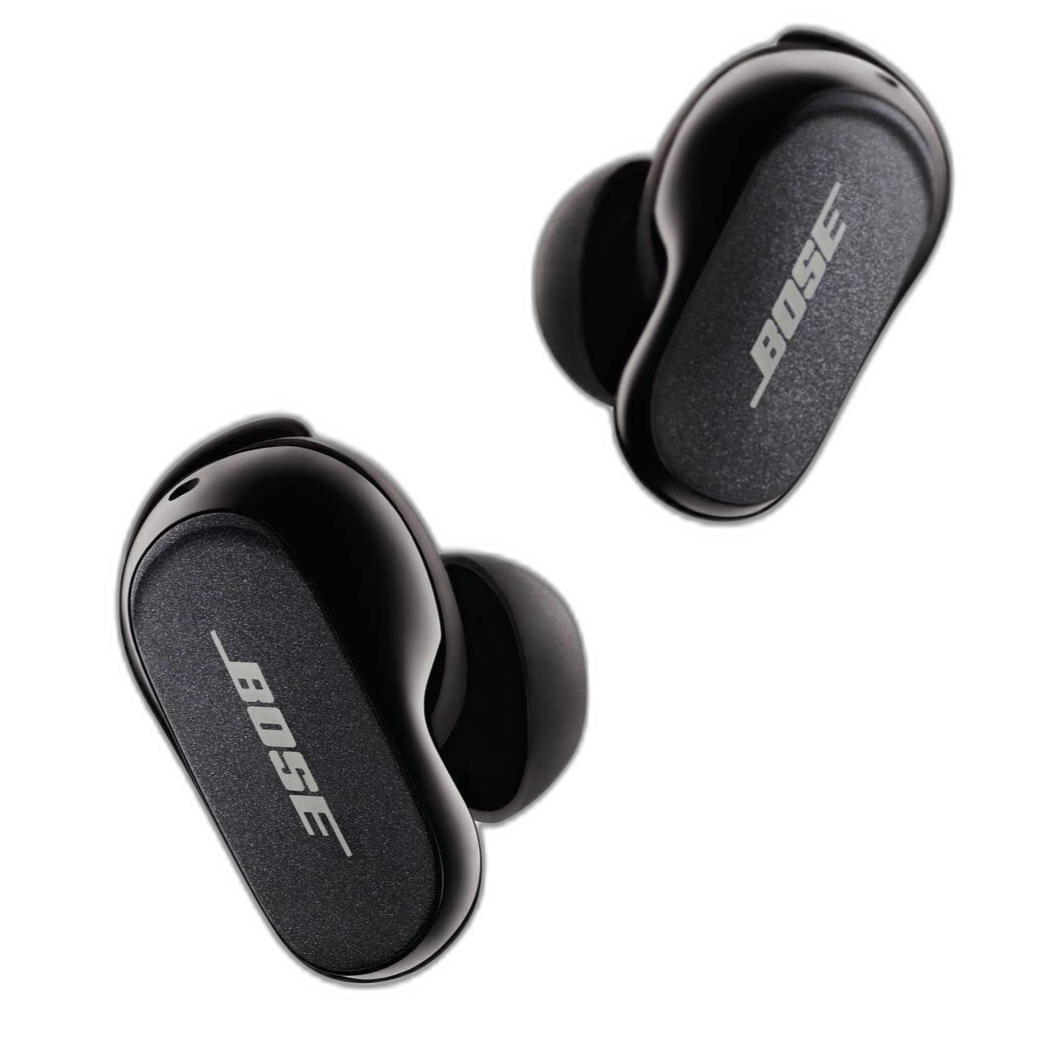 Bose QuietComfort Earbuds II
Runner-up
The Bose QuietComfort Earbuds IIs are an excellent option for Android users that don't want to forgo sound quality, excellent noise cancelation, and customization. Available in multiple colorways, these buds are also your chance to stand out — just a little bit —.from the crowd of white earbud users.