Gpay Britannia 5050 4th Umpire Code Offer
Collect Cards & Win Cashback & Match Tickets from Gpay Britannia 5050 Contest
---
Google pay is back with another contest, this time it's with Britannia 5050. The contest is Collect cards and Get Free match Tickets & scratch card cashback. We all know Cricket world cup is coming & India is hosting so get ready to grab Free Match Tickets from Gpay Britannia 5050 Contest with Extra Cashback. We have already posted more contests giving Free Match Tickets like Thumbsup Contest, Limca Sportz contest & Royalstag Fan Contest.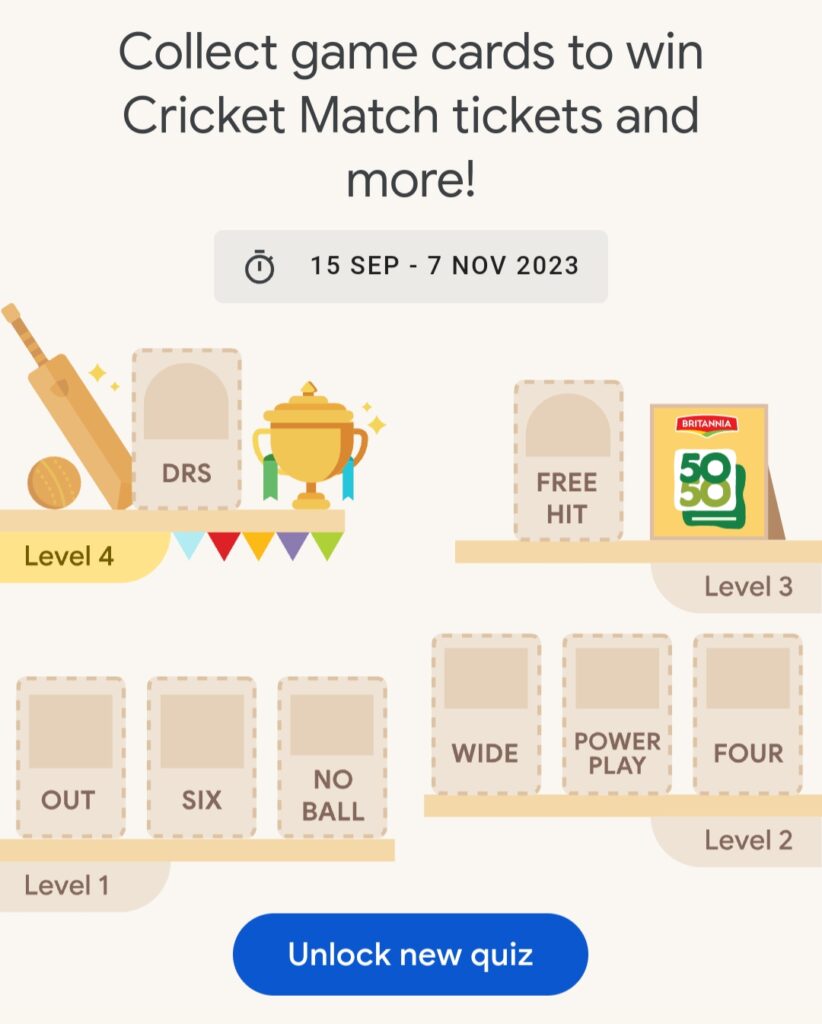 We have seen different contests on gpay with Different tasks like Gpay Kite Game, Gpay Mango fest, This time collect card with Britannia 5050 & Earn cashback. Let's understand the whole game & way to earn cashback & Free Match Tickets.
How to play Google Pay Britannia 5050 4th Umpire Game & Win Cashback & Match Tickets?
1, Visit the Gpay Britannia 5050 4th Umpire Game from below.
2. Scroll below & Click on Unlock Game.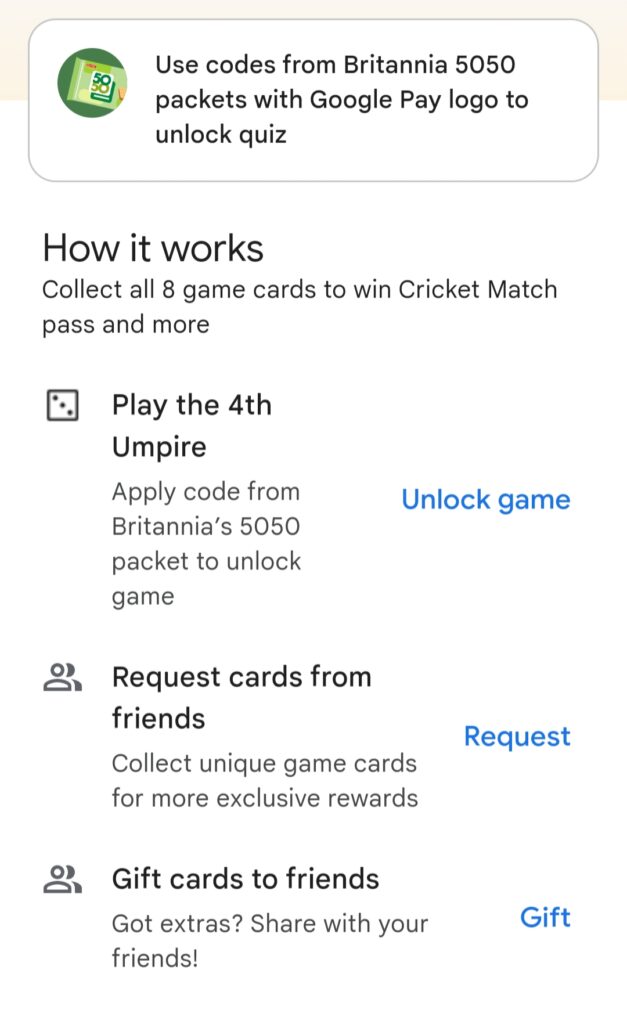 3. Purchase a Britannia 5050 biscuit packet with the Google Pay logo.
4. Scan the QR code on the Promotional Pack or manually enter the unique 16-digit numeric code (found on the last row of packet details, along with expiry date, batch number, etc.) on the Offer Page within the Google Pay app.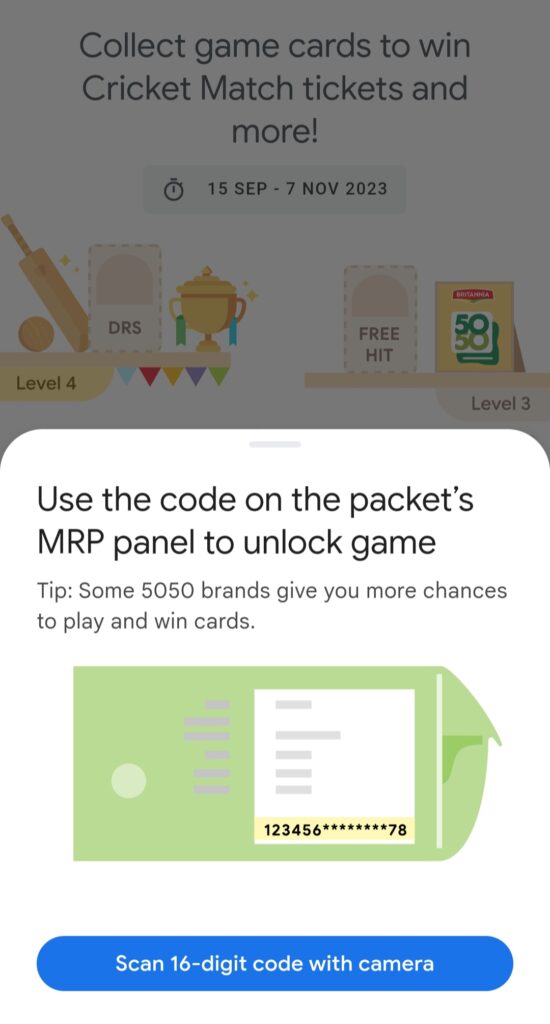 5. Each Promotional Pack offers a different number of gameplays, which are printed on the pack:
5050 Sweet and Salty: 2 gameplays
5050 Maska Chaska: 3 gameplays
5050 Golmaal: 4 gameplays
5050 Potazos: 4 gameplays
Once you verify the 16-digit unique numeric Game Code on the pack, you'll play a skill-based cricket match game. You act as the umpire for an animated cricket match video based on the number of gameplays your pack provides. Your task is to make decisions about the outcome of the match within a time frame. There are no replays, so each video can be watched only once.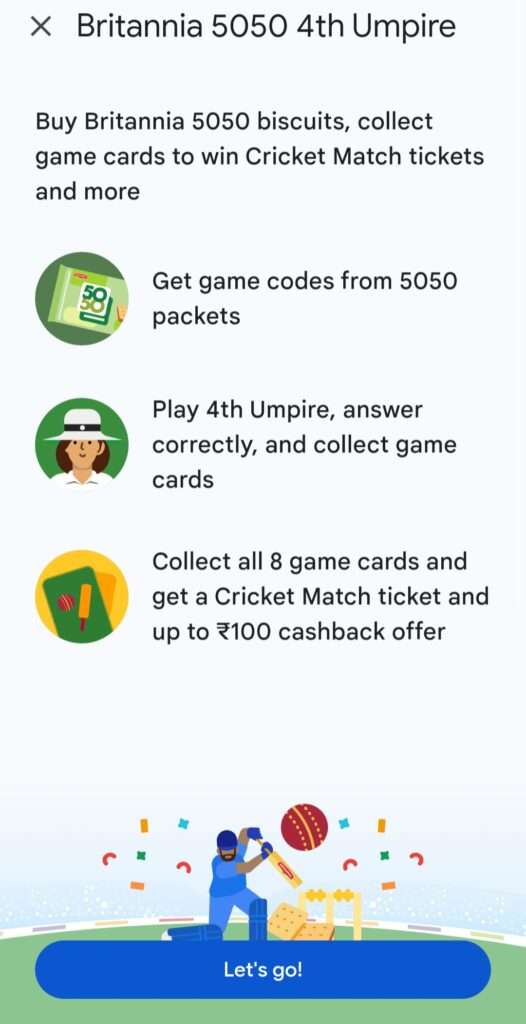 For every correct decision, you'll be rewarded with a collectible game card. These cards may be new or duplicates. Your goal is to collect the relevant unique game cards for your current game level, of which there are 4 in total. As you progress through the levels, you'll earn cashback and exclusive rewards.You can also trade game cards with friends or family to complete your collection.
There will be 8 Cards as follow, OUT, SIX, NO BALL, WIDE, POWERPLAY, FOUR, FREEHIT, DRS.
Google Pay Britannia 5050 Codes
5756348773894721
5756348803864721
5756348903764721
5896998651854251
3935735239146131
3996976065172741
5481313475356091
5481313335496091
5481313185646091
5756348673994721
5756348773894721
5756348803864721
5756348903764721
3756469189793641
3756468880093641
5481313585246091
3488274071697771
3488273841927771
3488274041727771
3488274031737771
3488274091677771
7355062781506841
7355062931356841
7355062921366841
5756348673994721
5756348773894721
5756348803864721
5756348903764721
3756469189793641
3756468880093641
5481313585246091
Rewards:
The rewards are based on the game level you achieve:
Level 1: Collect all 3 unique game cards and earn ₹10-₹25 cashback.
Level 2: Collect all 6 unique game cards and earn ₹25-₹100 cashback.
Level 3: Collect all 7 unique game cards and win an exclusive merchandise.
Level 4: Collect all 8 unique game cards and win a cricket match ticket.
To be eligible for a reward, you must complete all previous levels.
To redeem your cashback, simply use Google Pay for your next transaction within 7 days. The winners of cricket match tickets and merchandise will be announced on Britannia's contest website after verification.
The Google Pay Britannia Offer is valid from September 15, 2023, until November 7, 2023, or until stocks last, or product expiry, whichever comes first. Make sure you have the latest version of the Google Pay app to access all the features.