Myne is a free app for Android that allows you to download thousands of free books from Project Gutenberg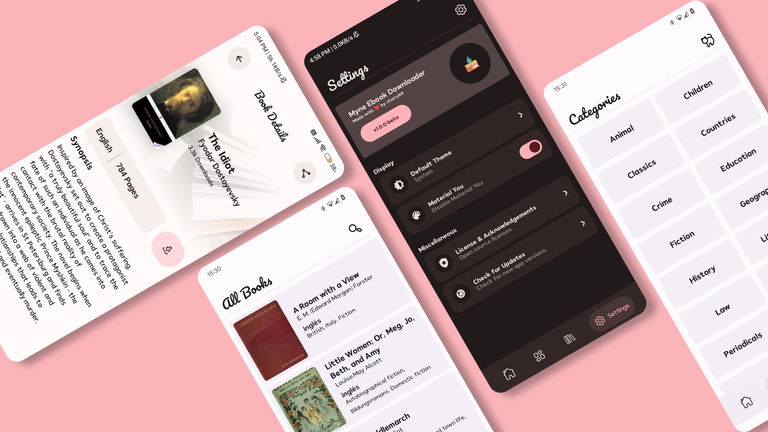 In our relentless effort to discover the best new apps for androidFrom time to time we come across true jewels Sometimes they don't get all the recognition they should. That is the case of the app that we will talk about today.
His name is Myneand it is a new free and open source application available on Android**, which allows download thousands of ebooks completely free and legal on mobile.
To do this, the app uses the Project Gutenberg databasean initiative that began in 1971, and since then has pursued the idea of ​​gathering as many books in epub and kindle format whose copyright has already expired, so that anyone can access them completely free.
Download thousands of books in epub or kindle format from your mobile
Its creator describes Myne as a free and open source app that allows you to download books using the GutenDex API. It offers access to a huge catalog of more than sixty thousand eBooks constantly updated, all of them available for free download.
The app has a clean and neat design, based on Google's Material 3 aesthetic, with support for dynamic Material You themes. In this way, the colors of the interface change depending on the colors of the wallpaper configured on the device.
Its interface is simple and easy to use. From the initial screen, you can view the last published books with the option of search among available titles. From the lower taskbar, you can also access a section with the different categories of books availableand to our library, where all the downloaded books will appear.
When accessing a book, the app will show relevant information such as a summary or a number of pages, thanks to the use of the Google Books API, which provides this type of information. Downloaded books are stored in the device memory in format epub so they can be easily transferred to any eBook reading app or e-reader.
myne can download completely free. It does not contain ads or in-app payments, and although at the moment is in beta phasewe have not found operating problems of any kind.
The application it is not present in Google Play. To download it, you need to access the "releases" section of the project's GitHub repository.