When we watch a movie, within the first 20-30 minutes we can predict what kind of experience that movie is going to give. The said film can be an interesting experience or a very tiring experience. But, the symptoms will be visible within the first half hour. If the Women's Premier League was treated like a movie, what kind of sign do you think it gave in the first two days? All the three games so far have given us the confidence that it is definitely a blockbuster.
Especially the game played by UP Warriors' Grace Harris against Gujarat Giants yesterday! It looked like Dhoni, Pollard and Russell delivered a quality match-winning finish to make them cringe. Grace Harris made the Women's Premier League's first successful chase possible with a rugged innings.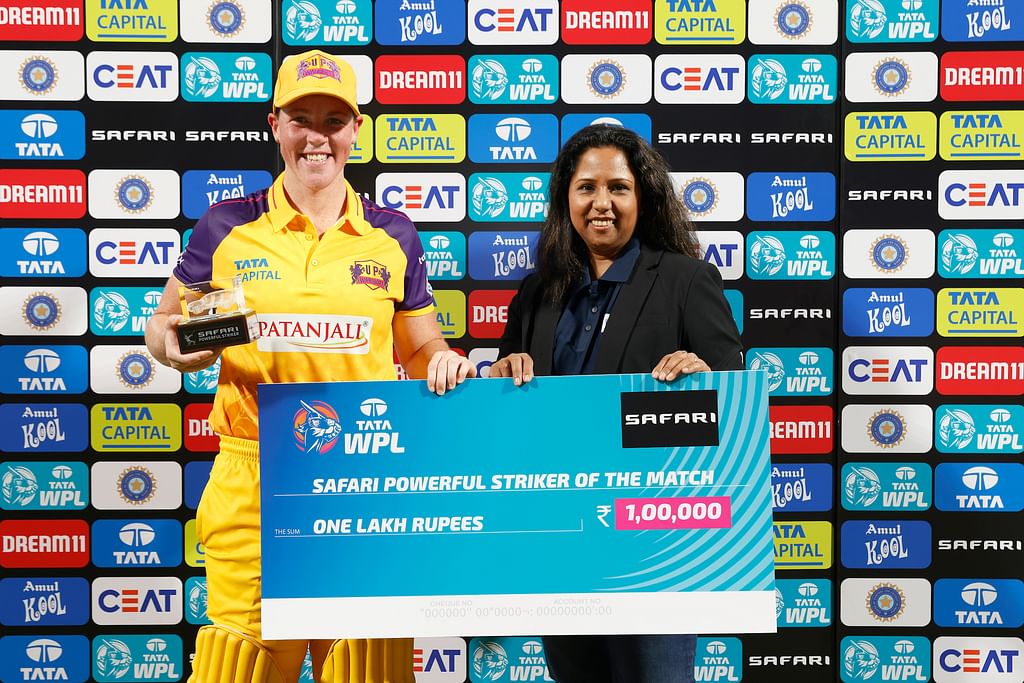 Gujarat Giants lost badly against Mumbai Indians on the first day. Nothing went in Gujarat's favor in that first match. They were all out for 64 runs. Their captain Beth Mooney was out due to injury. Only negative things happened like this. In such an environment, the Gujarat team entered the match against UP Warriors the very next day without a break. They didn't do many of the mistakes they did in the first match here. In particular, they had shown an excellent performance in batting. With significant contributions from Mehena, Harleen Deol, Gardner and Hemalatha, Gujarat set a target of 170 runs for UP Warriors.
170 runs is a challenging score for women's cricket as well. So, right from the start, it looked like this match was going to go in favor of Gujarat Giants. That's what happened on the field itself. UP Warriors kept losing wickets at regular intervals during the chase. None other than Kiran Navigre performed.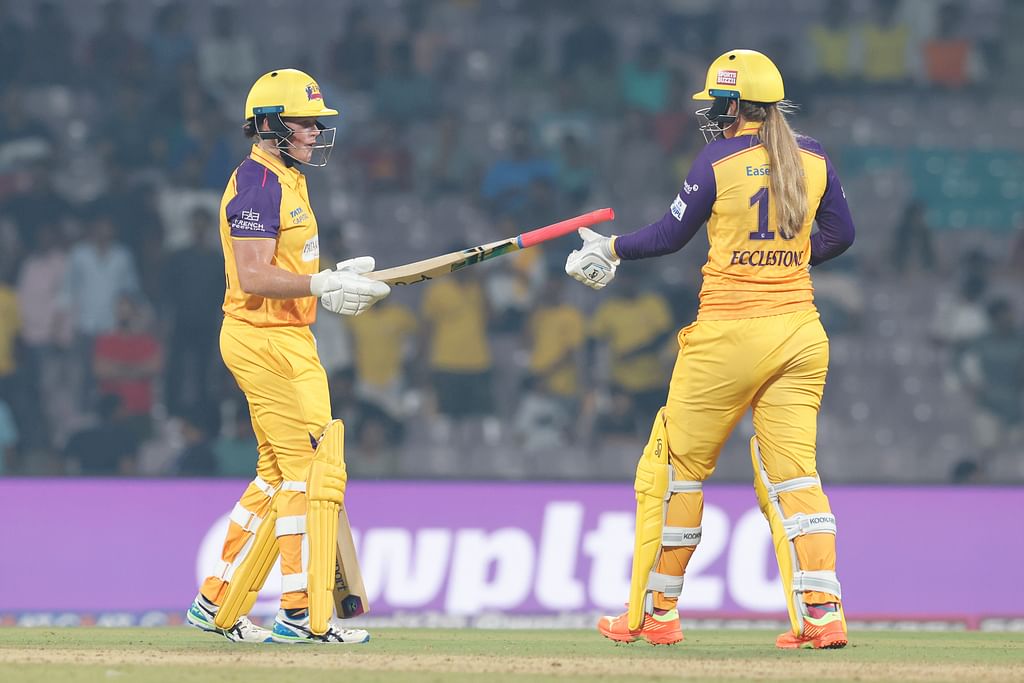 At the end of 15 overs, UP Warriors scored only 100 runs. 6 wickets were lost. UP Warriors needed 70 runs in the last 5 overs to win. 14 runs needed from the over. Men's IPL Lilume is also a big challenge target. So, Gujarat looked to be heading for an easy victory. It was at this point that the twist was introduced by Grace Harris. Needing 63 runs in the last 4 overs, Grace Harris started hitting wildly.
17, 18, 19 UP Warriors scored 44 runs in these three overs alone. Grace Harris was the main contributor. Eccleston, who was standing by, also supported Harizu well. The match reached the last over. UP Warriors need 19 runs from the last over.
Grace Harris on strike. Sutherland came to bowl the last over. 16-19 In the 16th over bowled by Sutherland in these 4 overs, UP Warriors scored only 7 runs very less. Sutherland, who had bowled well, came in to bowl the final over, adding to the excitement. But Grace hit the first ball with a pull shot over mid-wicket for a six. All of Grace Harris's shots down the leg side in this match were extremely powerful. He scored a total of 44 runs on the leg side alone. All the shots scored were clear and crossed the boundary. After that bull shot six off the first ball of the last over, a few other incidents started to unfold in the game. Both the teams could not take DRS due to power outage at the ground.
Grace Harizu didn't care about that at all. After scoring a six in the first ball, he wanted to face the subsequent balls immediately. However, Gujarat captain Sneh Rana tried to delay the game a bit. Fortunately, by then the DRS had also started working. This DRS also played a major role in UP Warriors' success. The umpire also gave white to throw the second ball to Sutherland white. But, Sne Rana went for the review. Review to see white or not. On review it was judged to be white. Next on the 4th ball too, Sutherland bowled a ball slightly wide. But this time the umpire did not give white. Now he took a review for Grace White.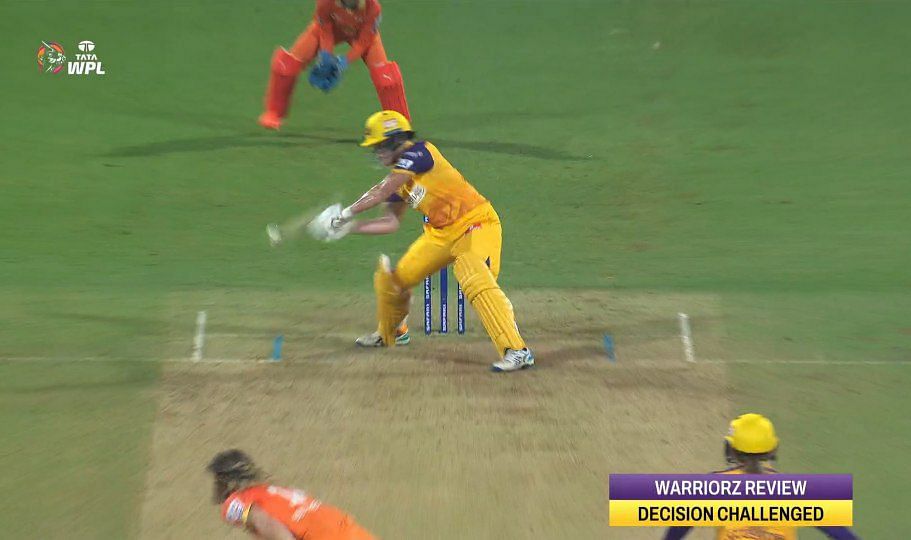 Two reviews for White in the same over. This time the verdict was in Crazeo's favor. UP got two runs in extras.
A penultimate full toss for a huge six by Grace Harris to seal the match. It wasn't a one-sided game like the first two matches but it was mainly because of Grace Harris's spirited performance that it was so close. His unbridled energy was exciting to watch. From the pavilion, Captain Alyssa Healy had motioned for a little quiet. He had such a flamboyant body language.
Grace Harris is a popular player in Australia's Women's Bigg Boss League. He has scored the fastest century there.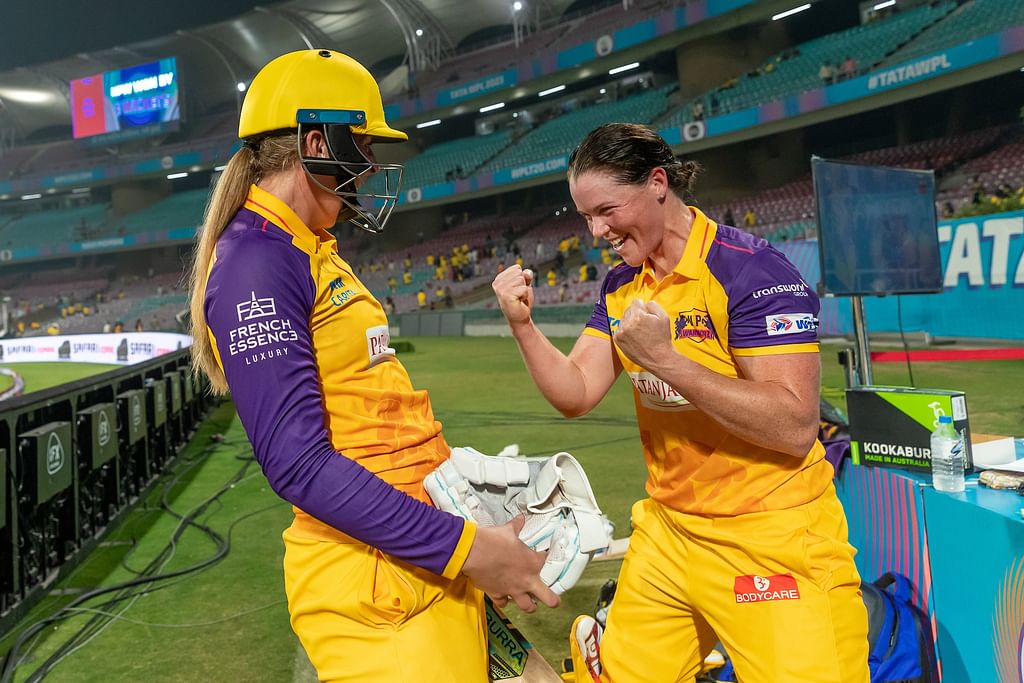 After a match in Bigg Boss League two years ago, Grace Harris said, 'Nowadays I watch more of Dhoni's innings. I was able to learn a lot from his game. Now he is my inspiration' he had said. After two years in the Women's Premier League, Grace Harris has performed magic to establish herself as Lady Dhoni!