Introduction
If you've been following the AR space, you've probably come across the Nreal brand. The company has been one of the most successful in actually commercializing AR glasses, reaching 100,000 sales in 2022. The company's Air glasses are thus a rather popular product in the growing space.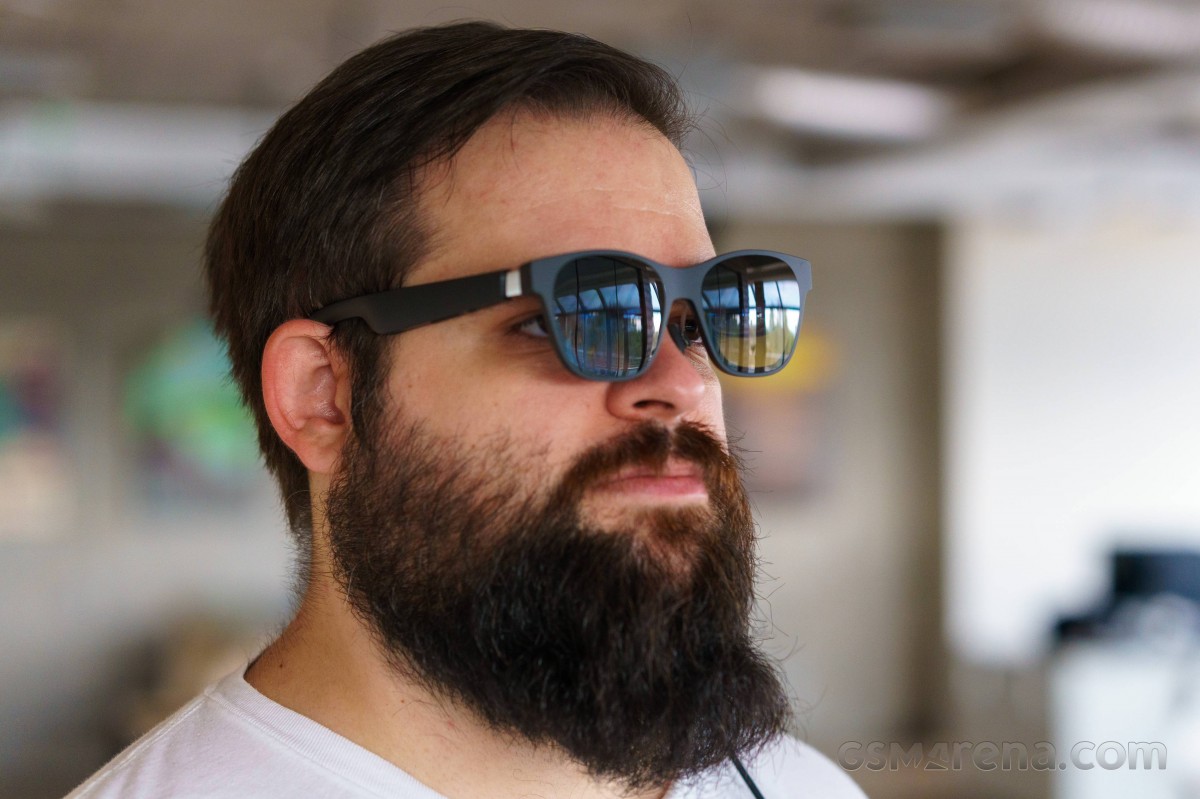 Following a trademark dispute with Epic Games, Nreal rebranded to XREAL and has since been expanding its portfolio, putting out the Beam accessory that extends the functionality of the Air glasses and now a new pair of Air models – Air 2 and Air 2 Pro. The two models are actually nearly identical, except for the fancy Electrochromic dimming of the Pro.
Having spent some time with the new XREAL Air 2 glasses we are now ready to share our findings. Compared to the original XREAL Air glasses, the second generation brings some ergonomic improvements and is lighter overall. They have new, more compact displays that deliver the same visual experience and higher brightness. There is also a new speaker setup and audio system.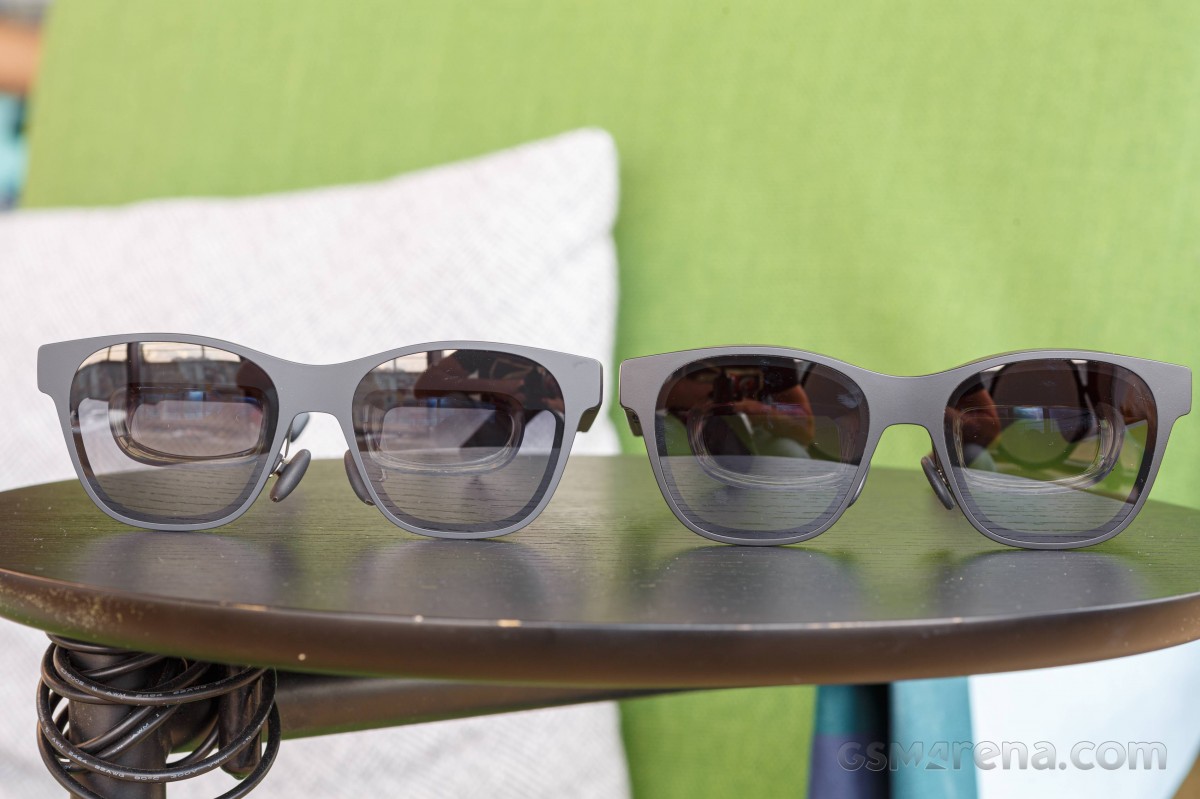 Left: Air 2 • Right: Air
First and foremost, we should probably clear up some terminology here and explain what the XREAL Air 2 glasses actually do. You might find them being marketed as XR glasses, which stands for Extended Reality and is actually an umbrella term that encompasses all VR (Virtual Reality), AR (Augmented Reality) and MR (Mixed Reality) products. Definitions start to get a bit murky beyond that, but at their core, the XREAL Air 2 are more or less a portable, wearable display. There is no actual computing on board, but there are some sensors, including an accelerometer, gyroscope, magnetometer and proximity sensor. XREAL actually leverages these to provide head tracking when paired with the XREAL Beam or the Nebula companion app. Hence, technically, the Air glasses have all of the prerequisites to be considered an AR product.
XREAL Air 2 at a glance:
Dimensions: 148mm x 51.4mm x 161mm (Unfolded), 148mm x 51.4mm x 56.4mm (Folded), 72 grams (without Type-C cable attached, included cable weighs about 31 grams). 3-position vertical adjustment for gaze angle fits head size from 120 to 186mm, 20-degree adjustable angle range hinges.

Optical parameters: Two Micro-OLED Displays with 1920 x 1080 pixel resolution, 46-degree FoV Birdbath optics, up to 120Hz, 49 PPD (Pixels per degree), 8-bit color, 108% sRGB, up to 500 nits perceived brightness, effective screen size: 130-inches, projected 4 meters away and up to 201-inches at 6 meters away in MR Space Mode.

Audio: Second generation speaker system. Dual open-ear speakers with two openings each and bass boost, dual microphones with omnidirectional MEMS.

I/O:USB Type-C port for power and video over USB Type-C alt mode Display Port, power toggle switch and brightness/volume controls on the right.

Other features:Accelerometer, gyroscope, magnetometer, proximity/wear sensor, 3 DoF head tracking, myopia attachable frame and additional nose clips in the box.
Here's a quick rundown of the differences between the currently available XREAL Air products. The original XREAL Air are still on sale officially at $339, down from the original $379. Then we have the Air 2 glasses we are currently reviewing, with an MSRP of $399. And above that the XREAL Air 2 Pro is $449. That's quite premium for a single feature, but the technical challenges of Electrochromic dimming do drive up production costs.
Here is a quick comparison between the XREAL Air and Air 2.
| | |
| --- | --- |
| XREAL AIR | XREAL Air 2 |
| 148mm x 52mm x 159mm (Unfolded), 148mm x 52mm x 60mm (Folded) | 148mm x 51.4mm x 161mm (Unfolded), 148mm x 51.4mm x 56.4mm (Folded) |
| 79 grams | 72 grams (50:50 weight distribution) |
| Two 0.68 Micro-OLED Displays with 1920 x 1080 pixel resolution, 46-degree FoV Birdbath optics, up to 120Hz, 49 PPD (Pixels per degree), up to 400 nits perceived brightness | Two 0.55 Micro-OLED Displays with 1920 x 1080 pixel resolution, 46-degree FoV Birdbath optics, up to 120Hz, 49 PPD (Pixels per degree), up to 500 nits perceived brightness |
| Dual open-ear speakers, Two Microphones | 2nd generation Sound System, Dual open-ear speakers with two openings each and directional audio that reduces sound leakage. |
| Nose Pad | New Zero-pressure Nose Pad Ultra-soft Temples Improved 1:1 Weight Ratio |
Unboxing
The XREAL Air 2 glasses' retail package is very similar to the original model's. You get the glasses and a decently long USB Type-C to Type-C braided cable, giving you the minimum required setup to get the glasses working.
Both of these fit snugly in the included travel case, which has seen a redesign. XREAL went for a more traditional glasses-style hinged hard case instead of the softer, zipper-equipped one of the original model. The new case feels very solid, but we are unsure how the latch mechanism will fair in the long run.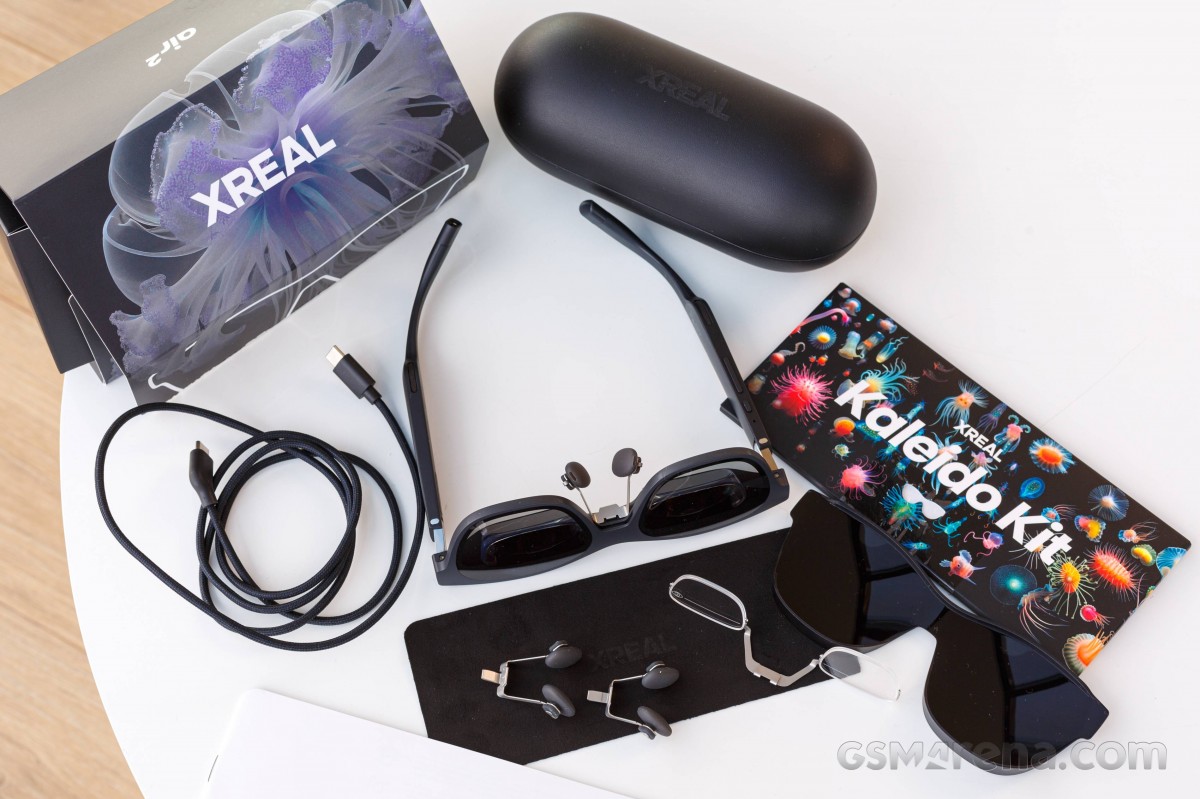 The Air 2 glasses come with an optional Light Shield attachment that makes the glasses opaque. You also get three different nose pads, so you can find the most comfortable ones. XREAL has put extra effort in user comfort, as evidenced by the included prescription lens frame, which attaches to the back of the XREAL Air 2. Alternatively, companies like Lensology offer prescription glass attachments made to order. XREAL even throws in a cleaning cloth in the package.
Our unit also came with a few large XREAL stickers and something called a "KALEIDO KIT" – a set of blue stickers for the Light Shield and glasses themselves. We aren't sure if those are part of the regular retail package, though.
Hardware, features and controls
Visually, the new XREAL Air 2 glasses are not a major departure from the original Air's design. The build is still plastic but feels quite sturdy. The XREAL Air 2 glasses weigh just 72 grams, which is lower than the already light original Air, which weighed 79 grams. The plastic build helps keep weight down and there really isn't much hardware inside the glasses. There are two Sony-made FullHD OLED displays, a couple of speakers and some sensors. There is no battery, processor of any sort, or even wireless connectivity hardware. Content and power are passed through the cable, as per the standard setup for AR glasses these days.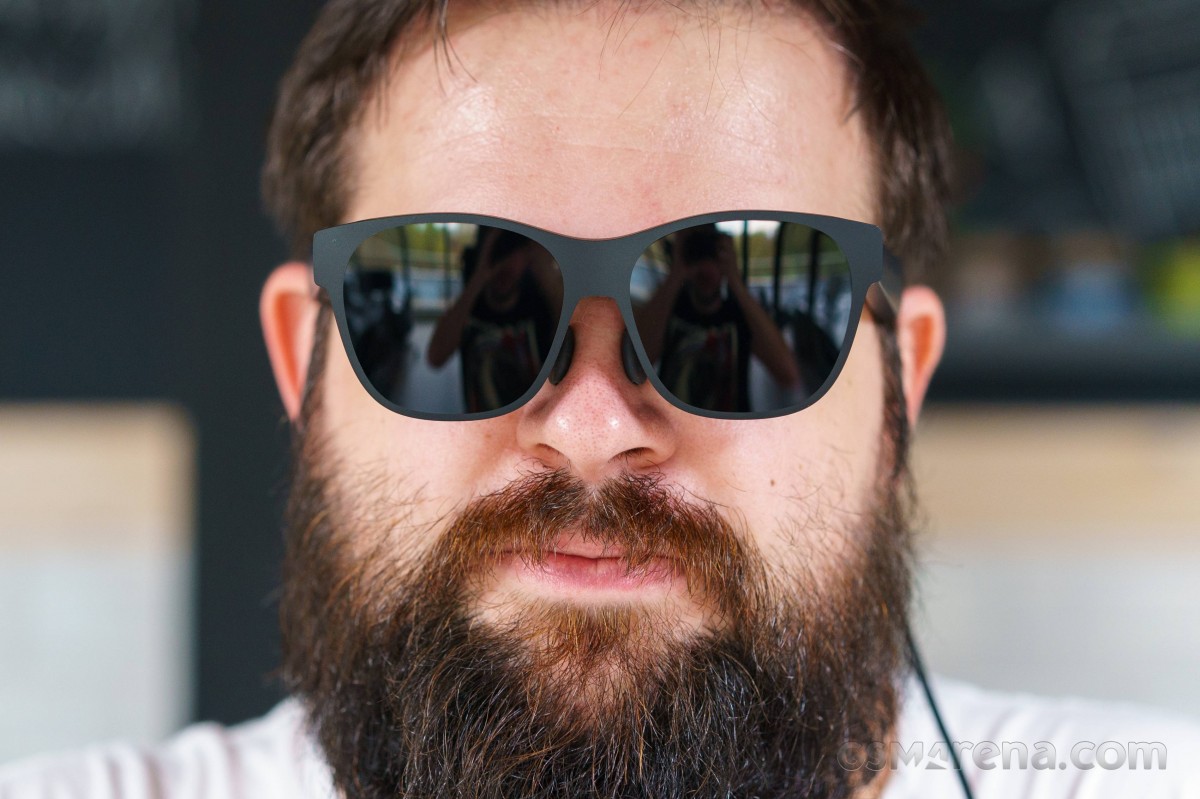 While still pretty compact, the Air 2 glasses have grown slightly compared to their predecessors. They measure 148mm x 51.4mm x 56.4mm when folded and 148mm x 51.4mm x 161mm unfolded. What XREAL did with this generation is to actually extend the length of the temples, making the glasses more comfortable for larger head sizes. This is definitely going to be a personal thing, but this reviewer finds the Air 2 more comfortable overall, particularly for the way the temple tips curve and slope over the ears.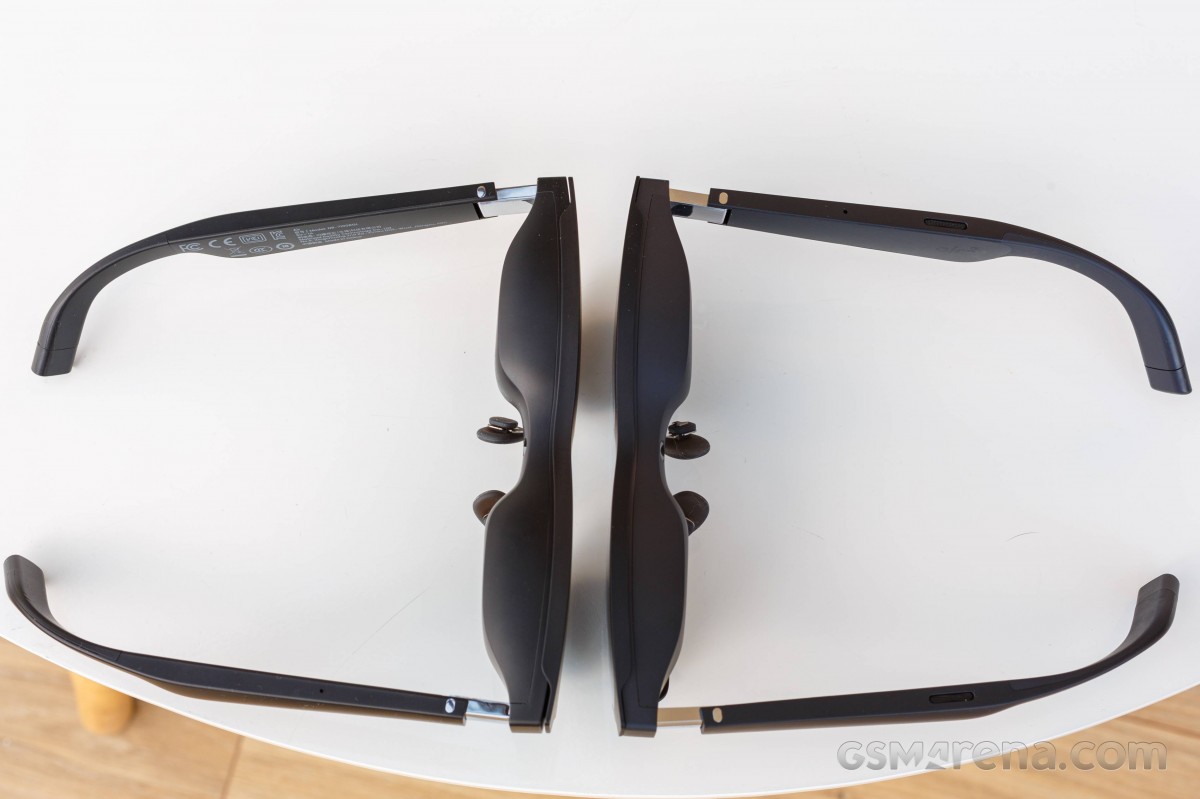 Left: Air • Right: Air 2
XREAL claims that weight distribution has been optimized in the new Air 2 for a 1:1 split down the length of the glasses. In practice, the glasses still feel front-heavy. However, there is something to the new weight distribution claims since the Air 2 are more comfortable for prolonged wear than their predecessors. It takes longer before the pressure on your nose starts feeling uncomfortable. It's also helped by the nose pads, which have undergone a redesign and now feature a hollow and rather large inner compartment for extra cushioning.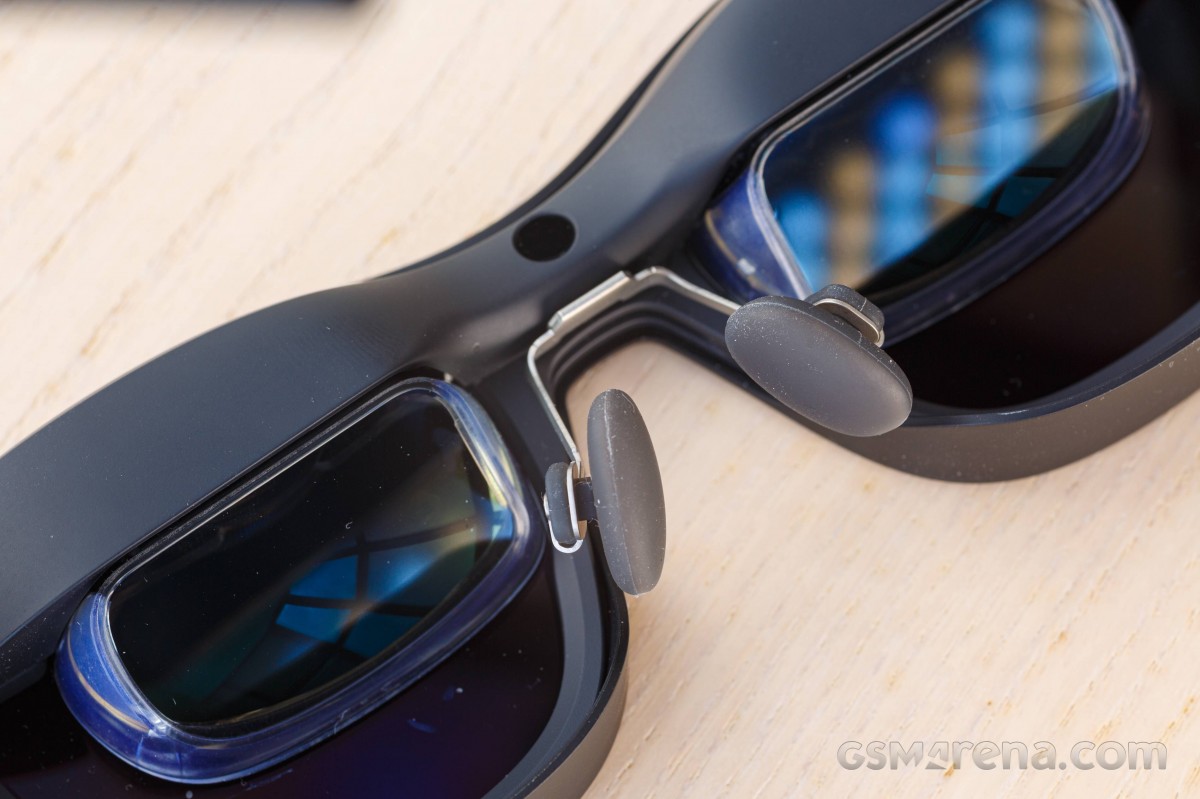 The front of the XREAL Air 2 glasses is absolutely flat and they successfully pull off a traditional sunglasses look with the lenses sitting flush with the frame. This is in contrast to some alternatives, like the TCL NXTWEAR S glasses, which have a funky front look that instantly gives away their "smart" nature.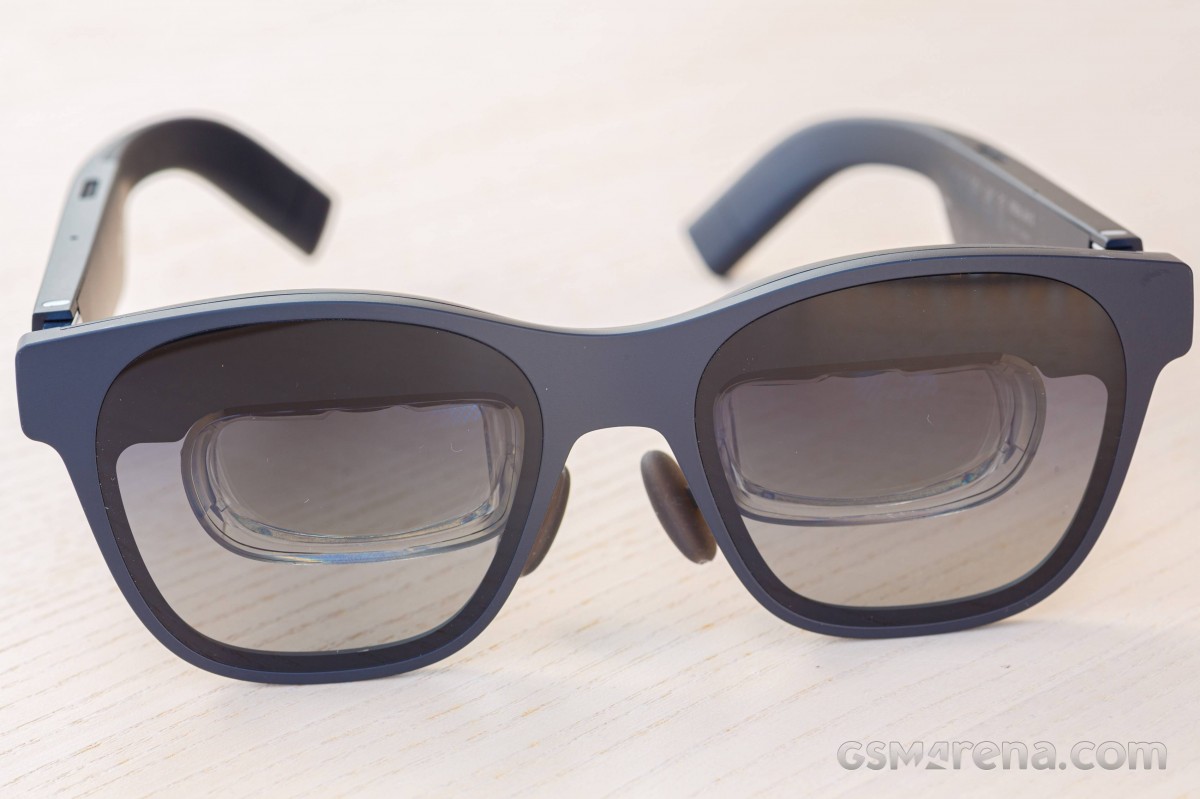 XREAL went with tinted lenses on the Air 2, just like the original Air and unlike the already mentioned NXTWEAR S. This means that you always get to benefit from some built-in light control and thus get a better visual experience from the displays.
If you prefer to cut yourself off from your surroundings, there is a snap-on attachment with solid shades in the retail box. Just like on the original Air glasses, mounting said attachment is done through simple friction rather than anything fancy like latches or magnets. Even so, the attachment sits very snugly and is quite secure.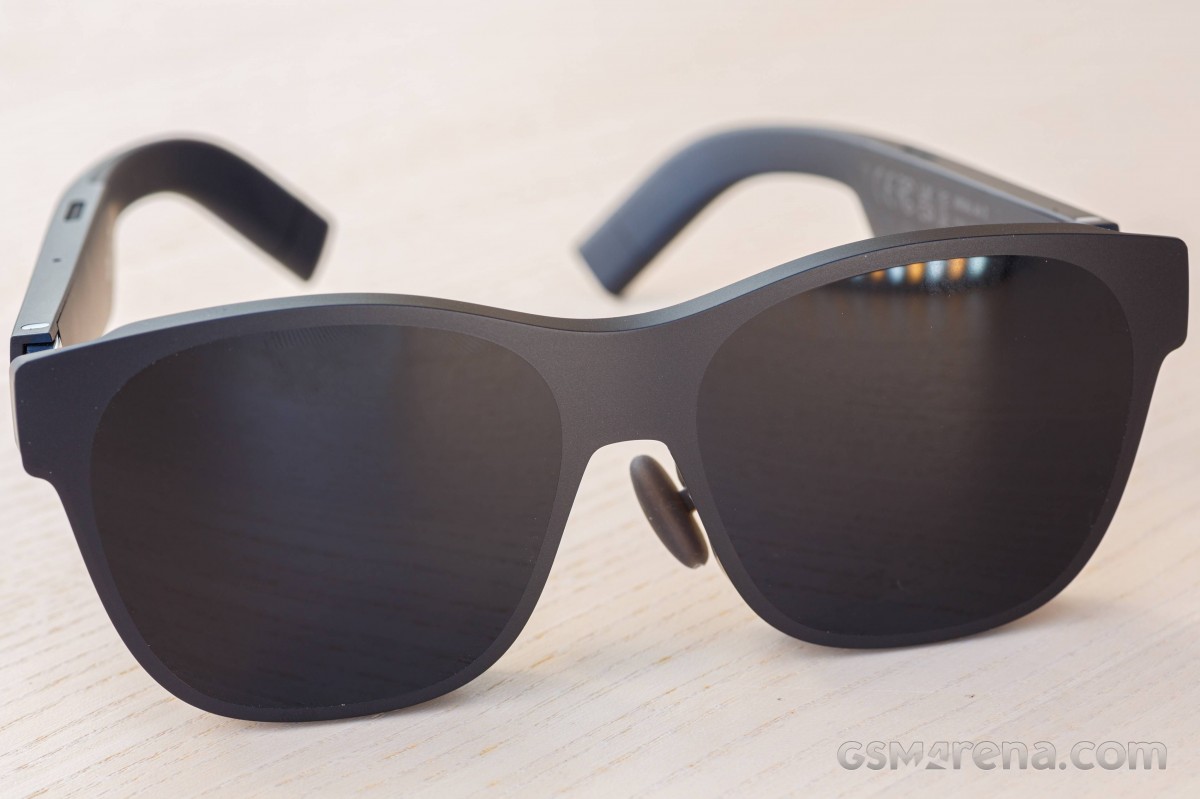 The shade attachments make the XREAL Air 2 glasses kind of weird, as if you are wearing completely blocked-out glasses. Then again, even in the default state it only takes a closer look to spot the USB cable dangling from your ear to realize something funky is going on, so you can't realistically expect to go "stealth mode".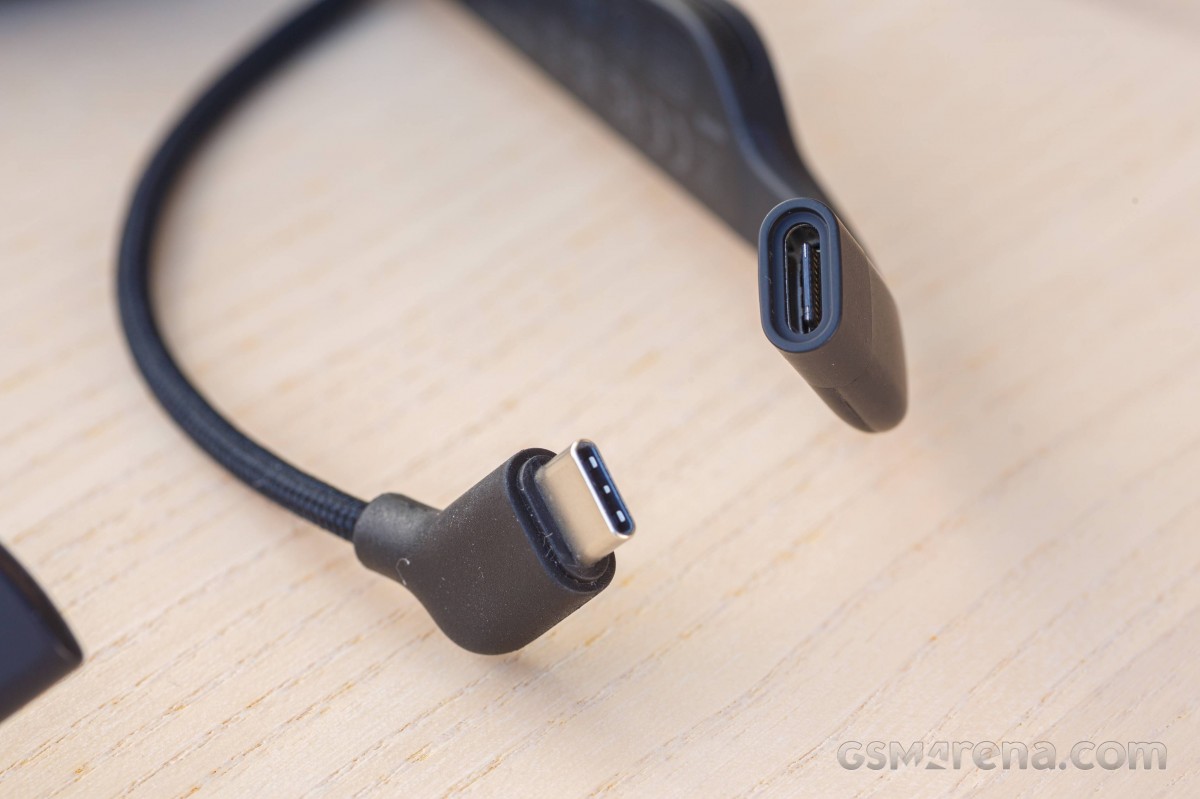 After all, the cable will always be attached to the XREAL Air 2 since it is the only source of both power and video for the glasses. The braided USB Type-C to Type-C cable provided in the box is angled on one end to fit more snugly on the glasses. You can use any decent cable of your own, but the provided one is pretty great. It is soft and flexible, yet very sturdy without being too thick, either. We never found it in the way while wearing the glasses.
We appreciate the Type-C connector with its strong physical connection. There is pretty much no chance of accidentally yanking the cable out of the glasses. However, that also means that if you happen to get entangled, you are likely to yank the glasses themselves off of your face. The magnetic connector on the NXTWEAR S glasses is better in this regard.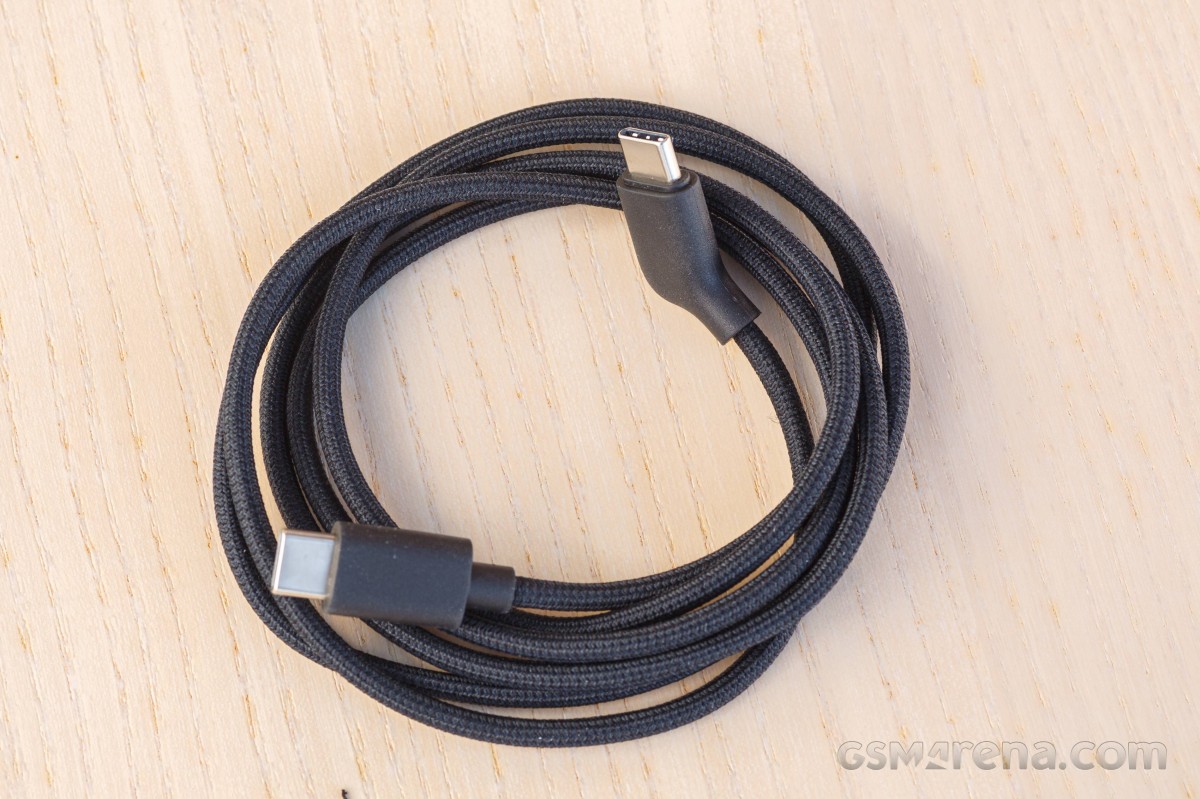 As for cable length, we never needed more than the provided cable had. It is long enough to be comfortable while sitting in front of a device or holding it in your lap, and it even reaches to most pant pockets if you really feel like walking with the glasses on, which can be pulled off.
One notable upgrade on the Air 2 glasses is the speaker system. Just like the original Air, the Air 2 has a pair of conventional speakers (rather than something more exotic like bone conduction), one in each arm. This, however, is the second generation of XREAL audio, which features two openings for sound to escape upwards and downwards and Directional audio support that is supposed to sound better and reduce audio leakage.
As far as sound leakage goes, don't expect any miracles. There will always be some, but not enough so nearby people can actually fully hear your audio.

On the quality side there is very little bass, and the volume doesn't go particularly high, which might have been a necessary compromise to ensure the minimal noise leakage. However the Air 2 speakers have a wider and richer sound stage overall.
There are two microphones on the Air 2 glasses, just like the original Air.
Buttons haven't changed either. The XREAL Air 2 glasses only have a single set of controls on the right arm. The rocker adjusts screen brightness with regular presses. You can also adjust the speaker volume by long pressing it. Then there is a power button to turn the glasses on and off, and beside that – a status LED.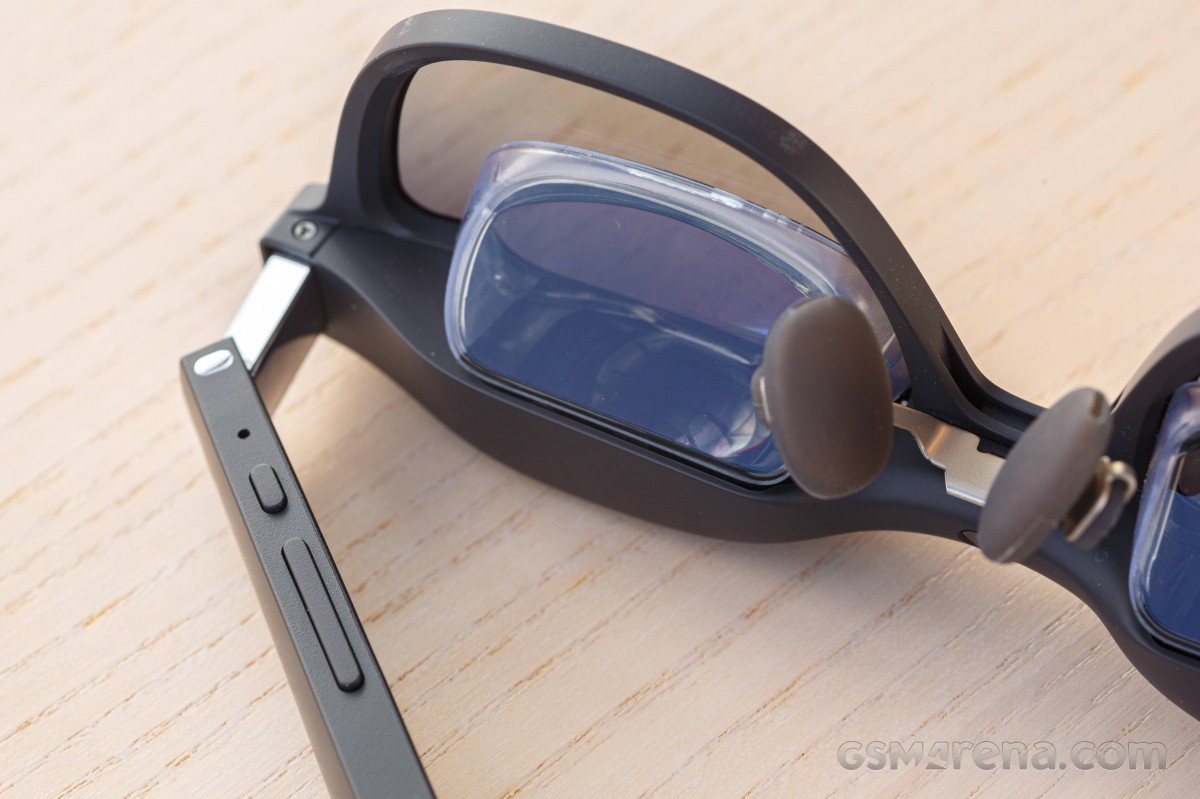 The XREAL Air 2 glasses have a cool extra feature: a wear sensor. It is positioned in the center of the glasses, right above the nose pads, and is a simple proximity-based unit. It works great and turns off the glasses a few seconds after you take them off and turns them back on nearly instantly once you put them back on.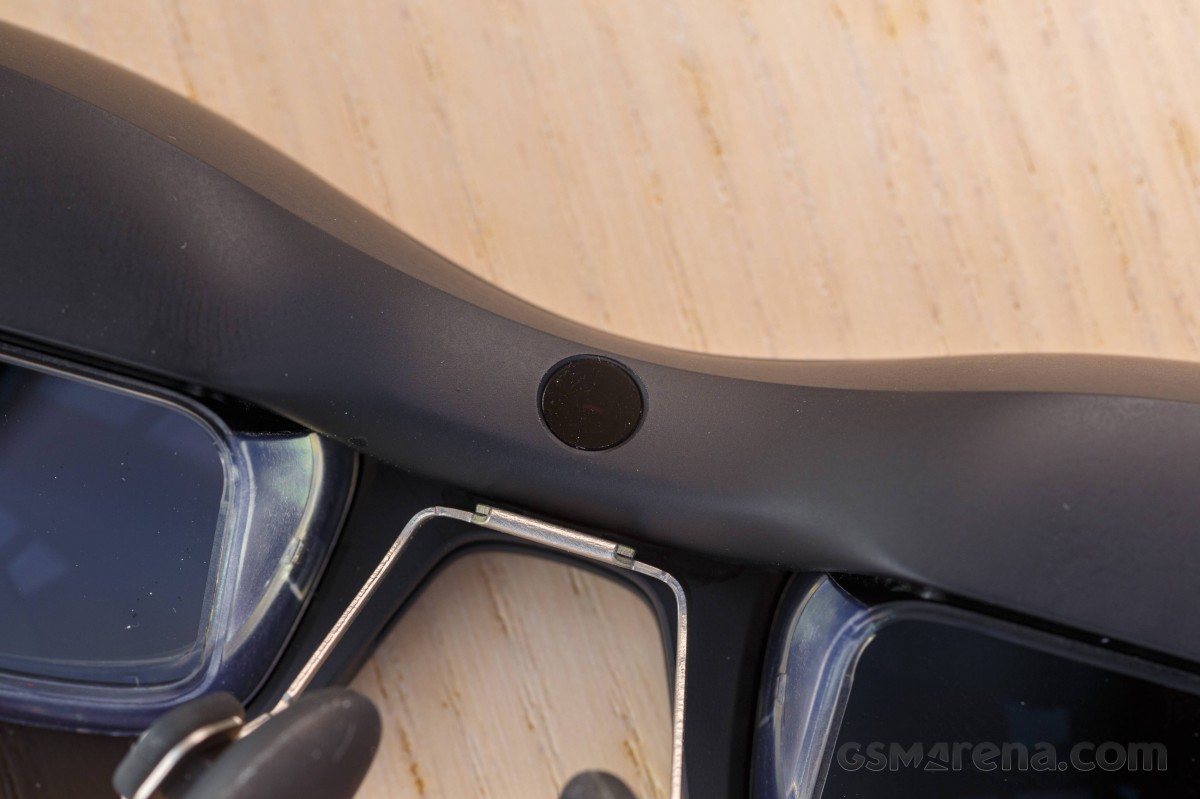 Just like the original Air glasses, the new Air 2 model deserves praise for overall ergonomics. Having to wear glasses all of the time, personally and having gone through quite a few pairs, this reviewer can appreciate when the ergonomics are right. The hinges on the arm are stiff enough to stay nicely in place but also flexible enough, with sufficient give in the outward direction, to not squeeze your head. You get 20 degrees of outward motion from the hinges. The hinges also offer a unique vertical adjustment option – they snap vertically in three stages so that you can adjust the viewing angle. You can really dial in the XREAL Air 2 glasses for a comfortable fit and viewing experience.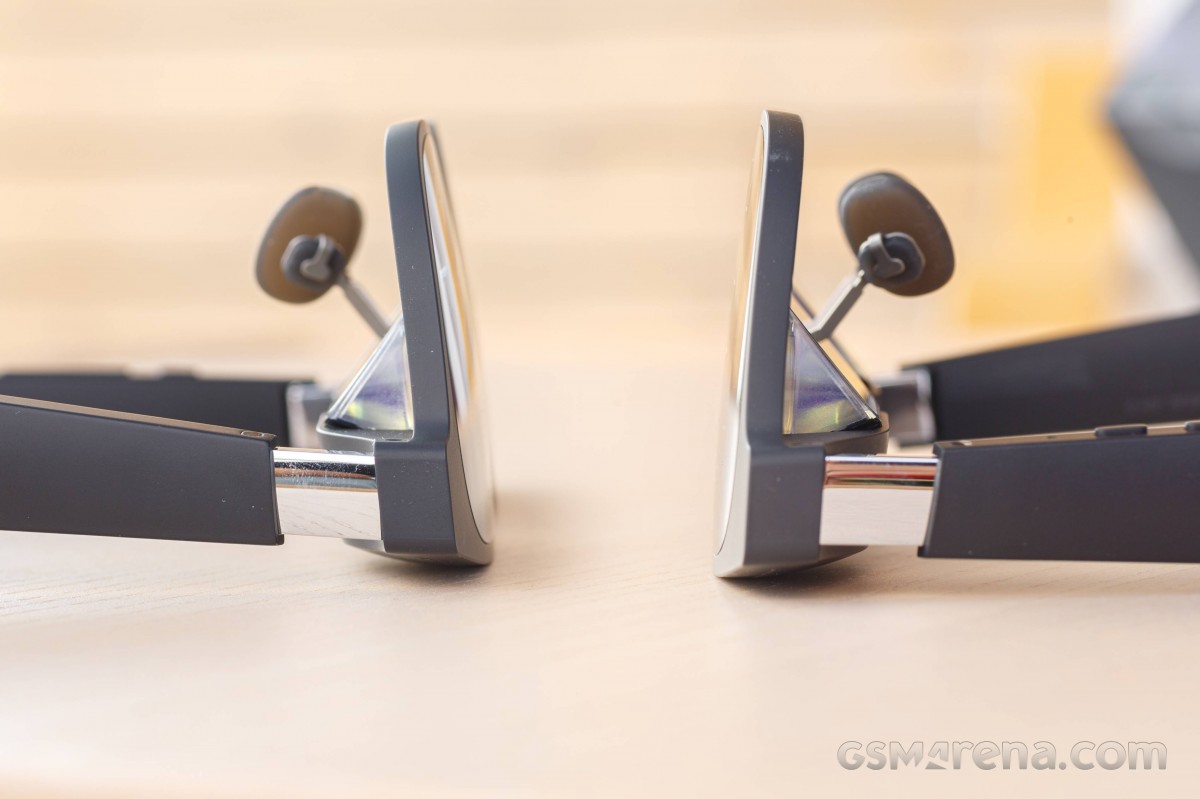 Left: Air • Right: Air 2
The tips at the end of the arms and the whole arms, for that matter, don't have any sharp edges that would dig into the skin. The surface of the plastic, while not rubberized, is still soft enough to be comfortable on your face.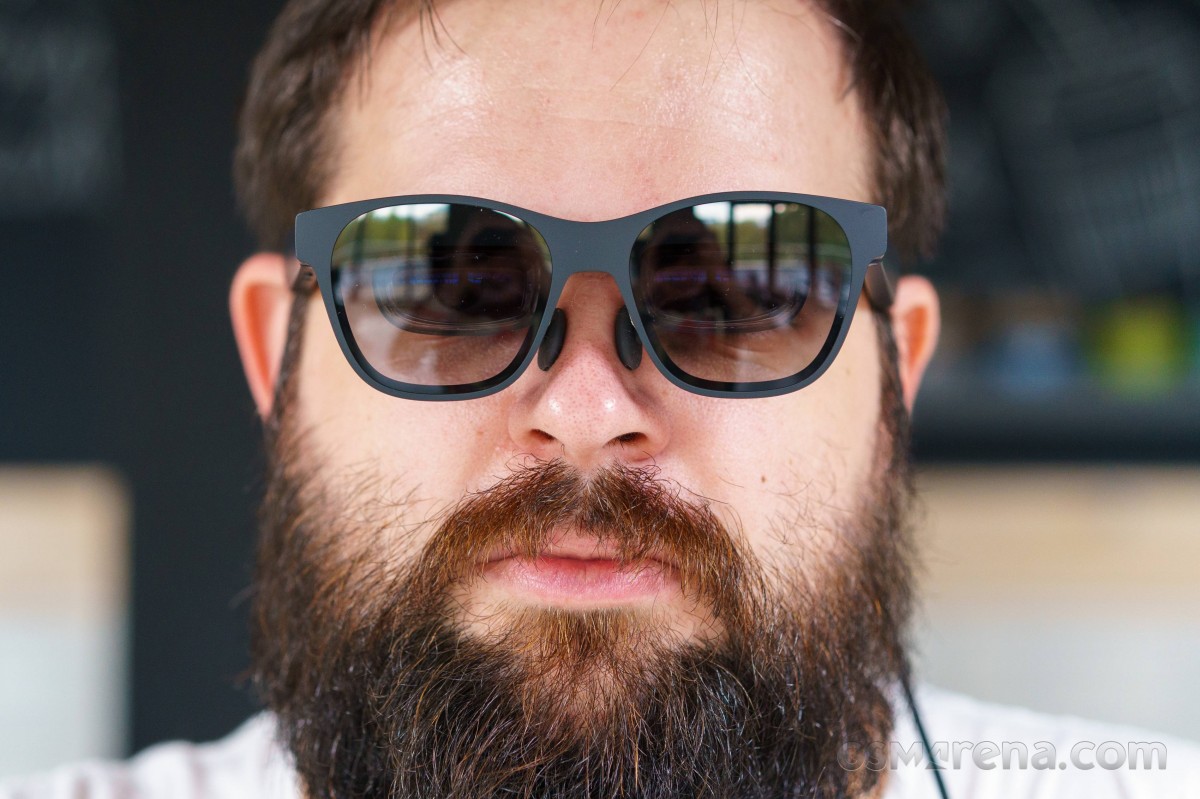 Through a combination of the improved weight distribution, slightly longer temples and new nose pads, the Air 2 glasses were notably more comfortable to use over prolonged wearing sessions. Kudos to the XREAL engineering team.
Modes of operation and features
The XREAL Air 2 glasses work directly with almost every device that supports DP output over USB Type-C Alt mode. There is the optional XREAL Adapter to extend compatibility and XREAL Beam to offer a bit of independent operation.
We won't be discussing the XREAL Beam at length and its functionality this time around. You can read all about it in our original XREAL Air review.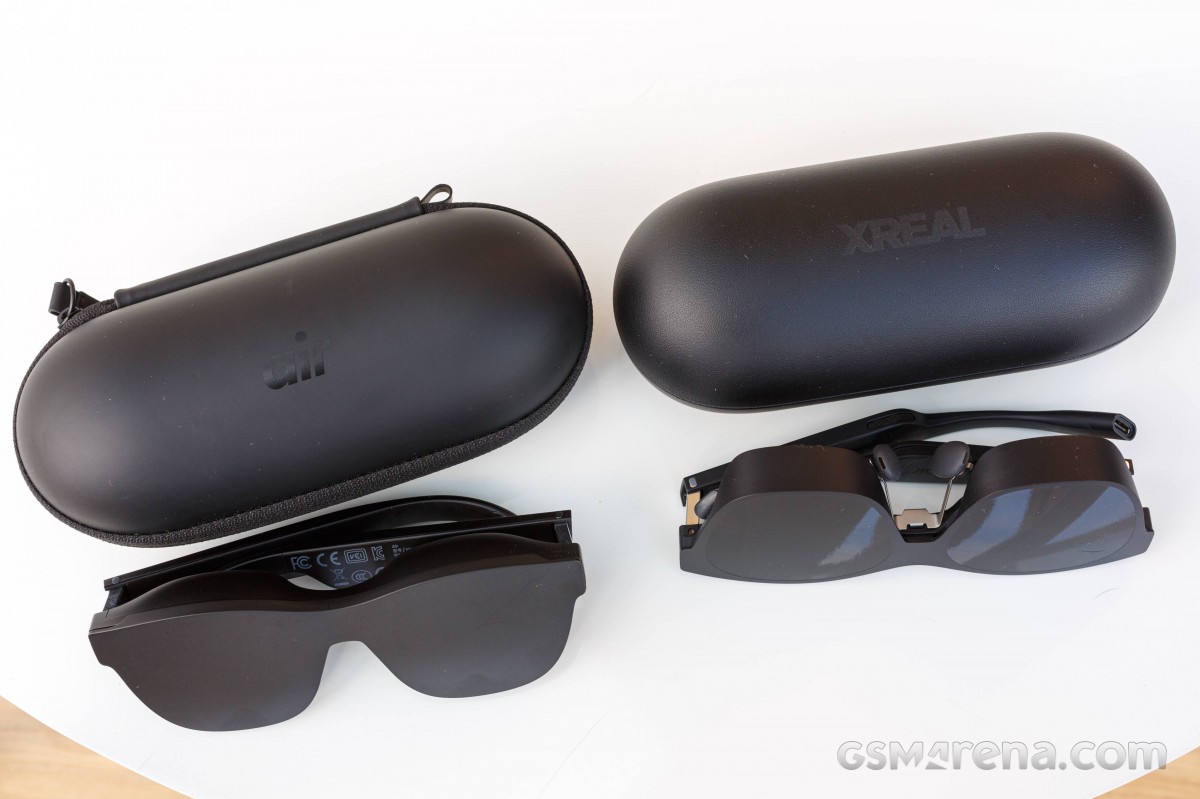 Left: Air • Right: Air 2
Just like its predecessors, the XREAL Air 2 glasses have one "primary" mode of operation. You just hook them to a source and get a static image projection in front of you (something like 130 inches at a perceived distance of around four meters). The image "follows" your head movements, though without any tracking. It just stays centered in your line of sight.
Then there is the XREAL Nebula Android app . You can get it on the Google Play Store only in supported regions and we actually had to sideload it. By the way, the Nebula App is 1.1GB in size, and we really can't tell how all that storage is justified by the features on offer here.
The Nebula app is not much to look at on the phone side. It offers a trackpad for input on the display, alongside a home button and also leverages the phone's accelerometer to spawn a spatial pointer controller inside the Air glasses interface.
Once you start the app and connect the glasses, you can choose between "AR Space" and "Air Casting". The latter mirrors your phone screen to the display with an optional "side view" mode that does not stretch the image to the full size possible but leaves it in a small window to the left side of your field of view. This is done so you can see the real world better while still consuming content.
The other option is "AR spaces". It offers a 3 DoF head-tracking home screen experience alongside a few apps. Most notably, a "spatial" web browser and a YouTube player.
To be fair, not all icons in this interface do something, and most of the features that do work basically boil down to launching the browser app. The browser, however, is a nice addition, and AR/MR Spaces has one more intriguing trick up its sleeve. If you scroll to the very right of the main UI, there is a feature called "XR Streaming", which allows you to connect the XREAL Air glasses through your phone to a compatible Windows PC with Steam VR running and experience some compatible VR apps and games.
The phone acts like an emulated VR controller in this mode, and the entire thing actually works surprisingly well. However, we experienced an unfortunate amount of lag and latency while using it, and there are plenty of limitations stemming from the 3 DoF tracking and singular controller that is being emulated instead of two. Still, the fact that it even works in any capacity is impressive. Plus, plenty of VR "experiences" of a more passive nature can be enjoyed this way, even if the VR gaming is limited at best. There is a great write-up on how to set everything up with XR Streaming here.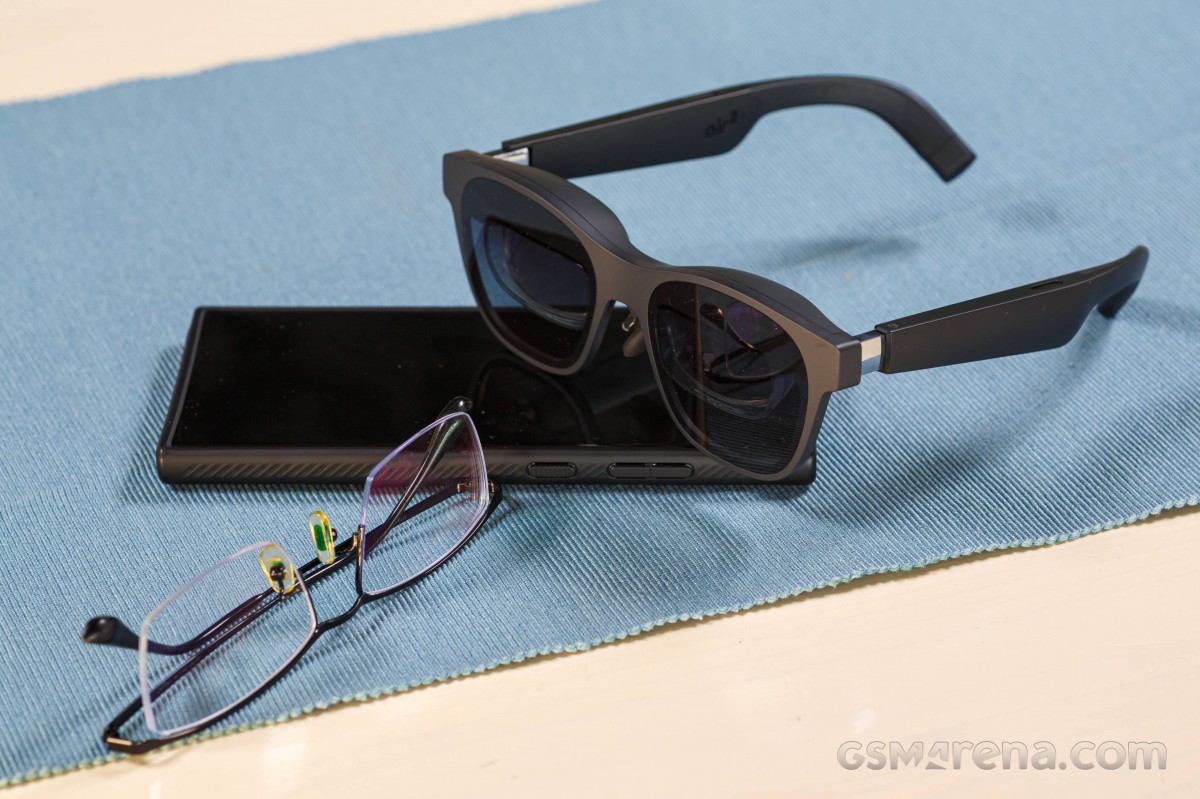 One thing that seems to be a sore omission on the XREAL Air 2 glasses, both through using the Nebula app on a phone or the Beam, is the ability to properly play 180-degree SBS videos on the glasses with proper tracking. This is an omission that existed previously with the original XREAL Air as well. Some sort of workaround exists by using VLC on your phone and regular screencasting, but it is very fiddly. We wish that XREAL would deliver a proper player for spatial video, ideally both through the Nebula app and the Beam and, better still, one with support for something like DLNA so that video can be streamed from a home server or NAS.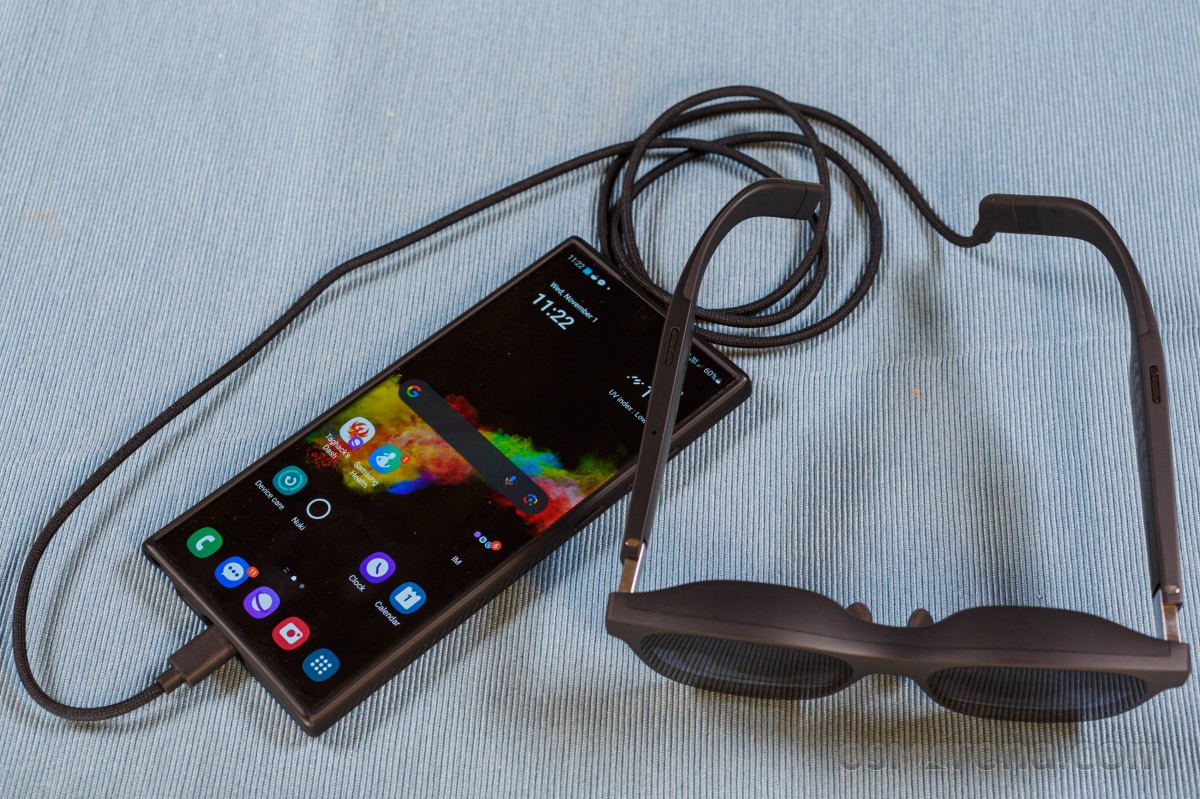 On the upside XREAL, formerly Nreal community, seems to be very active, and new first and third-party features and apps are always popping up, so it might just be a matter of time. It is disappointing that XREAL actually put out refreshed hardware before addressing some of the many issues with its software, though.
Compatibility and optional adapter
Like the original XREAL Air, device compatibility with the XREAL Air 2 is still confusing. All the glasses really require to work is a USB Type-C port with USB alt-mode support for Display Port output. The glasses themselves are not too power-hungry, so most devices don't struggle to keep them fed.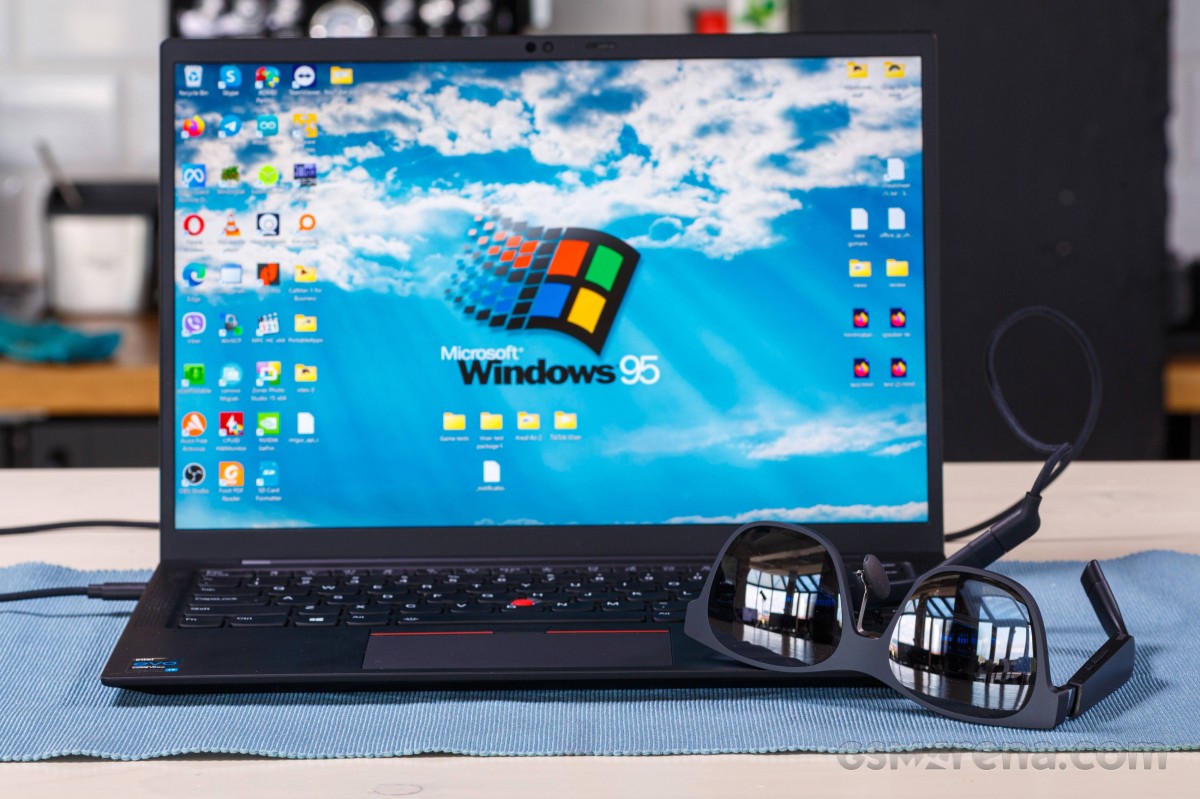 What does that mean in real-world terms? Let's start with laptops since they are easier to sum up. If your laptop supports DP alt mode over USB Type-C, you are ready to go. This should be listed on the laptop's specs sheet since those tend to be well detailed. We tried on a Lenovo ThinkPad X1 Carbon Gen 9, an ASUS Zephyrus G14 from 2021, and an M1 MacBook Air with perfect success. We know this is a bit of an arbitrary list, but it illustrates the main point – if you have DP over Type-C, it will work.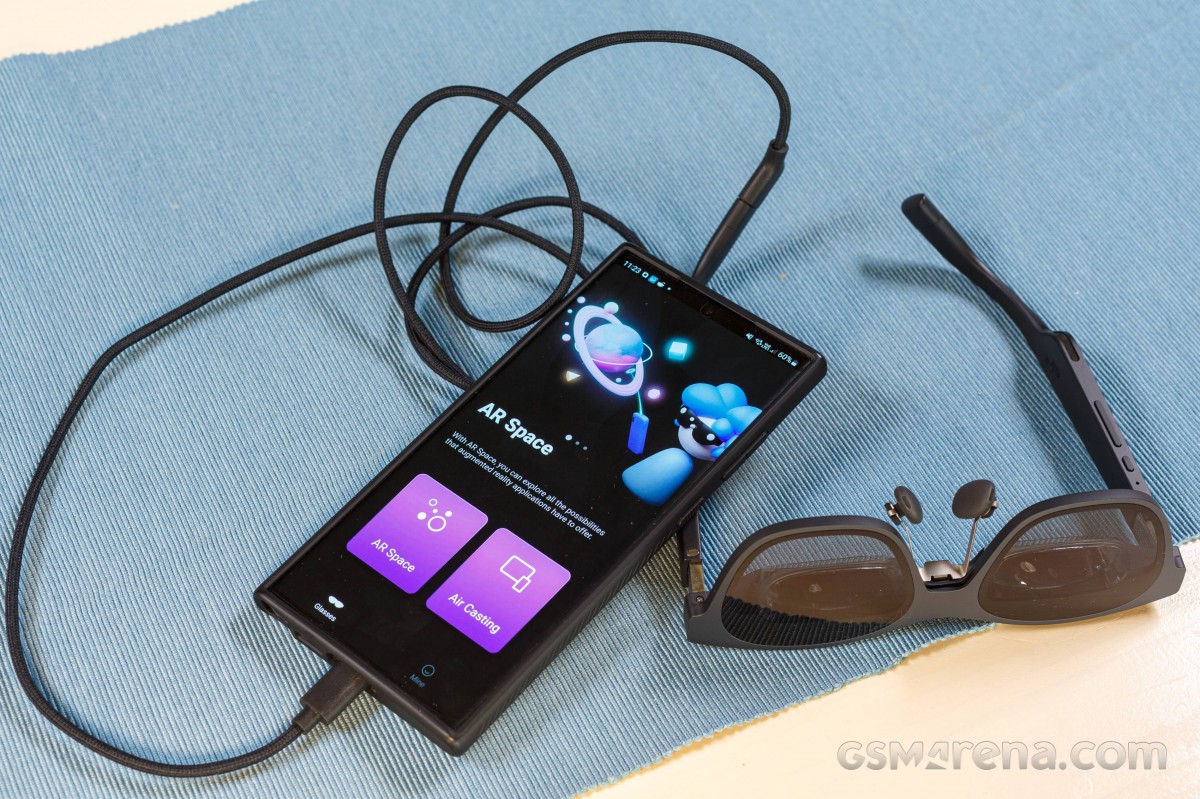 Things are a bit messier on the phone side of things. Now that the latest generation of iPhones has switched over to USB Type-C, the XREAL Air 2 glasses have no issues working with them. So, if you have an iPhone 15 – you are all set. Technically, however, beyond that and with no additional accessories, the XREAL Air 2 glasses are an Android-only accessory.
Some Android devices support Display Port over USB Type-C, but there is no easy way to know which ones. A good rule of thumb includes that it is generally a flagship feature and that you should have better odds with devices from Samsung, Huawei and OnePlus. Once again, you need to search around to see if your phone has DP over Type-C. In terms of phones, we succeeded with a Samsung Galaxy S23 Ultra, Galaxy Z Fold 4 and an Oppo Find X5 Pro.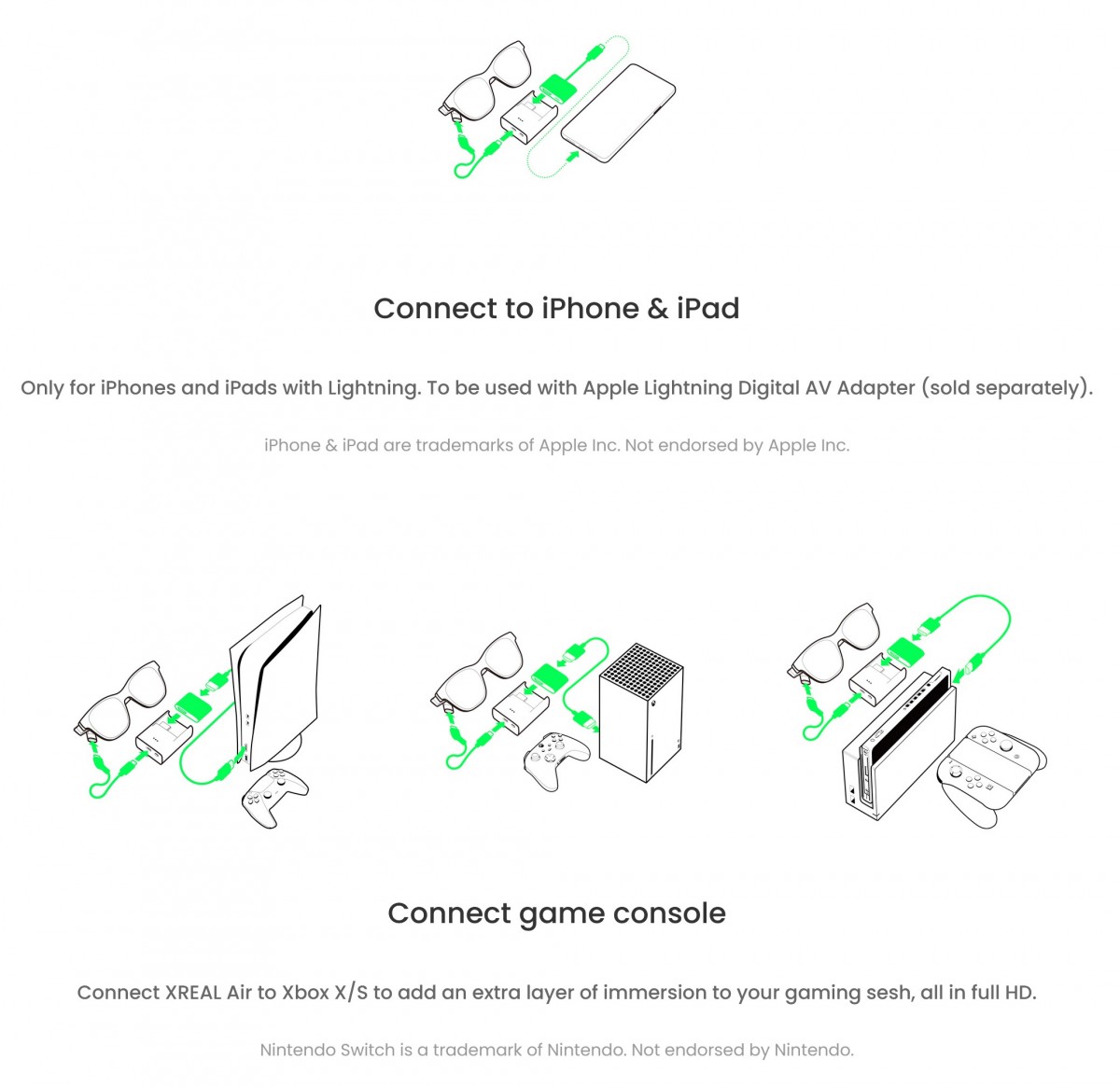 Circling back to Apple compatibility, XREAL does sell something it calls the "XREAL Adapter". It basically takes in an HDMI signal and converts it to Display Port for the glasses to take in. If you buy that, along with Apple's official Apple Lightning Digital AV Adapter, pretty much any recent iPhone and iPad with a lightning port compatible with the AV adapter will also work with the XREAL Air glasses.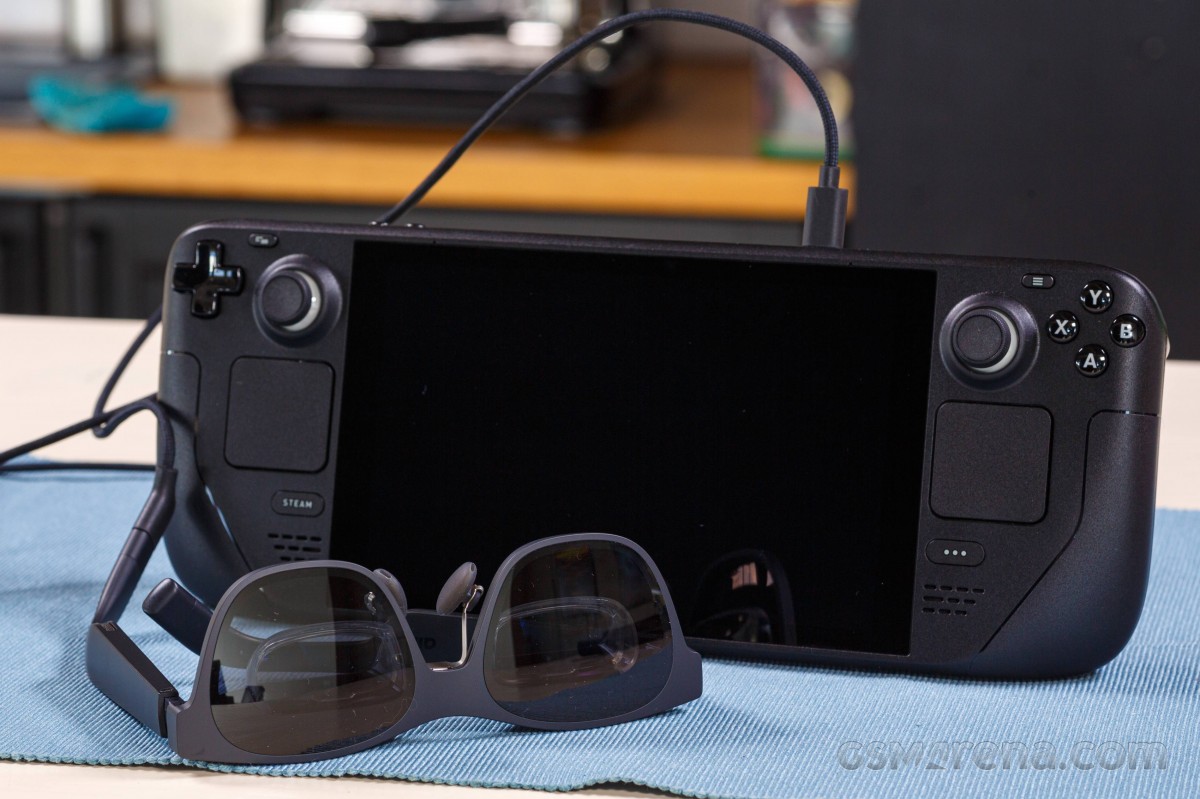 The XREAL Adapter also comes with a female-to-female HDMI "coupler" of sorts that theoretically allows any HDMI source device to "cast" to the XREAL Air 2 glasses. XREAL confirms that this works with the Microsoft Xbox S/X series, Sony PS4 slim/5 and Nintendo Switch. XREAL did not provide the adapter to us, though. so we can't verify these claims, but we can say for sure that the Nintendo Switch does not work by being hooked straight to the glasses. The Valve Steam Deck does, on the other hand, support DP over its Type-C port and just works by being connected straight to the glasses. The same goes for the ASUS ROG Ally.
Performance and power consumption
The XREAL Air 2 glasses have brand new Sony-made Micro OLED displays. These are now 0.55 inches in size each, condensed down by 21% from 0.68 inches in the original XREAL Air glasses. The panels are still FullHD in resolution, so you get higher pixel density. Despite this change, the other visual aspects of the experience on the XREAL Air 2 have remained the same as the original model. For instance, the PPD (Pixel per degree) figure remains the same at 49 PPD despite the increase in display pixel density.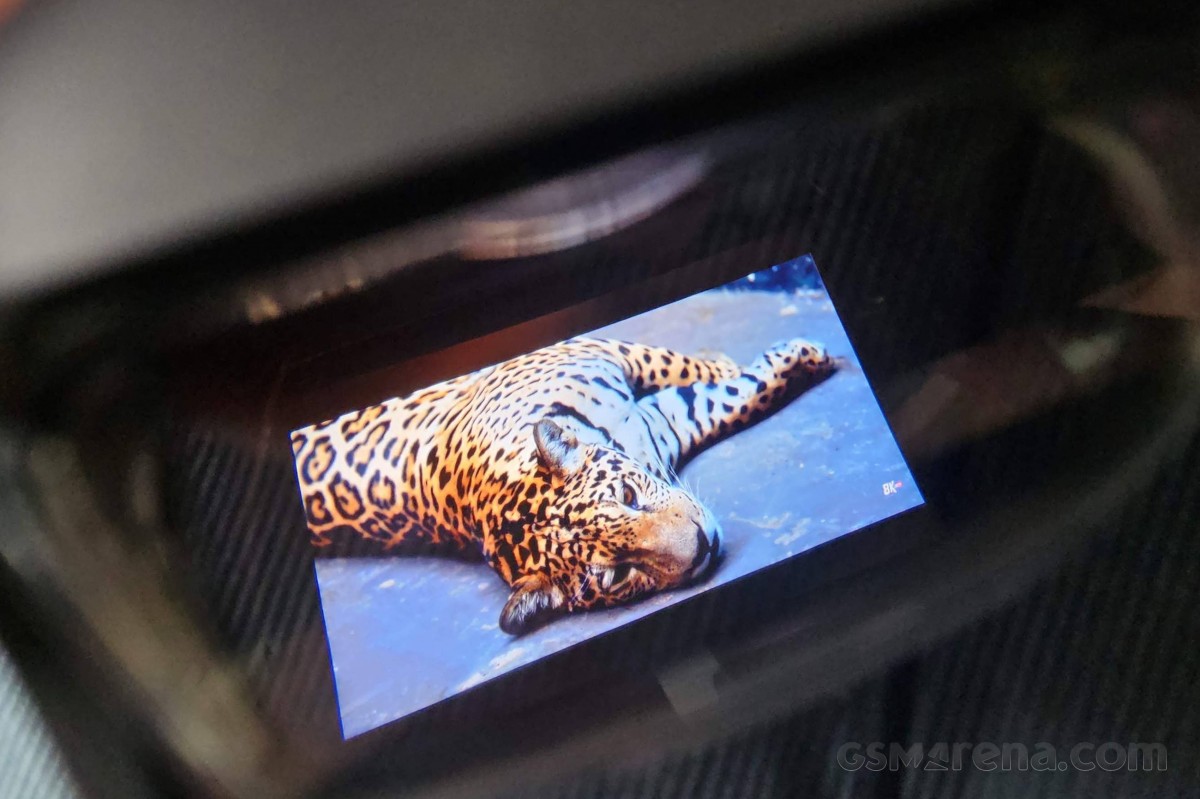 Unfortunately, since the displays on the XREAL Air 2 are not traditional in any way, we can't quite measure their performance characteristics. We will have to go by some of the official specs here and our subjective impressions. The virtual display ends up being very well-centered in your field of view, which is great. It does not fill it entirely, far from it, and you always get some empty space around the display. The official specs claim a 46-degree field of view, which sounds about right. Going by official numbers, the XREAL Air can "project" a 130-inch display equivalent at a viewing distance of around four meters away in normal operation mode. When working in MR Space mode, the size can grow up to 201 inches as viewed from around six meters away. Subjectively, we would say that the image isn't overwhelming but is still large enough to be considered a cinematic experience. As mentioned, the two OLED displays have a native resolution of 1920 x 1080 pixels. In practice, the image is very sharp. Good enough, even for small text.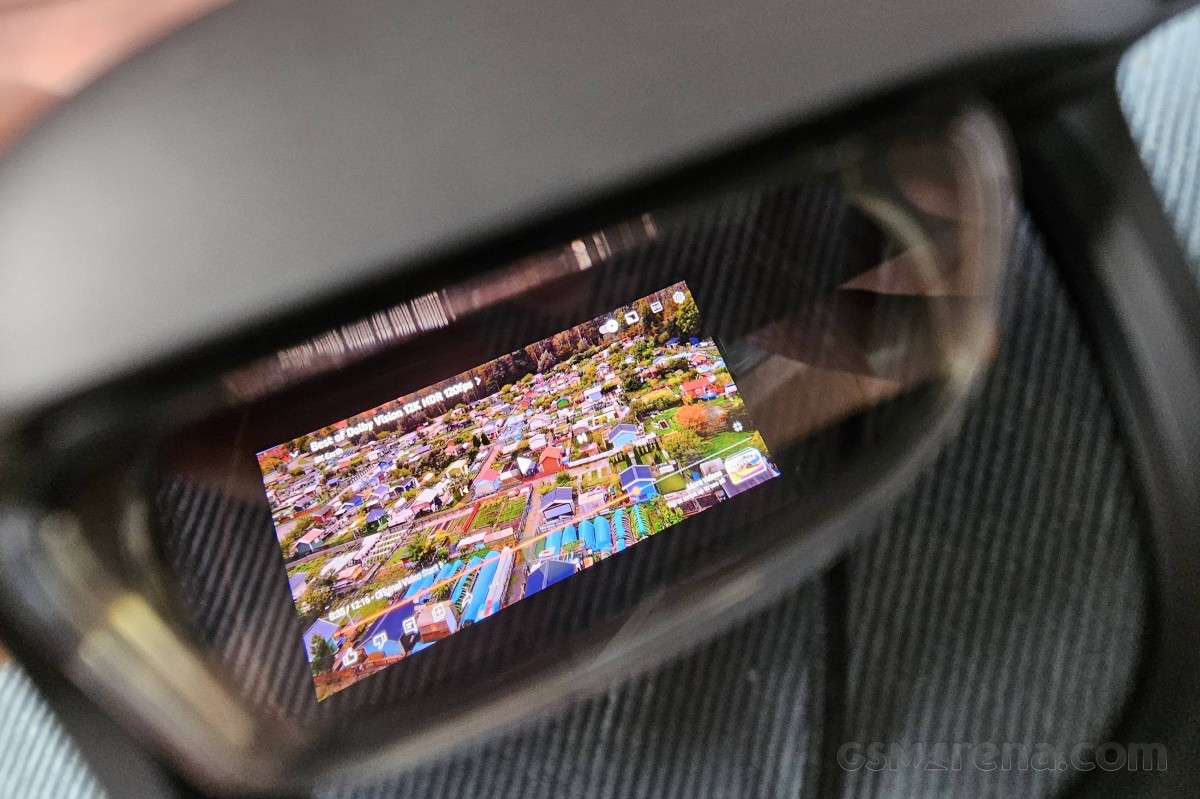 The new displays on the XREAL Air 2 are also a bit brighter than their predecessors. The official specs claim a perceived brightness figure of 500 nits compared to 400 nits on the original XREAL Air. Without the solid shades on, the brightness is still not enough to drown out your surroundings and "punch through" the transparency. That being said, once you get accustomed to the fact that you will always see the outside world and focus your attention on the content, even the minimum brightness setting becomes usable. It's a weird effect that is hard to put into words. All you need to know is that the XREAL Air remains usable in pretty much any circumstance. Higher brightness levels can be fatiguing for some people. After all, the displays are very close to your eyes. The original XREAL Air glasses advertise TUV Rheinland certifications for low Blue Light emissions and Flicker-free. While we couldn't find the same information for the XREAL Air 2 glasses, we hope they also have the certifications.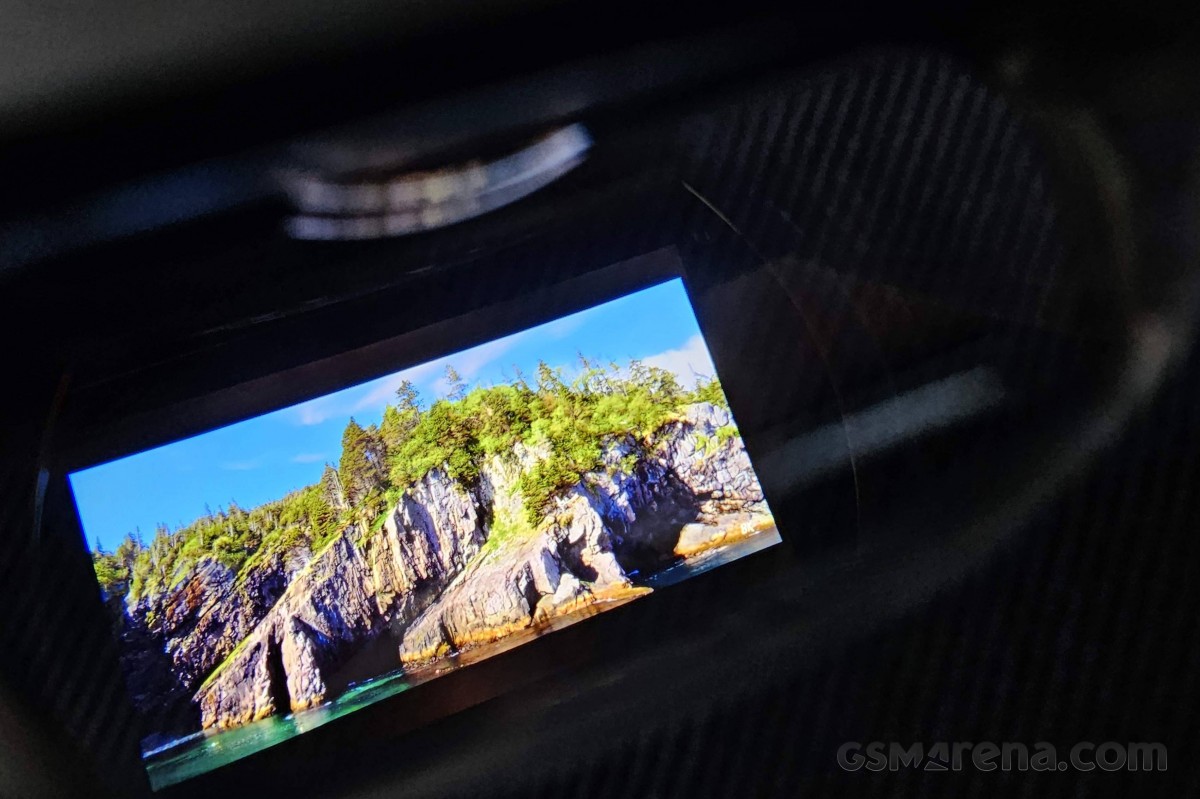 The XREAL Air produce surprisingly vivid and saturated colors. The panels themselves are standard 8-bit. Per the official specs, the Air 2 glasses have a deltaE 2000 value below 3 and are the first XR device to obtain the German Rhine T A V color standard certification.
Refresh rate is a bit of an interesting subject. The original XREAL Air glasses launched with a basic 60Hz refresh rate, overclockable to 72Hz via the Nebula app. In a rather interesting new development, both the original XREAL Air glasses and the new XREAL Air 2 model can do up to 120Hz in direct streaming mode without the app being involved. While using the app, you are still limited to 60Hz or 72Hz experimental.
Pixel response time is very good. There is little input latency, too. We managed to game on the XREAL Air and played a few platformers requiring reasonable jump timing precision with no issues.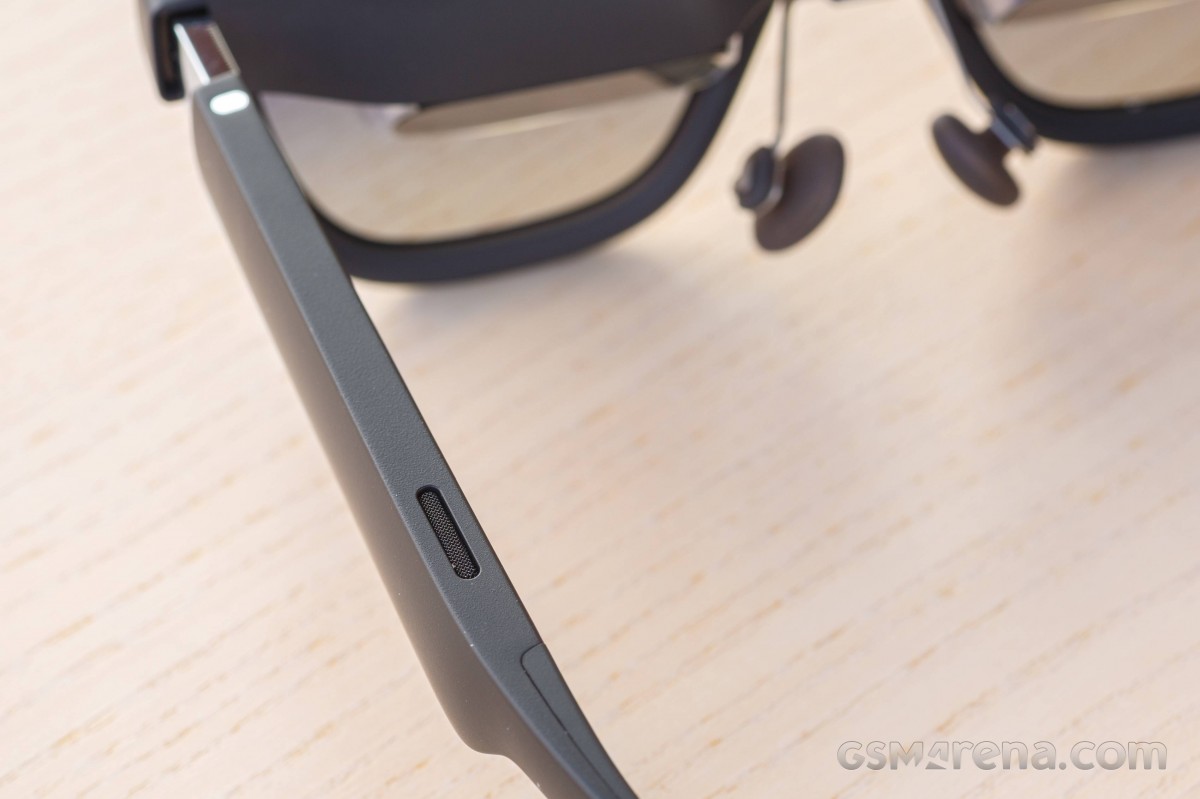 On the other hand, we were not impressed with the clarity of the image and, especially, things like finer text, while the glasses operated in "tracking mode". That is to say, when the glasses are connected to a phone and running the Nebula app for AR/MR Space Mode. Depending on your chosen tracking mode, the display is either static in space or follows your head movements "smoothly" in space. Both result in a lot of flicker and smearing of the image and are not nearly as crisp as just using the glasses in their straight "default" mode as a screen with no tracking involved.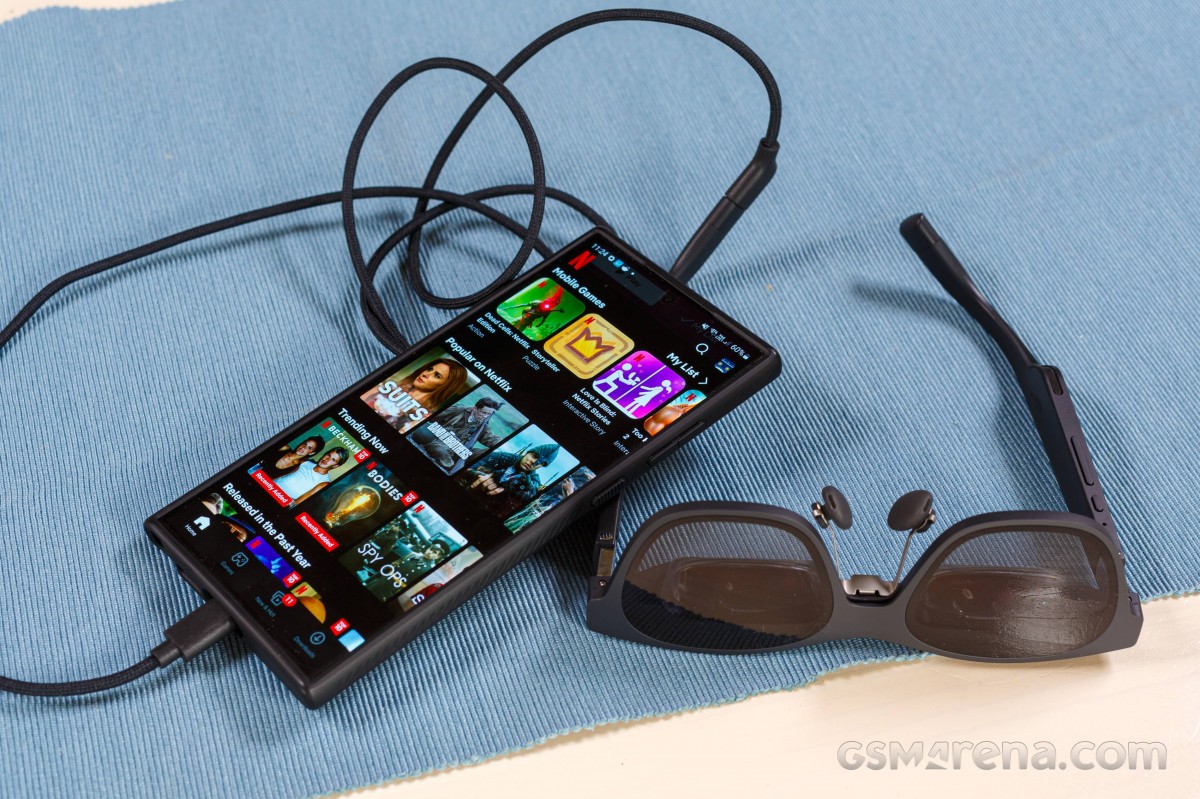 Since the XREAL Air glasses are entirely powered via a Type-C port, one of the few actual tests we managed to run on them was to measure power consumption. We are happy to report that the glasses are quite efficient. With a fairly static image on screen, like browsing or working, they drew around 1.5W – 1.8W, depending on the brightness setting. While playing a video with sound, the glasses used between 1.5W and 1.6W.п>

<п>In more practical terms, watching a two-hour movie from Netflix on the Samsung Galaxy S23 Ultra with the XREAL Air on ate up around 29% of battery power, which is perfectly reasonable. That is almost identical to the battery usage of the original XREAL Air glasses. Perhaps at maximum brightness settings and a mostly white image, you are looking at slightly higher consumption, but really not by that much.
Should you get a pair
We recently looked at the TCL NXTWEAR S, as well as the original model XREAL Air, which we have been comparing the XREAL Air 2 glasses to all throughout the review. Once again, almost everyone at the office who tried the glasses said they would love to have a pair of AR glasses, although opinions are split on whether the price was justified.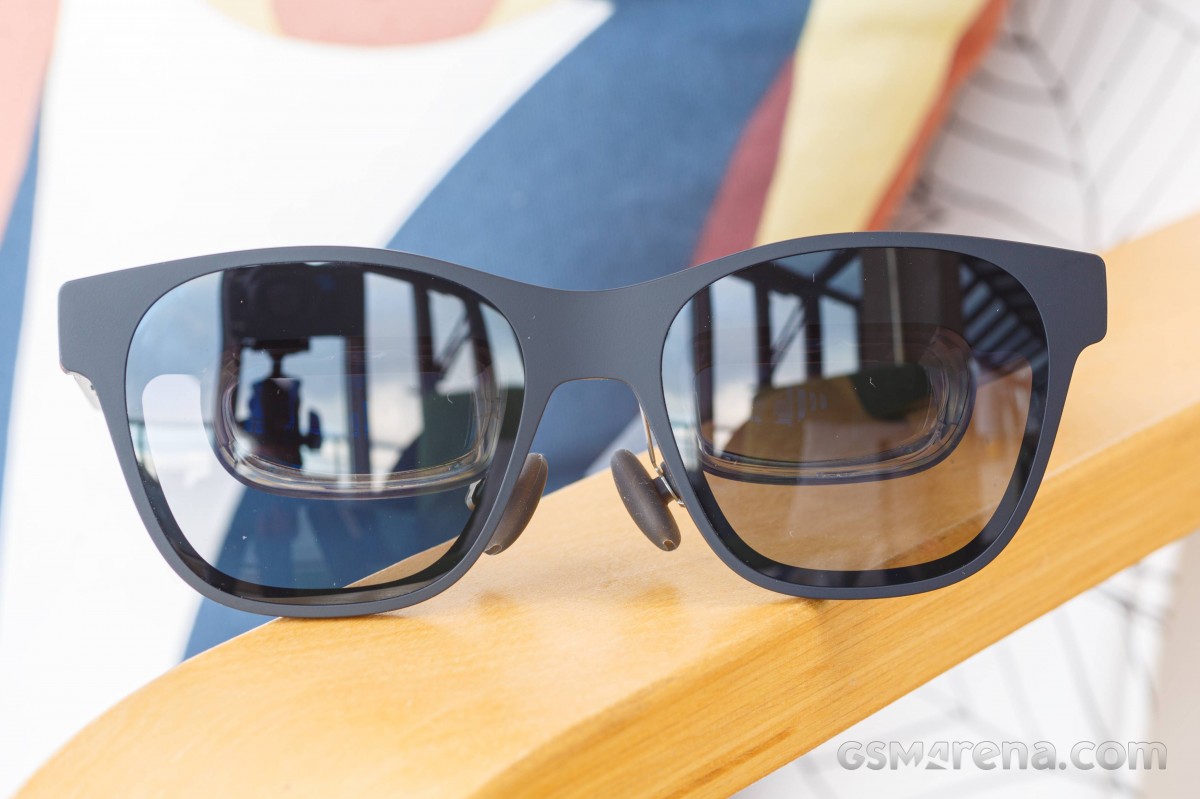 The prevailing opinion seems to be that AR glasses are a great travel companion, particularly for air travel. A few people also expressed the desire to have a pair on the nightstand to consume content before falling asleep more comfortably. Gaming didn't really come up in the GSMArena employee circle, but regardless, it is undeniable that real use cases for such AR glasses exist.
The XREAL Air 2 glasses have a lot going for them as XREAL improved the already solid ergonomics of the original Air glasses and made an even more comfortable pair. One that accommodates larger heads better thanks to longer temples and also allows for longer wear sessions without putting too much pressure on the nose thanks to new nose pads and better weight distribution. The new brighter displays are also much appreciated for outdoor operation, and the same goes for the improved speaker system and its better overall quality and sound stage.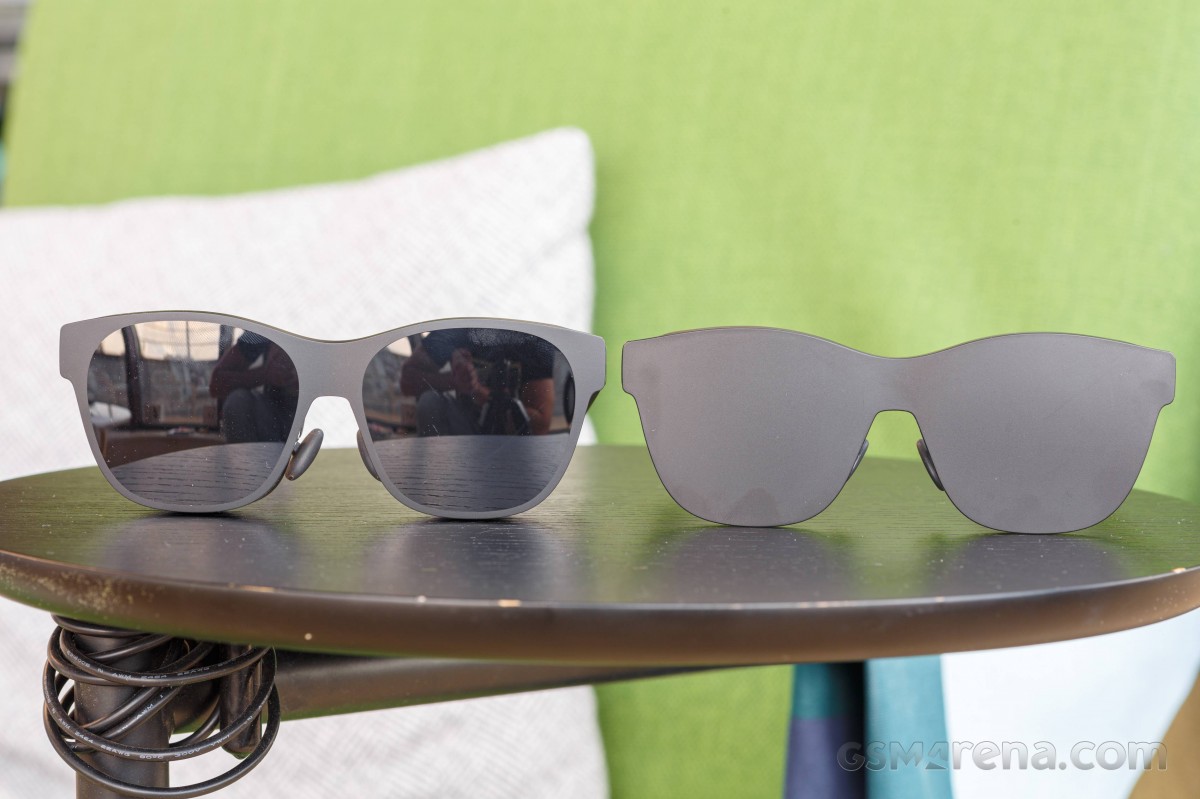 Left: Air 2 • Right: Air
We still feel the Nebula app is in a very rough state, but even with that XREAL still has one of the most comprehensive and feature-complete sets out there. If this is all enough to convince you that you need AR glasses in your life and you agree with our assessment that the XREAL Air 2 glasses are currently one of the best options out there, then we need to move on to the question of price.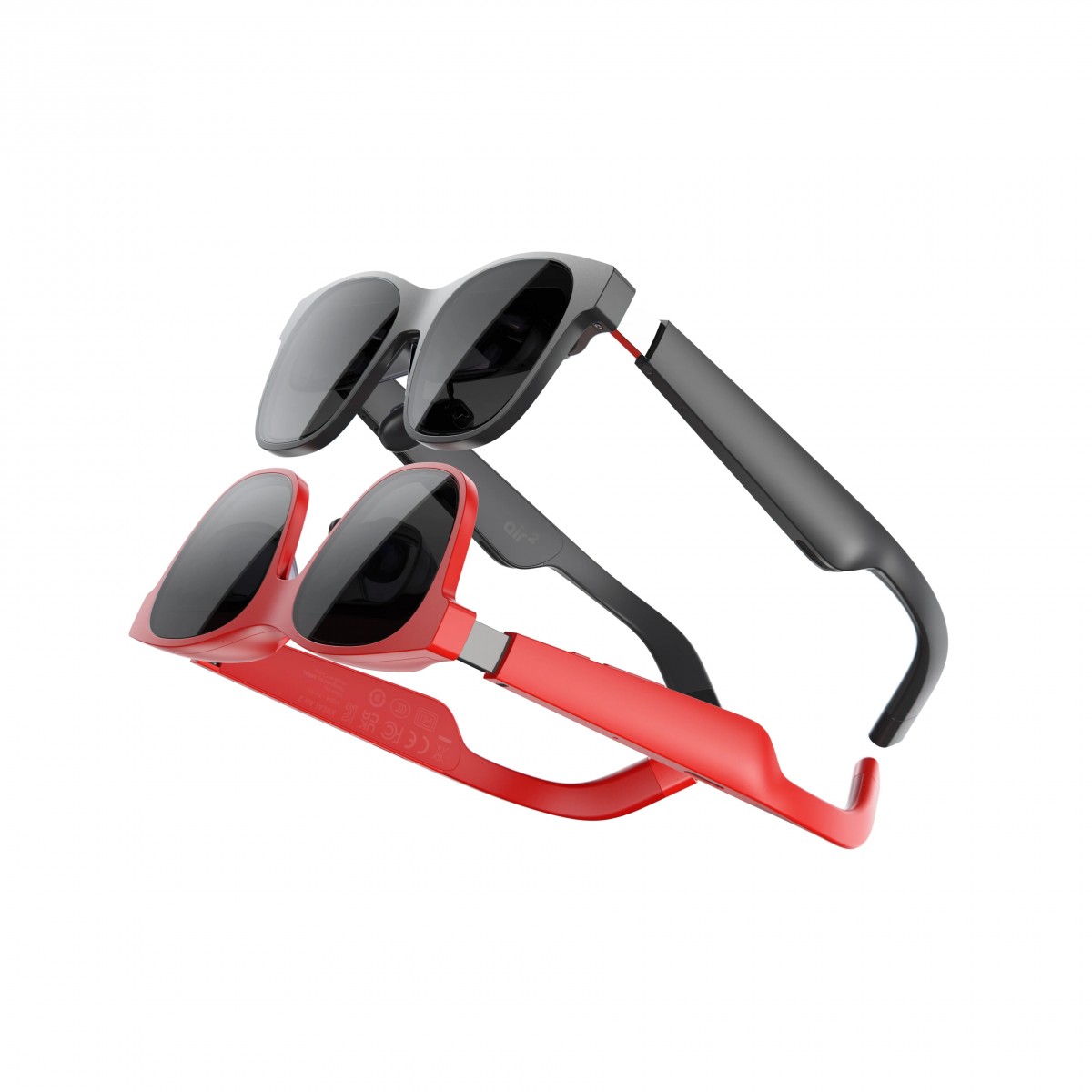 At the time of writing this review, the XREAL Air 2 retails for $399/GBP 487.80 and can be had in either grey or red colors, which is one more option than the original XREAL Air. Those can still be purchased for $339/GBP 406.80.
Then there is also the top option of the Air 2 Pro glasses with Electrochromic dimming on the lenses for $449. If you are willing to spend that much on AR glasses, our recommendation would be to go for an original XREAL Air plus XREAL Beam bundle, priced at $449/GBP 538.80.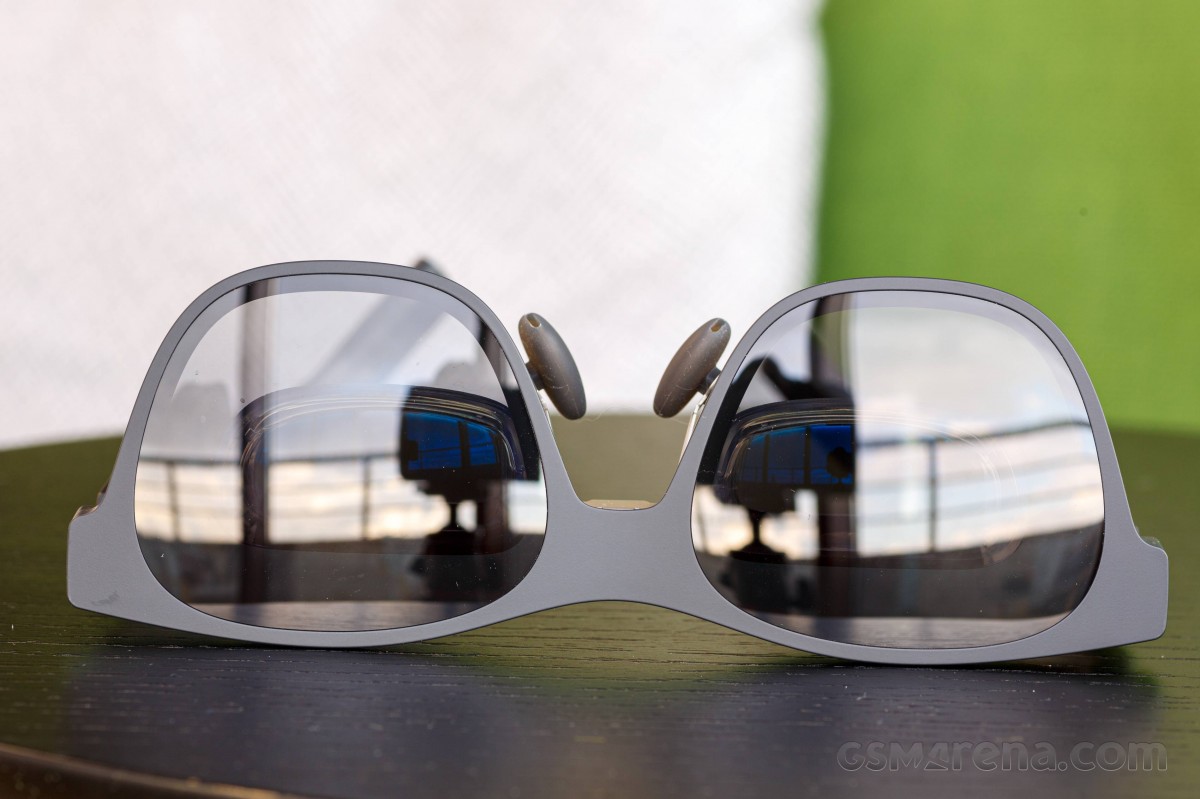 In fact, rounding off this review, our ultimate advice for prospective buyers would be to go for the original XREAL Air for the best possible value without really missing out on much compared to the new version.
That being said, if you money is no object, the new model with its improved comfort alone is definitely an upgrade you'll appreciate.